Streamlined customer communication is a must, if you want your company to succeed. LiveAgent's AI-powered Whisper Assistant feature enables your customer service agents to improve their response times, boost efficiency, and improve customer relationships.
What is Whisper Assistant?
LiveAgent's Whisper Assistant is an AI-powered customer-centric feature. In the world of new AI-based technology, Whisper Assistant is LiveAgent's response to emerging industry trends. This feature focuses on boosting your customer support agents' effectiveness and empowering customer service agents to tackle customer queries quickly and easily.
Whisper Assistant is currently in the final stage of testing. We will announce the exact date of the start of the service to our customers soon. Also, in a short time we will specify which variations will contain Whisper Assistant.
How Whisper Assistant works
To ensure the top-notch quality of our AI-driven services, LiveAgent works with ChatGPT. Same, as all LiveAgent AI Assist features, Whisper Assistant uses your own OpenAI API key to create AI-generated responses to your customers' emails.
Once you input your API key into your LiveAgent account, you're ready to start automatically answering customer queries with the help of AI. And the best part? You will not have to leave LiveAgent's interface to interact with AI at all! The customer question itself will be used as a text prompt for ChatGPT. Once it generates a response, you'll see it in the Reply box. After that, you can decide whether the suggested answer is satisfactory, or you can further edit it to your liking.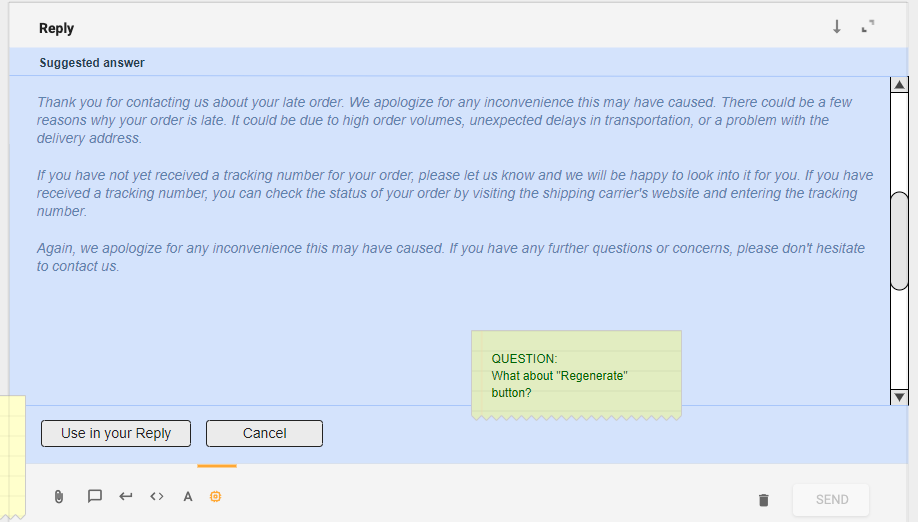 You can rest assured that Whisper Assistant will not overpromise, or send out false information. The dataset it bases its answers on is your previous customer support tickets and your company's external or internal knowledge base.
Who uses Whisper Assistant?
Businesses of all sizes working in many industries can use Whisper Assistant to handle customer email queries. Whether you operate a large help desk with dozens of agents, or you're a one-person operation, Whisper Assistant can elevate your and your customer's experience to the next level.
Small businesses – Usually with a tighter budget, small businesses, and startups often look for quality over quantity. That's exactly where Whisper Assistant plays an important role. High-quality AI-powered communication is a great option for all those who want to invest in a solution that doesn't cost much but can hold its own.
Medium businesses – A larger clientele means more strain on your customer service team. So why not help them out with an assistant that is ready whenever they need help and has answers within seconds?
Large businesses – When you operate a large company with heaps of customer inquiries every day, it costs a lot of time and money. Even though you may have highly qualified and well-trained staff, sometimes it's just too much. Whisper Assistant can take a load off your agents' backs and provide quick and effortless service to your customers.
Why you should use Whisper Assistant
AI is on the rise in many different industries. Let's look at the top reasons why you should implement AI-powered features like Whisper Assist today.
Increased customer satisfaction – In today's tech-fuelled age, customers expect nothing less than excellence when it comes to customer service. Quick and accurate responses with high levels of personalization are no longer optional luxuries. Whisper Assistant can provide all of these very quickly and effectively, leading to strong customer relationships and a dedicated client base.
Increased revenue – Did you know that as much as 72% of customers share their positive brand experiences with 6 or more people? Building rapport with clients through outstanding customer service leads to repeat purchases, a continuous increase in paying customers, and overall, your increased bottom line.
Cost reduction – AI-powered Whisper Assistant offers a unique opportunity to quickly handle large volumes of customer interactions without additional costs.
Enhanced agent productivity – As much as 61% of employees claim that AI helps to improve their productivity. If your agents don't need to type out long, repetitive messages, they can focus on more demanding tasks.
Reduced risk of human error – Humans make mistakes, that's a fact of life. Using AI Whisper Assistant can help reduce and prevent human error from damaging your company's reputation.
Data-driven responses – Whisper Assistant can quickly analyze large amounts of data and use them to address customer inquiries effectively.
Better scalability – Most businesses experience peak hours, days, or even weeks when their shared inboxes are flooded with emails from customers. And hiring a new customer service team just for these occasions is not only costly but vastly inconvenient. AI can handle these increases in customer communications with ease.
Increased security – If you're worried about third parties getting hold of your customers' information, LiveAgent got you covered. You can choose to provide OpenAI only with your external knowledge base to learn from. This way, the only customer data it receives is the question itself.
Competitive advantage – Although some don't like it, AI is the future. So why not hop on the train early and stay ahead of the competition by providing faster response times, enhanced personalization, and an overall better user experience?
Improve your sales communication
Are you ready to add a real wow-factor to your customer service? Don't just take our word for it, give Whisper Assistant a try!