Word of mouth is the process of telling people you know a particular product or service, usually because you think it is good and want to encourage them to try it.

Cambridge dictionary
What does word of mouth mean?
Word of mouth is a way of communicating through speaking. In other words, WOM is transferring information from one person to another.
Example: User of a product/service talks about the product to someone in its friend circle. If the user has a bad customer service experience, it can be passed to the people, he/she meets up with. As a result, they will most likely opt not to buy any products from that company.
How important is word of mouth?
The purpose of WOM is to gain the trust and loyalty of the customers. Since we live in a world, where everyone is trying to sell us something, gaining trust can be hard. People are searching for reviews or recommendations. Thus, having a quality customer experience encourages customers to talk about your products. This creates loyal customers, which ultimately increases sales, and customer satisfaction.
WOM is a really low-cost and valuable marketing strategy for any brand. It can be easily overlooked. Thus, the focus should be on building lasting relationships and creating a community. This is an important and beneficial long-term strategy.
How does WOM work?
Firstly, the customers get the recommendation/review traditionally by the word of mouth. For example from a friend or a family member. 
The second option is that people find recommendations/testimonials through social media. These days, researching online is a preferred way to decide if you want to buy a product/service. This is called WOMM, which is Word of mouth marketing.
Example: Ben and Sarah are interested in hiring a cleaning company for their home. Both of them start to research cleaning companies in the city. Ben found a few cleaning companies online based on great reviews from Trustpilot. Therefore, they decide to contact one of them for the services. After having a great experience, they share it with other people in their close circle. This is how WOM works through reviews.
What is word-of-mouth marketing?
Shortly, WOMM is the same strategy as traditional word of mouth. The main difference is that WOMM is encouraged by the brand/company, whereas the traditional word of mouth happens organically. The word of mouth marketing purpose is to market the product/service to gain more exposure.
What are the other benefits of WOM marketing?
Trust of the customers
Building a community around your brand
Long term relationships with customers (loyal customers)
Spending less money on marketing
Higher revenue
Customer engagement
How to build word-of-mouth marketing?
Provide a great customer experience 
Inspire customers to generate content about your brand 
Encourage reviews/testimonials of your services/products
Motivate with some special discounts/products
Reach out to relatable influencers
Would you like to know how to manage your customer's inquiries smoothly?
Get a Help desk software that allows you to handle all customer inquiries effectively from one interface.
Watch a video about word-of-mouth
Live Agent Helpdesk Software plays a crucial role in shaping the definition of word of mouth. By providing real-time assistance and personalized support, this software enhances the overall customer experience. When customers receive exceptional service through a Live Agent helpdesk, they are more likely to share their positive experiences with others through word of mouth. This organic form of communication involves customers recommending the company, its products, or services to their friends, family, or colleagues based on their personal interactions. The positive word of mouth generated by the effective use of Live Agent helpdesk software can significantly impact a business's reputation, credibility, and customer acquisition efforts.
How To Grow Your Business Through Word-Of-Mouth Marketing | Neil Patel02:34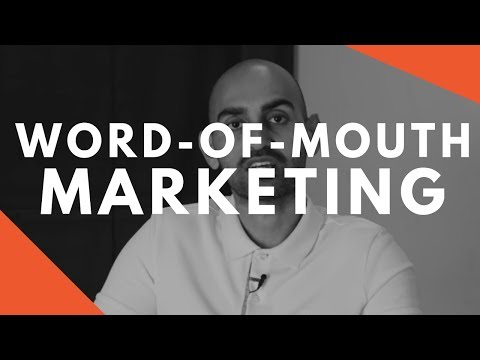 Neil Patel
Topics
word-of-mouth marketing
creating amazing products or services
caring for customers
Video summary
The video explains how word-of-mouth marketing is the best form of marketing. Taking care of customers, creating amazing products or services, and solving problems better than anyone else generate word-of-mouth marketing. Companies like Slack, Nike, and Zappos have grown not because of their marketing efforts, but because they provide amazing products and services and care for their customers. Word-of-mouth marketing is not created by being popular on social media, but rather by providing excellent service and products.
Frequently Asked Questions
What is word of mouth marketing?

Word of mouth marketing is a form of marketing that involves "whispering" to consumers about a given product or brand. Its purpose is to trigger a discussion on a given topic in an ethical and non-pushy way. The final effect should be discussions about the brand or product, leading to increased brand recognition or purchase. Such marketing does not make customers feel forced and attacked by the brand.

How to generate word of mouth?

Word-of-mouth marketing can be generated in several ways. The best tool for positive marketing is, of course, your customers. So what to do to make customers want to leverage word of mouth? Ask them to try out your new product and then tell them about it; make them feel that their opinions matter and distinguish them with, e.g., dedicated promotions; create a space for discussion – it can be a forum, Facebook group, or simply the ability to add comments in posts or entries on websites and portals; stay in constant contact with your clients; hire a person who will conduct word-of-mouth marketing activities.

Why is word-of-mouth marketing effective?

Word of mouth marketing is very effective because the Internet provides it with many tools. This allows information to be communicated, and we can build social relationships. Word of mouth marketing should start with triggering a discussion on a given topic. Only in the discussion should we gently mention the brand or product we want to advertise. First of all, you need to remember about naturalness and non-intrusiveness.
Expert note
Word of mouth is a powerful marketing strategy that involves customers sharing their positive experiences with others, leading to increased trust, loyalty, and sales.

Andrej Saxon
Sales manager