What is a voice?
Communicating through voice might be in some cases easier than via live chat or email. Calls are especially popular with non-technical questions such as pre-sale or billing queries that can easily be solved over the phone.
Voice communication in LiveAgent can be used as:
Phone to Phone – Customer calls from their phone and the Agent picks it up with a hardware phone on their end.
Phone to PC – Customer calls from their phone and the Agent picks the call up in their LiveAgent Agent Panel.
Phone to Smart Device – Works similar to Phone to PC, but a smartphone is used instead of a computer. A customer can call from their phone and the agent on the other side can pick up the call using the LiveAgent phone app on their mobile device. The App uses mobile data to run.
PC to PC – by placing a call widget on your website, you can allow customers to call you directly from their desk by using their computer. Just like Skype.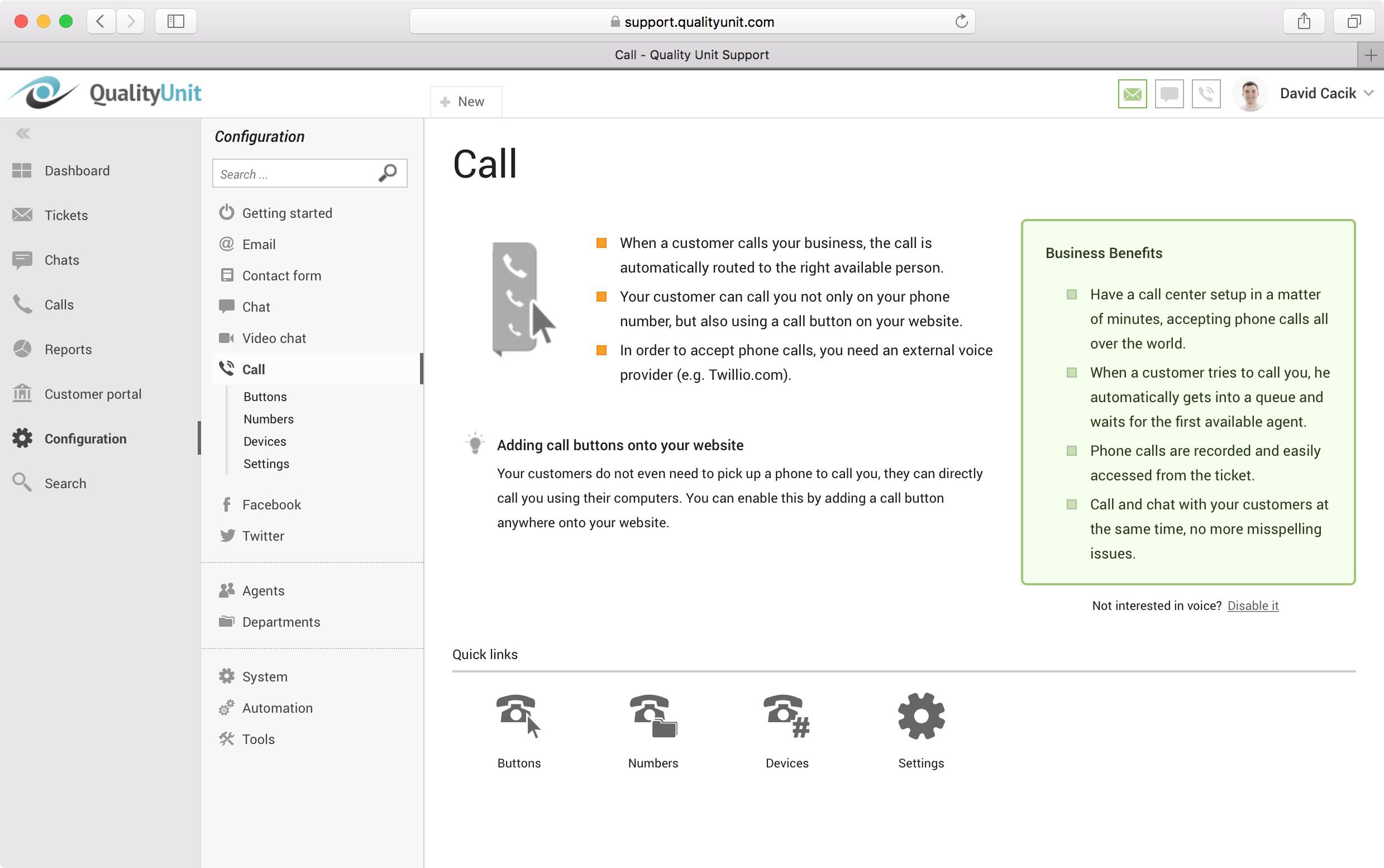 Frequently Asked Questions
What types of voice communication does LiveAgent support?

LiveAgent supports the following types of voice communication: phone to phone, i.e. both the client and the agent talk on the phone; phone to computer, i.e. the client calls from the phone and the agent picks up in the LiveAgent panel; a phone call to a smart device, i.e. the client calls from the phone and the agent picks up using the LiveAgent phone application; computer to computer, similar to Skype, thanks to the widget available on the website.

How does the voice communication in LiveAgent work?

With LiveAgent, you can conduct any type of voice communication in one place. This streamlines the agent's work and allows you to monitor multiple channels at once.

What are the benefits of voice communication?

The advantage of voice communication is that it is more natural than written communication. The human voice is used, so we hear emotions, and it is easier and faster to explain certain things that may be more difficult to describe. In some situations it is also more possible as the person may need to be contacted quickly, but cannot write.
Expert note
In the digital age, customers expect efficient and personalized communication. Voice is a powerful tool in establishing human connection and providing exceptional customer service.

Andrej Saxon
Sales manager