What is unassigned ticket?
When it comes to managing unassigned tickets, using reliable ticketing tools can be a helpful solution. Unassigned tickets are those that have been intentionally left without a designated handler but are still associated with specific departments or tagged for easy organization. Tickets can get unassigned from it's handler manually by another agent, or by utilizing automated rules.
With the ticketing tool, agents have the ability to manually unassign tickets, utilizing the Transfer feature and selecting "Department" and "Not assigned" for assignment options. This functionality ensures that unassigned tickets can be appropriately managed and assigned as needed, contributing to a streamlined support process.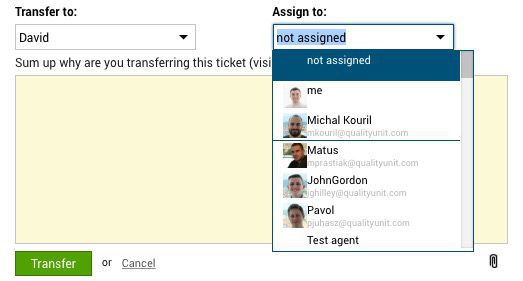 Frequently Asked Questions
How do you define an unassigned ticket?

An unassigned ticket is any ticket that has not been assigned to any agent, either manually, or covered by an automatic rule.  

How long should a ticket remain unassigned?

The ticket should be assigned as soon as possible. If this was not done by using an automatic rule, you must manually assign to the appropriate agent. However, there are situations when it is better not to assign a ticket to any agent, then it is important that it belongs to a specific department and that they are marked.  

Where in LiveAgent can you access a list of all unassigned tickets?

In LiveAgent, access to all tickets, including unassigned ones, can be found in the Tickets section in the Agent's panel.   
Expert note
Unassigned tickets can impact customer satisfaction and revenue. Assign tickets promptly to appropriate agents or departments for efficient resolution.

Andrej Saxon
Sales manager