How can I offer technical support?
Live tech support can be delivered through different channels. For instance; email, phone calls, or online tech support chat. In order to provide excellent technical support, most businesses utilize Help Desk Software. Help desk software, such as LiveAgent, streamlines customer communications and provides advanced tools for tech support agents.
What parts does the best technical support software consist of?
Mail
Dealing with a flood of emails is an inevitable part of any business's customer support strategy. But with LiveAgent, you get an even distribution of email tickets for your support agents, saving you time and effort. Another great advantage of LiveAgent is the ability to fine-tune email templates, streamlining your workflow whenever a new email ticket arrives.
If you're looking to make your customer support system more effective, LiveAgent is a tool worth considering – read more to learn about its ticketing system!
Tech support chat
More and more customers prefer to reach out through LiveChat to get a response faster. There are many chat buttons to utilize on your website these days. So how is the LiveAgent's Chat different? Well, first of all, you can see what the customer is writing even before they send it. Thus, you can prepare in advance. Does the customer need specific documents, guidance? Attach the document or send them links. Need to transfer the customer to a different department? Easy with LiveAgent!
If you would like to learn more, read LiveAgent – Chat.
Calls
Getting calls on your phone and pc from your customers at the same time? LiveAgent can help you direct the calls to your agents' computers. No more switching between devices, handle the calls from one interface.
If you would like to learn more, read LiveAgent – Calls.
Social media
Getting questions/inquires about your company's products/services on Social Media such as; Facebook, Twitter, or Viber? With LiveAgent, you can integrate these SoMe platforms and make sure you always stay on top with any issues or concerns. Engaging with your audience/customers is more important than ever. Track and handle your SoMe narrative with LiveAgent.
If you would like to learn more, read LiveAgent – Social Media.
Forum
A forum is a great way to provide your customers with a space to help each other out. With LiveAgent you can not only create a Forum but you will also get notified whenever your customers post there. Therefore, you can address any concerns immediately.
If you would like to learn more, read LiveAgent – Forum.
Contact forms
A lot of times online customer support gets a lot of spam. One way to prevent this is to provide your customers with contact forms. Thus, your customer support (business) email is "hidden". In addition, you get more information about the customers – relevant info such as; Name, Email, Phone number, which ultimately helps you provide better service.
If you would like to learn more, read LiveAgent – Contact forms.
Video calls
Online customer support can be sometimes difficult. Having the ability to show or guide the customer through online video calls can be a huge advantage for many businesses. No more trouble explaining technical issues to the customers, simply share your screen and help the customer out.
If you would like to learn more, read LiveAgent – Video Calls.
Feedback
LiveAgent's feedback option is a great way to find out about your customer's opinions and concerns. It can simply help you improve every day. Customize your own feedback button in LiveAgent and get better every day!
If you would like to learn more, read LiveAgent – Feedback.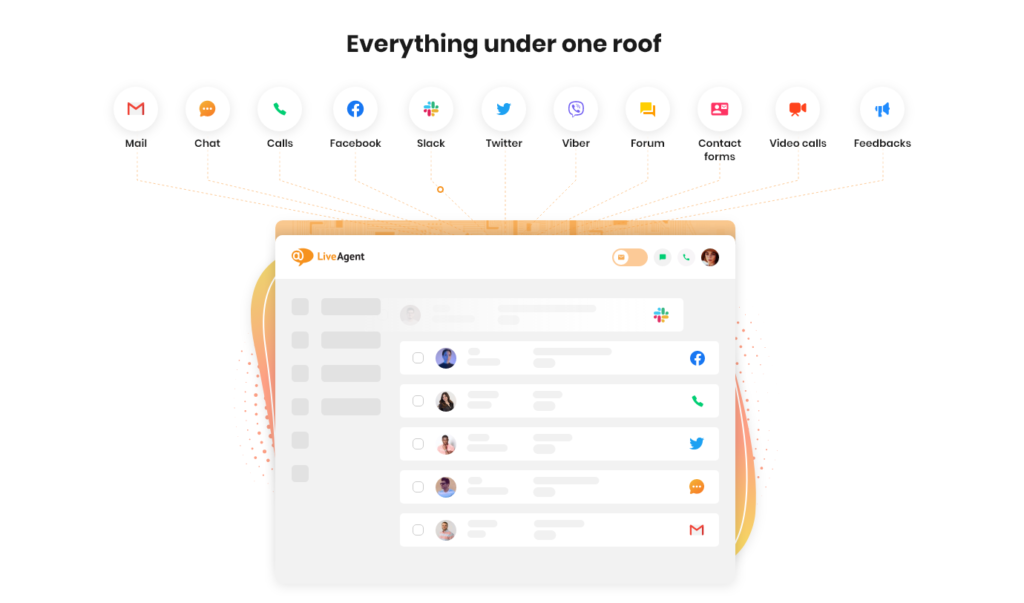 Interested in LiveAgent? Try it with our 30-day Free Trial and get your customers that omnichannel experience right away!
Other LiveAgent features that improve your live tech support: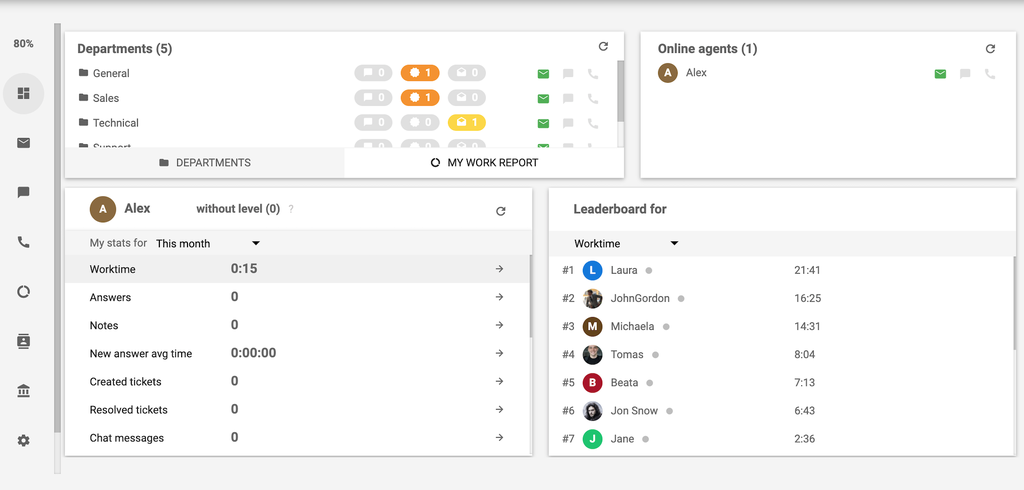 Is tech support hard?
Being an online tech support agent is a challenging job because it requires tons of patience and knowledge. In addition to that, it is often repetitive and under-appreciated, as customers can often be rude and demanding.
Having reliable IT support ticketing software available can make tech support agents' jobs easier, however, they still need to know how to fully leverage all its capabilities and functions. Because of this, support agents should attend seminars and courses to keep up with all the updates and new developments.
What does it take to be an online tech support agent?
Tech support representatives need to have a vast amount of knowledge about the technical specifications of the products and services they provide. In addition to that, tech support agents need to possess active listening and people skills. They need to be able to understand what the customer wants and be able to patiently guide them towards problem resolution.
What skills does an online tech support agent need to possess?
Tech support agents need to have a deep understanding of the product their company is selling so they can assist their customers with both simple and complex issues.
As mentioned above, customer representatives also need to have active listening and people skills. It's also beneficial if tech support agents are multilingual. That way, they can provide support to more customers in more than one language.
Last but not least, agents need to be able to type fast and without errors. A fast typing speed ensures that customers get answers to their questions quickly. This ensures customer satisfaction, and in turn, improves retention and revenue.
Try out LiveAgent for FREE
Handle all customer inquiries from one interface. Start improving your customer service with a 30-day free trial right away!
Frequently asked questions
What does the term online tech support mean?

Technical support is a service under which companies provide assistance to users of technological products - both devices, such as telephones or computers, but also software. Their purpose is to help the user solve specific problems with the product.  

What are the characteristics of an online tech support?

The features of online technical support are, first and foremost, an excellent ability to solve problems, find their cause and provide an appropriate solution. In addition, communication skills that allow an individual and appropriate approach to the client are extremely important. Flexibility and not sticking to the usual patterns are also important.  

Can you provide online tech support via LiveAgent?

Of course, you can provide online technical support with LiveAgent. It enables communication with customers and provides an advanced tool for technical support agents. You can manage all communication channels in one place (email, live chat, video chat, social media etc.), you can create a customer help center, and you have access to reports and communication history.  
Expert note
<p>Online tech support is a game changer in today's digital age. Utilizing advanced tools and communication channels such as LiveAgent can streamline customer support and improve satisfaction.</p>

Andrej Saxon
Sales manager