What is an ITIL?
ITIL, also known as Information Technology Infrastructure Library, is a collection of guidelines and best practices for planning, and delivering IT service management (ITSM). It includes processes, tasks, and information that can be used to create integration with the company's strategy and to deliver big value. ITIL is often used as a part of an IT helpdesk ticketing system to manage risks, build strong customer relationships, improve efficiency, gain competitive advantage, reduce costs, and much more.
Watch a video about ITIL
ITIL (Information Technology Infrastructure Library) is a set of best practices for improving IT service delivery and management. It is a comprehensive set of processes and procedures, based on industry-standard methodologies, that aim to improve operational efficiency, lower costs, and improve customer satisfaction. LiveAgent help desk software helps organizations apply ITIL principles to their customer service operations. It features built-in ticketing systems; automated issue tracking; incident and problem management tools; self-service portals; and powerful reporting capabilities, all designed to help IT teams manage customer service more effectively.
ITIL In 1 Minute | What Is ITIL? | ITIL Tutorial For Beginners | ITIL Foundation | Simplilearn | Simplilearn01:18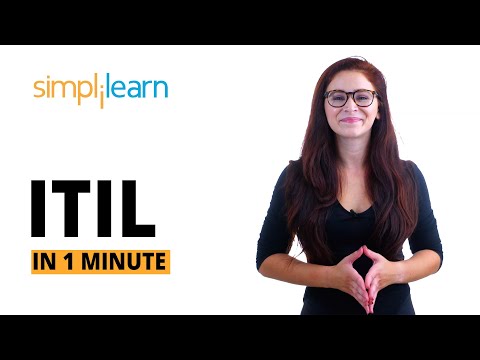 Simplilearn
Frequently Asked Questions
What does ITIL stand for?

ITIL, or Information Technology Infrastructure Library, is a set of detailed IT service management practices that focuses on aligning IT services with business needs. ITIL describes processes and procedures that are not specific to an organization or technology, but can be used by the organization to implement its strategy, provide value, and maintain a minimum level of competence.  

What are the 5 stages of ITIL?

The 5 stages of ITIL is a service strategy, service design, service change, service operation and continual service improvement. The strategy aims to make a decision about the customer service strategy. The project aims to design new IT services. Change is the creation and implementation of IT services. Operation is about ensuring the effective and efficient provision of IT services. On the other hand, continuous improvement of services is the use of quality management methods to learn from previous successes and failures.  

What is ITIL used for?

ITIL can bring benefits to any organization that provides users with an IT service or product. It is used primarily in various types of companies, by authorities, universities and non-governmental organizations. ITIL is not a standard, but a set of best practices, which can help reduce costs by optimizing the use of resources, better service delivery and customer satisfaction, as well as a stronger match between IT and business groups.  
Expert note
ITIL is a highly effective framework for managing IT services and improving customer satisfaction. Its best practices promote streamlined processes, clear communication, and efficient problem resolution, ultimately leading to a better customer experience.

Andrej Saxon
Sales manager