What is a dynamic content?
Website content that frequently changes according to the need of the viewer is known as dynamic content.
When a customer makes any request on the web page, the application works in a way that the content generated and portrayed on the screen, is based on the preferences of the customer. This helps the customer have a good experience.
All previous visits by a single customer can help modify the content that the user would prefer seeing. It is very helpful as a language support system, as the content automatically changes to the language of the customer who is viewing it.
Watch a video about dynamic content
Dynamic content is a term used to describe content that changes depending on user data, such as location, behaviour, interests and demographics. LiveAgent help desk software is an all-in-one software that helps companies manage customer service interactions with their customers. It provides an intuitive user interface, along with powerful features — such as dynamic content — that enable companies to better serve their customers. The dynamic content feature allows companies to tailor messages or content based on customer behaviour, allowing them to provide a more personalized customer service experience. Additionally, LiveAgent help desk software offers additional features such as chatbots, ticketing, and social media customer service tools, providing companies with a comprehensive solution to manage customer service interactions.
The Basics of Dynamic Content in 15 Minutes | Rino - LivingWithPixels18:16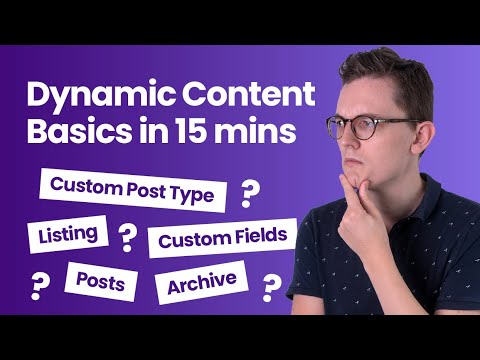 Rino - LivingWithPixels
Topics
creating dynamic websites
updating website content
working with website templates
Video summary
The video discusses the basics of creating a dynamic website, updating content on the website, and working with website templates. The speaker emphasizes the importance of automating tasks and using problem-solving skills when faced with unknown issues. He also mentions the usefulness of using plugins and special features to improve functionality. Overall, the video provides a brief overview of website creation and management.
Frequently Asked Questions
What is dynamic content?

Dynamic content is all internet and digital content that changes depending on what data we have at our disposal, as well as depending on the behavior and preferences of the user. They can be published in text, video, audio or mixed form. For example, YouTube algorithm displays materials according to the user's preferences.

Do customers value dynamic content?

Customers value dynamic content because they feel that the content is tailored to their interests and preferences, and also addressed directly to them. Most social media work on this principle, but such content also appears on websites or in customer service.

Can you use dynamic content in LiveAgent?

In LiveAgent you can use dynamic content. Then it changes depending on the viewer's needs. The customer's previous visits to the website help in selecting the content. It works great as a language support system as the content changes to the language of the client browsing the site.
Expert note
Dynamic content is a game-changer for personalized communication, providing a better user experience that meets customer needs.

Andrej Saxon
Sales manager