Definition of a call to action (CTA)
A call to action (CTA) is a marketing term that refers to a specific part of a marketing message that attempts to persuade users to perform the desired action. CTAs are used on every step of the sales funnel. A call to action can simply encourage engagement (e.g., reading another blog post, signing up for a newsletter, downloading an e-book) or motivate an immediate purchase. It's an essential part of any inbound digital marketing strategy. CTAs are used by marketers both on websites and in email marketing campaigns to improve user engagement, guide prospects through the purchasing process, and drive conversions.
A call to action can appear as a clickable button (a call to action button), a banner, a hyperlinked text, or a pop-up form on a website. It is typically written in the form of action phrases with imperative verbs, such as 'sign up, 'call now', 'find out more', 'buy now', etc. The idea is to motivate users to take the next step by making it obvious and convincing, which increases the odds they'll continue through your conversion funnel. A powerful CTA can also provide users with a strong reason to purchase immediately. 'Buy today to get 50% off' or 'Order before midnight to get a free gift' are some examples of CTA that create a sense of urgency.
What makes a good call to action?
Visibility
A call to action must be easily noticeable to instantly grab the attention of a potential customer and have a higher click-through rate. The font size should be large enough to stand out from the rest of the copy on the page.
Compelling design
A good call to action is a combination of persuasive language and a compelling design. Bright colors like green, red, yellow, and orange are known to perform better than others for CTA buttons. The color should also contrast with the main color theme of the page.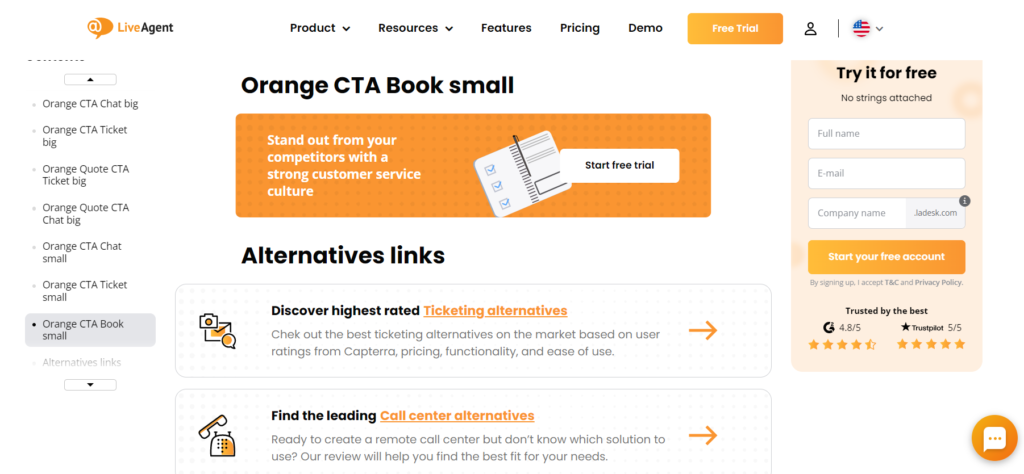 Actionable text
Authoritative language and action verbs like 'click', 'shop', 'start' typically work well for the call to action copy. It's also common to write the text from the perspective of a visitor ('Start my free trial' instead of 'Start your free trial').
Sense of urgency
An effective strategy is to ensure your CTA conveys a sense of urgency and creates FOMO ('Shop now while supplies last', 'Sign up by Friday to get 15% OFF'). It helps compel visitors to take action immediately.
Benefit-oriented
Some of the best CTAs are benefit-oriented and clearly highlight the advantages users will get from taking a specific action ('Get a response in under 60 seconds').
Examples of a call to action
Calls to action can be placed nearly anywhere on a website. Here are some of the most common call to action examples based on where they are located on the webpage.
Persistent header/ footer CTA
This type of CTA remains static either at the top or the bottom of the screen regardless of scrolling. It ensures the CTA stays visible and readily available no matter where visitors are on the page, yet it doesn't interfere with the actual content.

Sidebar opt-in forms
Sidebar capture forms and sidebar ads are some of the most effective CTAs. These are located in a highly visible area of a webpage and are commonly used for building email lists ('Subscribe now').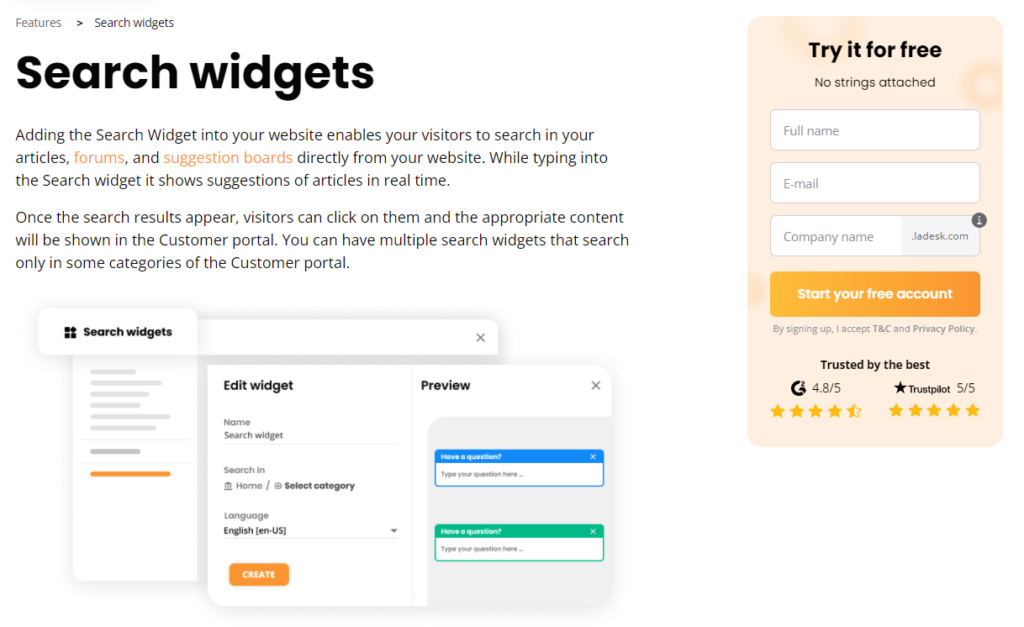 End-of-content CTA
This call to action appears at the end of a piece of content, typically an article/ blog post. It helps engage blog readers who reach this point on a page and thus are probably more likely to convert.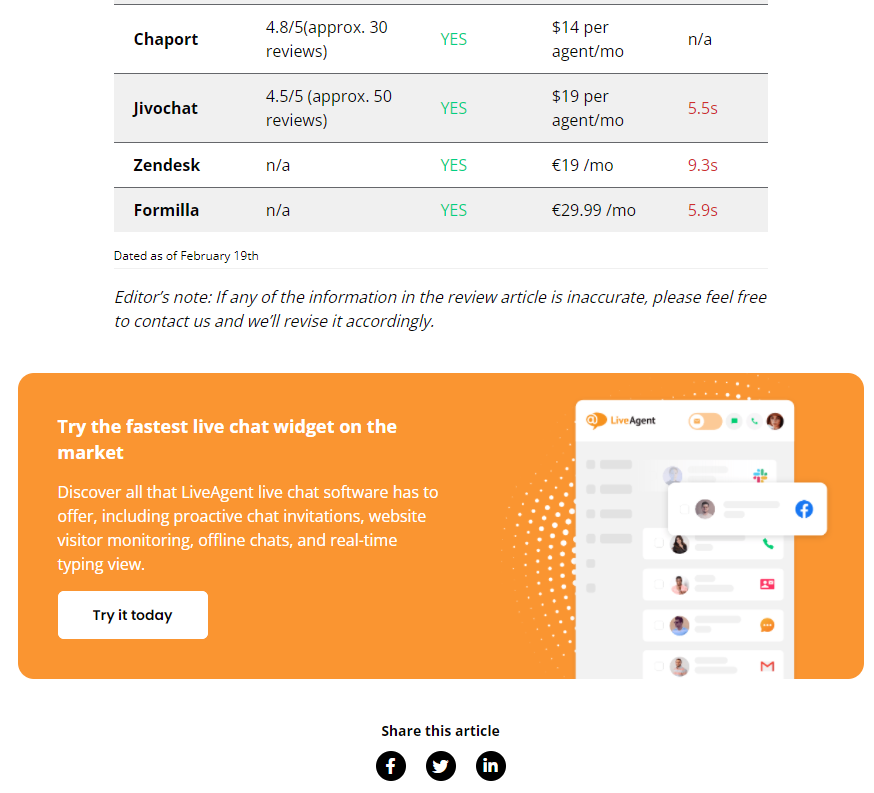 Exit-intent pop-up CTA
These CTAs are triggered when someone is about to click off your page (usually when the mouse goes towards the X button) and are a great way to catch leads before they bounce. A study proves exit-intent popups capture 35% of people who are about to leave.
How do you know if your call to action is working well?
Consistently measuring the success of your call to action, including A/B testing of different versions will help you improve response and conversion rates. It's recommended to gauge the effectiveness of your CTA by keeping track of and analyzing these two metrics:
click-through rate (CTR): CTR is measured by dividing the total number of unique visitors by the number of visitors who click on a CTA button. According to the Vye research, the average CTR for a call to action element is 4.23 percent across all industries. However, the number can significantly vary by industry.
submission rate: Submission rate is the percentage of visitors who clicked on the CTA button and then submitted their information/ filed out a form or took any other desired action you want them to take.
Eventually, the ultimate goal of any call to action is to lead visitors towards making a final decision (usually purchasing your product or service). This is why if your CTA is working well, you should see increased lead generation and conversion.
Engage with website visitors and potential customers
Improve your customer service game with LiveAgent's help desk software packed with features!
Watch how to create an effective CTA
A call to action (CTA) is a powerful marketing tool that prompts and guides customers to take a specific action. Make your CTA's clear, compelling, and easy to follow. Use action-oriented language, strategic placement, and visuals to attract attention. Regularly test and optimize your CTAs for maximum effectiveness in driving conversions and achieving marketing goals.
What Is A Call To Action In Marketing? | Gold Level Marketing08:47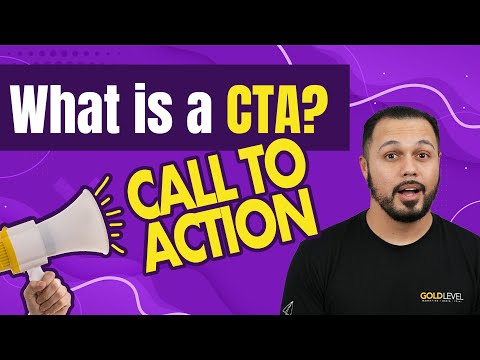 Gold Level Marketing
Topics
Calls-to-Action
Types of CTAs
Creating Effective CTAs
Video summary
The video discusses the importance of CTAs (Calls-to-Action) in marketing and the different types of CTAs that can be used, such as text hyperlinks, buttons, and plain text. The video emphasizes the need to provide direction to potential customers and guide them towards taking a specific action, whether it be to make a purchase or to obtain more information. The speaker also provides tips for creating effective CTAs, such as using numbers, percentages, and adjectives, and creating a sense of urgency with FOMO (Fear of Missing Out) language. Overall, the video serves as a useful guide for businesses looking to improve their marketing strategies through the use of CTAs.
Frequently Asked Questions
What is a call to action (CTA)?

A call to action (CTA) is a statement used in marketing to motivate users to perform a certain desired action. That can range from simply engaging prospects (like encouraging users to subscribe to your newsletter) to prompting them to purchase immediately. CTAs are usually presented as buttons or hyperlinked texts and can be found at any stage of a conversion funnel.

What makes a good call to action?

A good call to action is easily noticeable and instantly attracts visitors' attention. It has a compelling design and includes actionable text that encourages users to take immediate action. Some of the most effective CTAs convey a sense of urgency and highlight the benefits users will get by clicking on the CTA button.

What are examples of a call to action?

The most common and most efficient CTA instantly highlights benefits. It is visible, compelling, well designed with actionable texts and a sense of urgency. Statically located as persistent header/ footer CTAs, sidebar opt-in forms, end-of-content CTAs and exit-intent popups.

How do you know if your call to action is working well?

Measure it. The most important is your click-through rate (portion of visitors who click on your CTA button) and you can also keep tabs on the submission rate (percentage of visitors who clicked on your CTA and then submitted a form or took any other desired action). Ultimately, if your CTA is working well, you should see improved conversions.
Expert note
<p>Call to action is a powerful marketing tool used to persuade users to engage or make a purchase. It should be visible, compelling, actionable, and create a sense of urgency.</p>

Andrej Saxon
Sales manager