Today, data and analytics are driving the decision-making process in many areas. In an online setting, one of the most commonly used methods to gather valuable insight is A/B testing.
Below you will find everything you need to know about A/B testing. From defining what it is to understanding the metrics.
What is A/B testing?
A/B testing is often referred to as split testing. In other words, it is a procedure to compare two versions of the same product. In an online setting, it's often used to compare two versions of a particular marketing asset, email, or web page. This could mean simple changes like trying out a different button color, to changing the whole website design. In an E-commerce business, it is most commonly, used for measuring website performance.
Manually performing A/B testing is virtually impossible. All businesses use a testing program specifically built for A/B testing purposes in order to automate the process. The testing process is as simple as creating two versions of a web page. You give one version to one group of your website visitors and the other version to another group. Both groups assess their product experience.
After A/B testing is complete, you will get insight into the results and discover which version performs better.
All these insights are greatly valuable when it comes to your marketing strategy. Whether it is content marketing, customer experiences, or trying out various approaches to advertising strategies. Your marketing teams will benefit greatly from a deep dive into the data directly from your target audience.
What to do before you start A/B testing?
Performing A/B testing before making a plan isn't practical. There are several essential tasks you need to do before you start A/B testing:
Identify your goals – there are plenty of testing elements you can target. These include product descriptions, specific buttons, or CTA. To identify which elements to test, you need to identify your goals. For instance, your goal could be to boost the conversion rate, so you would test accordingly;
State the hypothesis – the hypothesis will help you better examine the results of the test. It is basically a prediction of which results you expect to see after the test is complete;
Decide which A/B tests you want to run – with goals and hypotheses, it will become easier to determine which A/B tests, in particular, you need to run;
Choose an A/B testing program – not all A/B testing programs are the same. While some feature tests are conducted, others are not. Knowing which tests you need to run will make picking one easier. Consider future tests you may conduct while doing so.
How long should you run an A/B test?
The frequency of testing affects the period of time you let the experiment run, which in turn affects sample size and significance. The larger the sample size, the more comprehensive the results. Your daily average number of web page visitors fluctuates. Because of this, allowing your test to run longer is better.
How long will it take to get significant results? There are several factors to consider, such as how you conduct the A/B test and the sample size. It is a good idea to wait until you get enough traffic to have statistically significant results.
Tools of A/B testing
A/B testing software is widely available. But the most commonly used ones are Google Analytics A/B testing and personalization tools Google Optimize and LiveAgent helpdesk software.
Google Analytics is a free testing tool built to streamline A/B web page testing. You can determine which headline attracts visitors, which design and layout result in more time spent on your site, which CTA generates more click-throughs and more.
LiveAgent software comes with an A/B testing tool for email, so you can test the responsiveness of your email receivers and measure their open and click-through rates.
Most tools let you observe results in real time, which makes it possible to make changes to your marketing campaign on the fly.
When should you not use an A/B test?
If you cannot access relevant results or are dealing with a complicated evaluation, you should avoid A/B tests. What does it mean? Multivariate testing and split URL testing paired with server-side experiments are probably required if you need to conduct a complex evaluation. A/B testing will not provide reliable results.
To get relevant results, you need to have sufficient traffic. Without enough traffic, your results won't be credible. In addition, you need an informed hypothesis and sufficient time to determine what to test, set everything up, and carefully examine the results.
How is A/B testing done?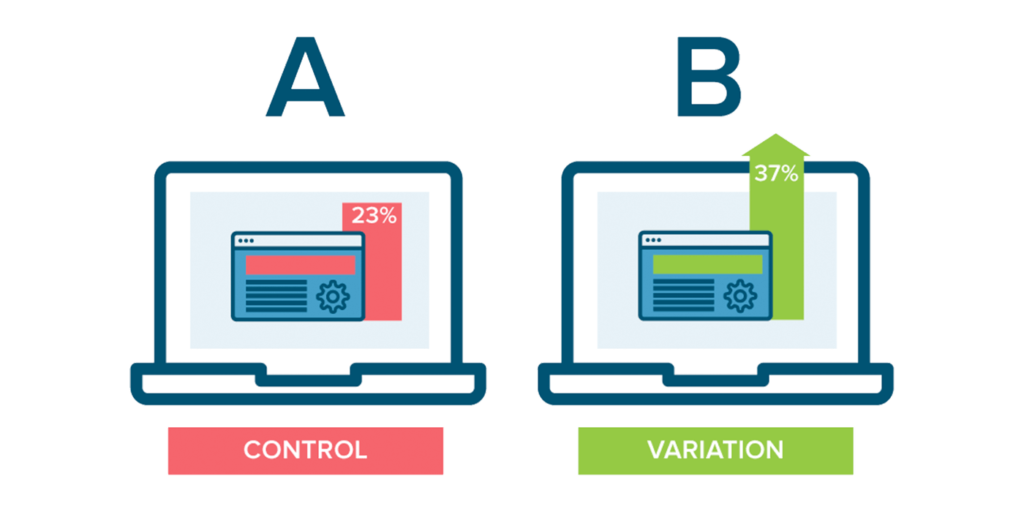 Let's say you want to find out if the new web page or the current version of the page will bring you closer to your goals. You are responsible for creating goals that can range from improved user experience overall to improved conversion rates.
In A/B testing, A stands for a control version variable, which is your current web page. The B stands for variation or new version of the web page. Having both A and B pages ready, you need to decide what percentage of your target audience will be served by the current pages and what percentage by the variation pages.
Typically, businesses split the user base equally between the two. In this way, we get the most reliable test results, and we can compare the two options directly.
What sort of metrics should you be paying attention to when it comes to A/B testing?
Upon completing the A/B test and setting up traffic distribution, you will receive a report. To get actionable insights, you need to pay attention to the right metrics. Your goals should be the determining factor for the metrics you use.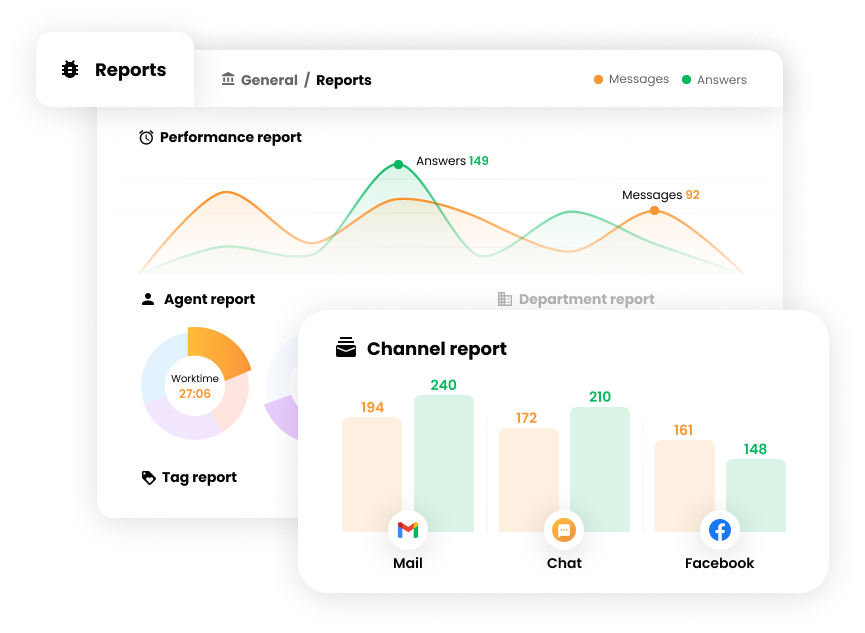 Let's say you want to attract more visitors to your site and increase your brand awareness. In this case, you should pay attention to the traffic metric. If your goal is conversion rate optimization, you need to track conversion metrics. Clicks are an essential metric to look at if you want to drive more customers down your sales funnel. You can also track other metrics, for example, app crashes, audience preferences, and increase in engagement.
Cross-referencing these metrics can provide you with better insights and help you select the best-performing page.
Stand out from your competitors with a strong customer service culture​
Watch a video about A/B testing
Discover the power of A/B testing for data-driven decision making. Learn how businesses use this technique to optimize performance, mitigate risks, and make informed decisions. Explore the key elements of A/B testing, including hypothesis development, randomized testing, statistical significance, and an iterative approach. Watch this video to unlock the potential of A/B testing in driving conversions and improving user engagement.
What is A/B Testing? | Data Science in Minutes | Data Science Dojo03:43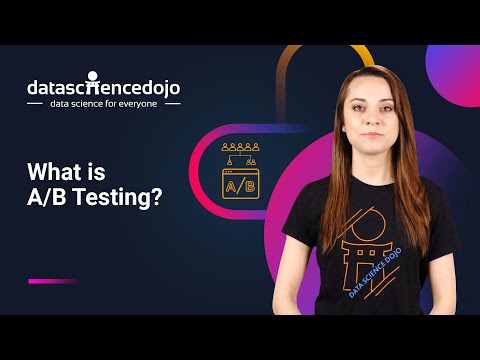 Data Science Dojo
Topics
A/B testing
data-driven approach
customer behavior
Video summary
A/B Testing is a statistical way of comparing two or more versions to determine which version performs better and if a difference between two versions is statistically significant. Companies run A/B tests to take a data-driven approach. Customers often behave much differently than businesses think, so it's best to conduct tests rather than relying on intuition. A/B testing can be done on various factors such as layout, call-to-action, images, and machine learning algorithms. It's important to ensure that A/B tests are conducted properly.
Frequently Asked Questions
What is A/B testing?

A/B testing compares two versions of a web page. Marketers and UX specialists often use it to compare marketing assets and email copies as well.

What to do before you start A/B testing?

Before starting A/B testing, you should identify and define your goals, state the test hypothesis, choose which A/B tests to conduct and select the right testing tool for your specific needs.

How long should you run an A/B test?

Your A/B test should run until you have statistically significant results. It is best to let it run until your website gets enough traffic to generate credible results.

What are the tools of testing?

A/B testing tools are specifically designed testing software for executing A/B tests. Google Optimize is built to streamline A/B testing for web pages, and LiveAgent helps run A/B tests on emails.

When should you not use an A/B test?

You should not use A/B tests when you need to do a complex evaluation that may require other types of tests. Furthermore, you should not run it without sufficient traffic and an informed hypothesis.

How is A/B testing done?

A/B tests begin with the creation of a new version of the current page. Then you split your customer base into two equal sets of users and serve the original version to one half and the new version to the other.

What sort of metrics should you be paying attention to when it comes to A/B testing?

You should pay attention to the A/B test result metrics based on your goals and hypothesis. Clicks are metrics that tell you if your visitors are performing a specific action you want them to, conversion shows you how well a web page converts, and traffic simply tells you how much traffic the web page generates.

What do you mean by AB testing?

AB testing is a way to compare two different versions of a web page or app to see which one performs better.

What test is used for AB testing?

A/B testing is a type of experiment where two versions of a web page are compared against each other. Version A is the original page, and Version B is the variation.

What is AB and MVT testing?

AB testing is a type of split testing that allows you to compare the results of two versions of a web page or email. MVT testing is a more sophisticated type of AB testing that allows you to compare the results of more than two versions of a web page or email.
Expert note
A/B testing is a critical component of effective marketing strategy. By comparing different versions of a web page or marketing asset, you can improve conversion rates and customer experiences.

Andrej Saxon
Sales manager