The expectations from a business of any size today is to meet customer demands immediately, in some cases, even before customers can think of their request.
Long waiting time, whether in a queue of a traditional store or for package delivery and then a lack of instant support, is a frequent inconvenience for many customers and a cause for the complaints. 
As a startup or a small business, your business plan is most likely focused on delivering the best customer experience and gaining a competitive advantage in your niche.
The importance of providing excellent online customer service is no longer an offshoot of a company's interest but a primary motivation for success.
The key to achieving a high customer satisfaction score is effective communication, for which live chat is an ideal digital solution. 
But live chat software can be more than just a simple chatting tool. 
Are you interested to know more? 
Let's dive in. 
What is live chat software?
For companies of any size, a website is the online representation of their brand. After all, that is where most customers will go next when they come across the company's products and services—for this reason, acquiring a tool that the consumers can conveniently use to contact the service representatives while browsing is a significant asset. 
Live chat changes communication from a tiresome process of picking up the phone or writing an email to an instant messaging platform. Hence, it requires the customers' lowest effort to receive the answers to their questions with just a click of a button.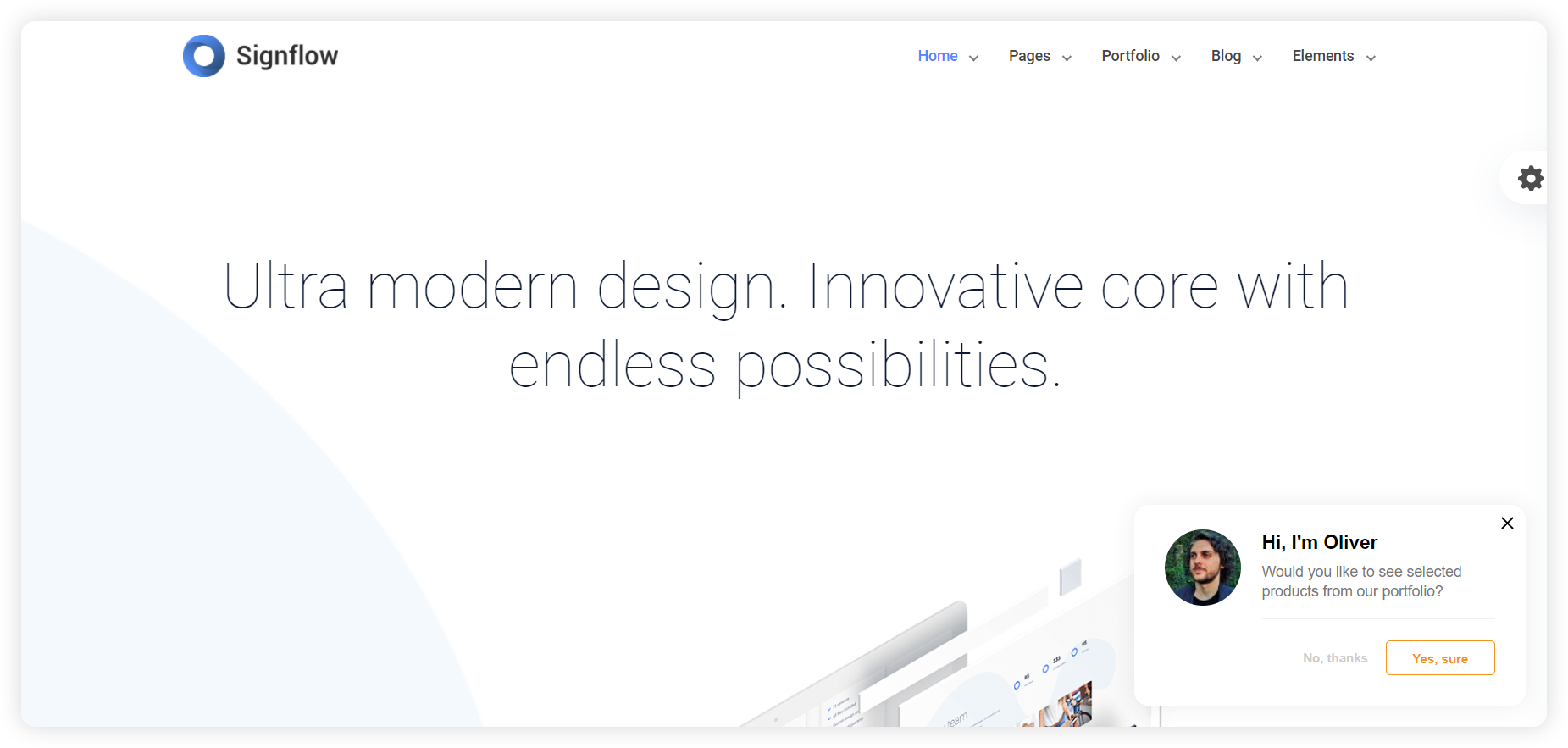 How and where the small chat button appears on the website is based on the user's preferences. Generally, it is embedded on the pages that generate the most traffic. A checkout page is a great option, as that is where the bounce rate frequently occurs. 
The design options for the button are extensive – from the animation to the type and style. All predesigned templates are available for personalized customization in the gallery. If you cannot find the style that suits you, you can create a custom one by uploading an image or writing your HTML code.   
Some companies abandon the human element of their communication platforms for the sake of automation. And even though live chat does support automation of many kinds, rest assured that there is an actual human agent on that other line. And isn't that what makes the whole experience more personal? 
LiveAgent Live Chat Demo | Live Agent02:16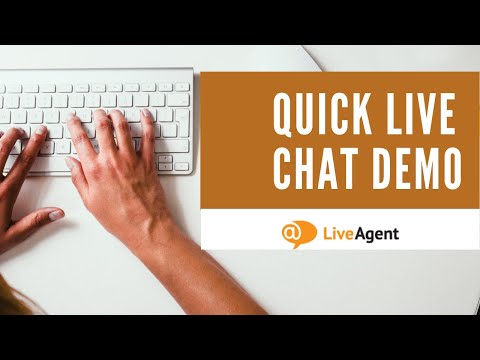 Live Agent
At this point, what's going through your mind is probably something like: "This is all well and good, but why do I need one?". 
Well, keep reading to find out. 
What advantages does live chat have over the phone or email? 
Convenience and ease of use are two components that tick the boxes for the customers' idea of a reliable company.
Not many customers would keep their interest in purchasing a product or procuring a service if the poor customer service disrupted their buying experience. Not to mention the probability of negative feedback that can hamper the company's reputation.  
Phone and email support are not obsolete communication channels. Quite the opposite. However, the numbers show that 79% of customers prefer to chat with agents because of its immediacy compared to other channels. 
Strategic budgetary planning is crucial for any business, but it goes double for small companies and startups. Implementing live chat in your customer service represents one of the best ROI as it is considerably cheaper and results in lesser expenses.
Even on a small budget, you can acquire a limited but still highly effective chat tool for free. Your customer service operators will be able to coordinate multiple chat conversations in real-time, saving valuable time and resources for the company. That allows you to switch your focus on optimizing and crafting a sustainable sales and marketing strategy.  
How can Startups and SMbs benefit by using live chat?
Every contact we have with a customer influences whether or not they'll come back. We have to be great every time or we'll lose them.
A business that puts customers first is a business that recognizes how valuable customers are.
Relationship marketing acknowledges that building a long-lasting connection with customers is less expensive and generates more revenue. But to the companies that are only starting, the more critical factor is to attract and convert leads and prospects into regular, paying customers. 
Benefits of Live Chat and How to Use It | Live Agent05:52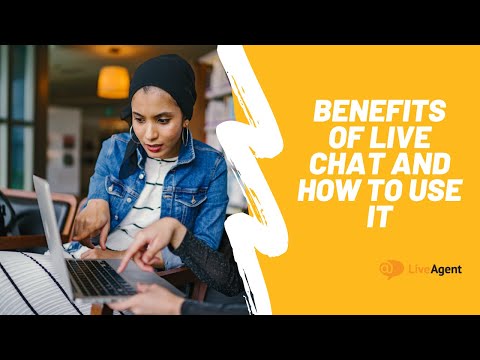 Live Agent
Although startups and small businesses often get lumped together, their goals are not the same. 
Live chat can be utilized in three distinct stages of the customers' journey, that empowers the support teams of both Startups and SMBs and caters to their specific targets:
Service support 
Sales and loyalty 
Marketing and promotion
As part of a complex help desk software, live chat delivers substantial benefits through its user-friendly features.
Universal Inbox: Customer service support's primary goal is to provide a positive customer service experience, with each interaction between the customer and the brand.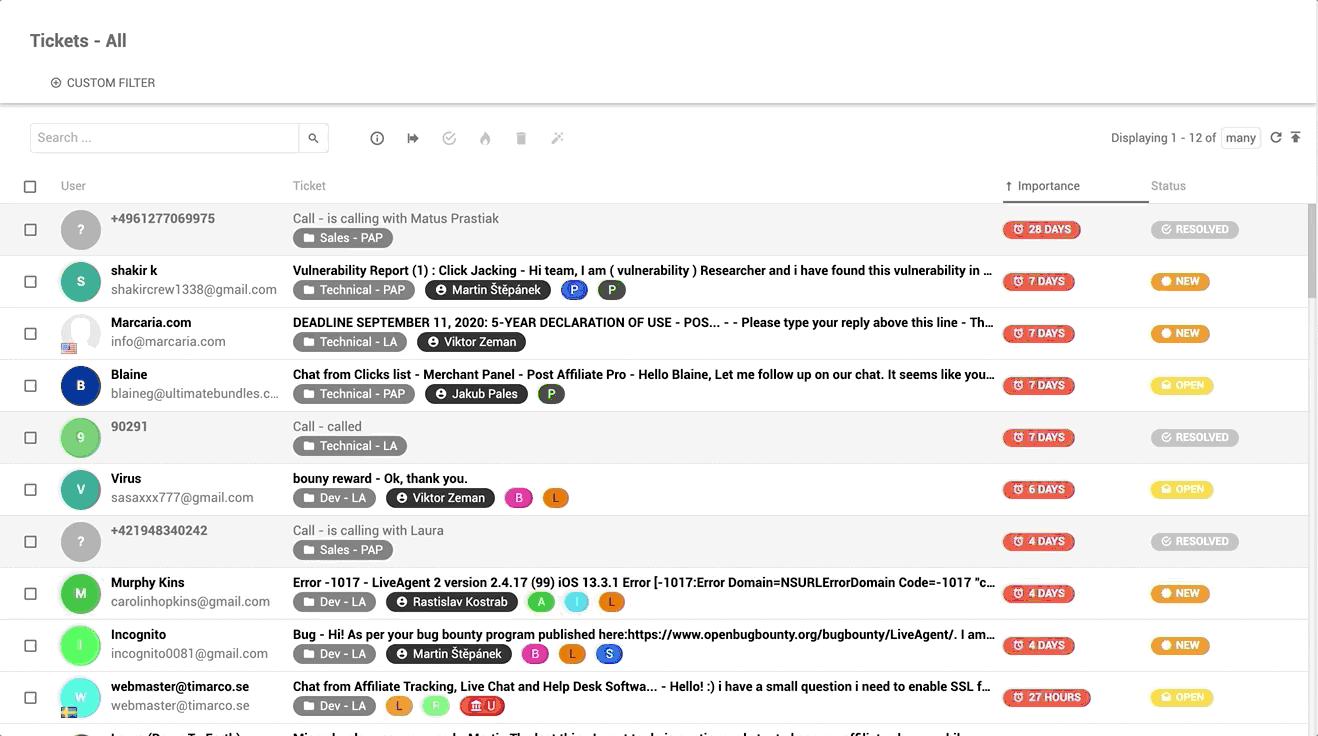 The universal inbox feature enables agents to view and answer conversations received from any channel. The built-in CRM records and stores all customer data for improved organization, and its abilities can be further increased by integrating with additional CRM software. 
Proactive chat invitations: Whether used on its own or combined with other features, can produce a remarkable ROI. When a visitor lands on your website, you can set up a time rule for the invitation to pop-up, or place it on a specific page. It's like walking into a store and being welcomed by a smiling employee, ready to help.
You can even create multiple chat invitations and target different kinds of customers.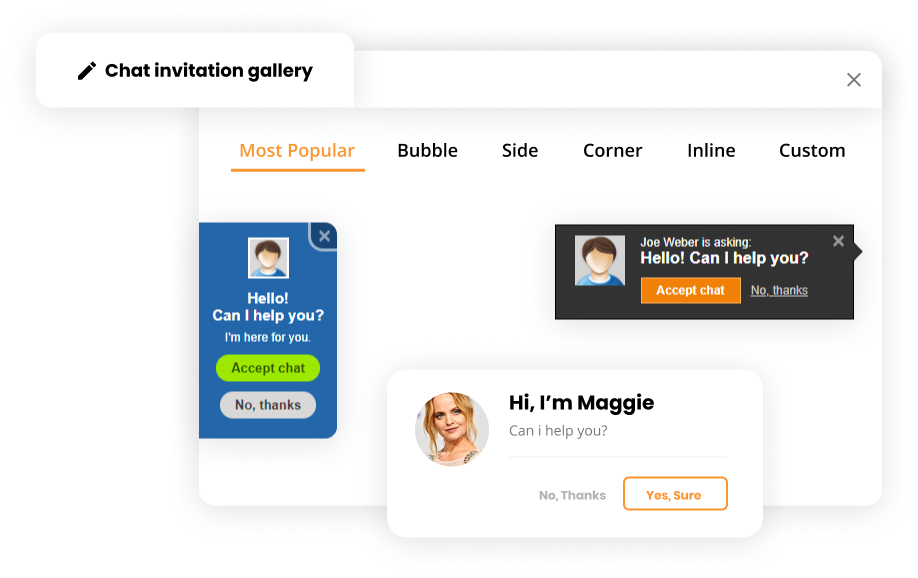 If you run a multinational business, you can adapt the widget to display in a language you prefer. Equally to the chat button, the design, message, and style of a proactive chat invitation is customizable, and all the templates can be found in the gallery. 
Real-time Typing View: Proactivity from the side of the agents is what the customers appreciate. During the chat session, agents can see what the customers are typing into their chat window in real-time and prepare to resolve any request before they can even hit the send button.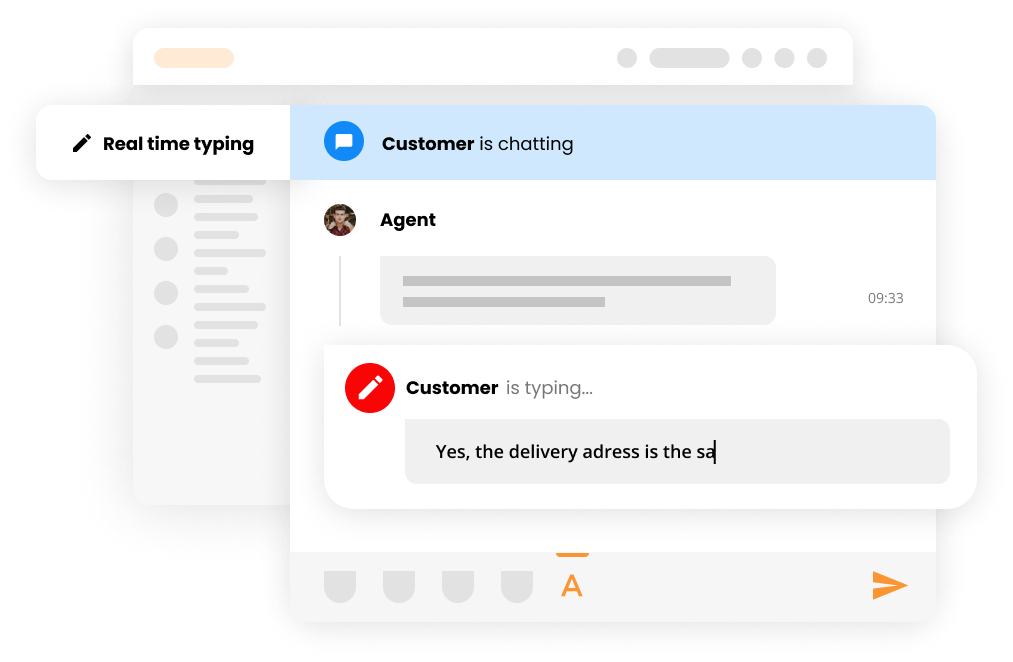 Chat distribution: You can improve your agents' efficiency and ensure that the right agents are chatting with the selected customers. Choose three predefined route options – random assignment, ring to all, max utilization. If the workload becomes too overwhelming, you can set up the maximum queue limit and give your agents some breathing room.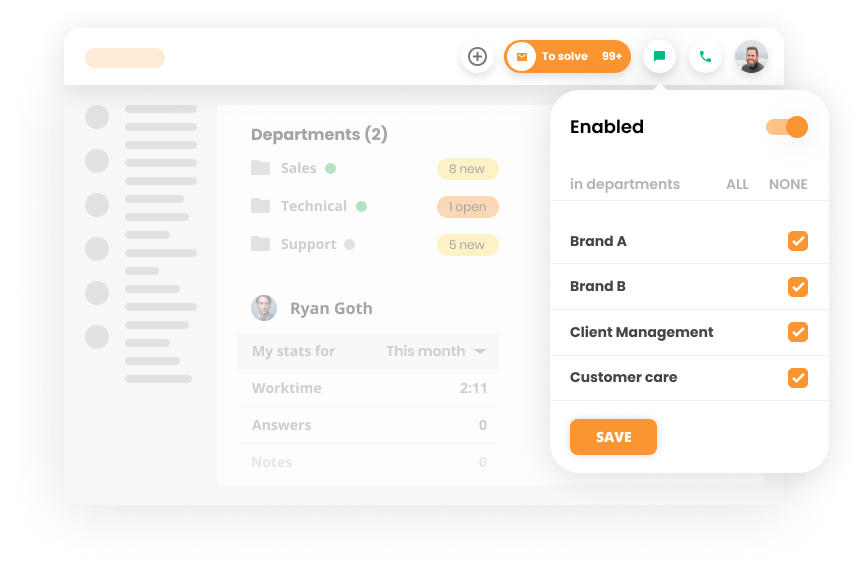 Pre-chat and offline form: As a startup or small business, one of your main goals is to build your customer contact list and generate more leads.
You can activate the pre-chat form feature in the settings so that it will automatically request contact details from the customer at the start of a chat session.
The offline form ensures that the customers will reach out to your service team, even outside of business hours, keeping the support live 24/7.
Post-chat survey: The opinions and feedback from visitors are essential for startups and small businesses as it helps to build the brand and provides a chance to reflect on the tactics and strategy. Allow your buyers to give feedback on a chat session, product review, or the agent's efficiency.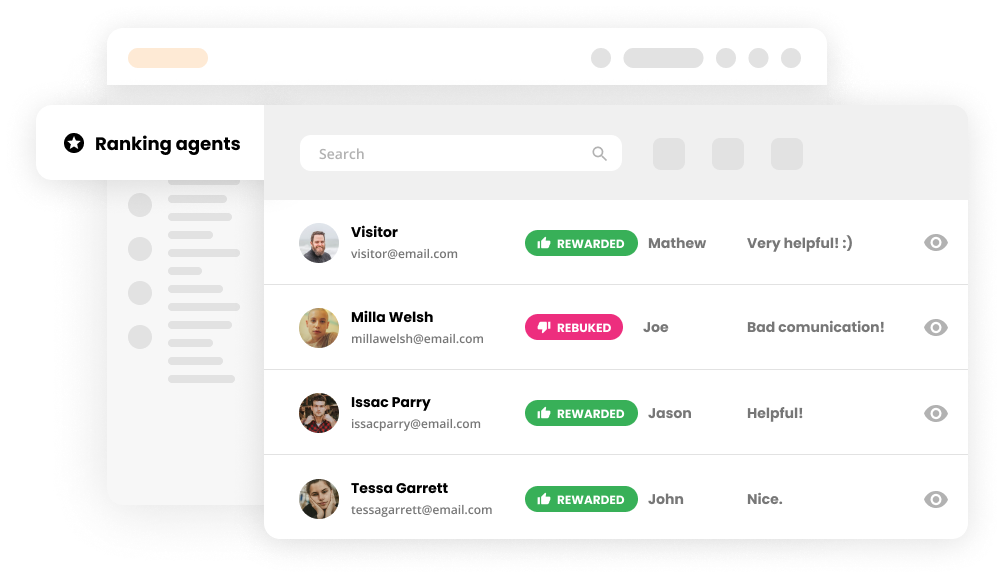 Positive customer reviews can then be used as social proof and posted on the website to elicit referrals. Alternatively, collected data can be used for content creation, in a FAQ section, or a blog. It can also uncover previously unreported navigation website issues that help optimize your website. You can also use this feature to build loyalty and trust.
If a customer requests it, you can send the chat transcript and be as transparent as possible.
Chats overview: Chat overview allows you to observe and collect the information about the visitor's location, URL, or time spent browsing the website for further use in a marketing strategy.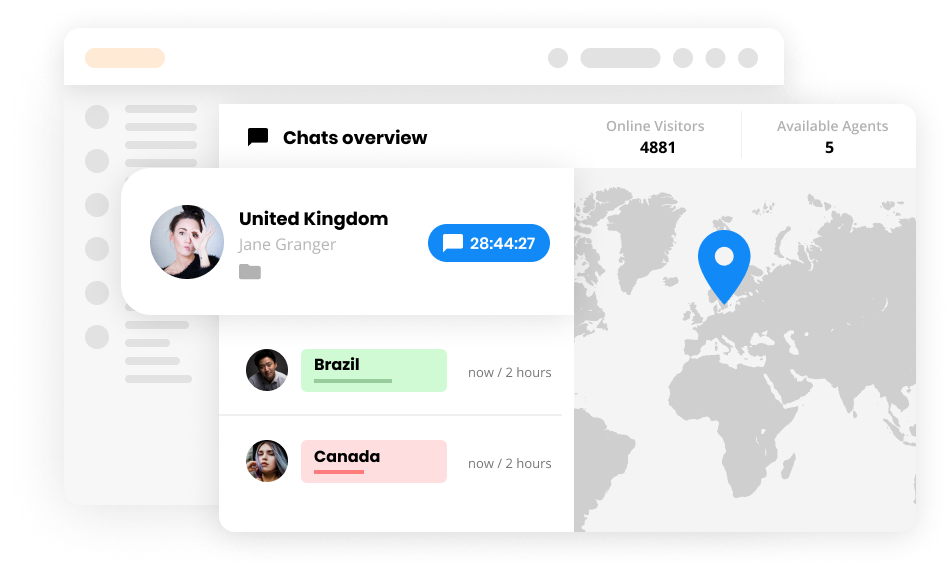 Chat embedded tracking: If you wish to see proof of your efforts for acquiring new customers, track conversions from live chat in Google Analytics.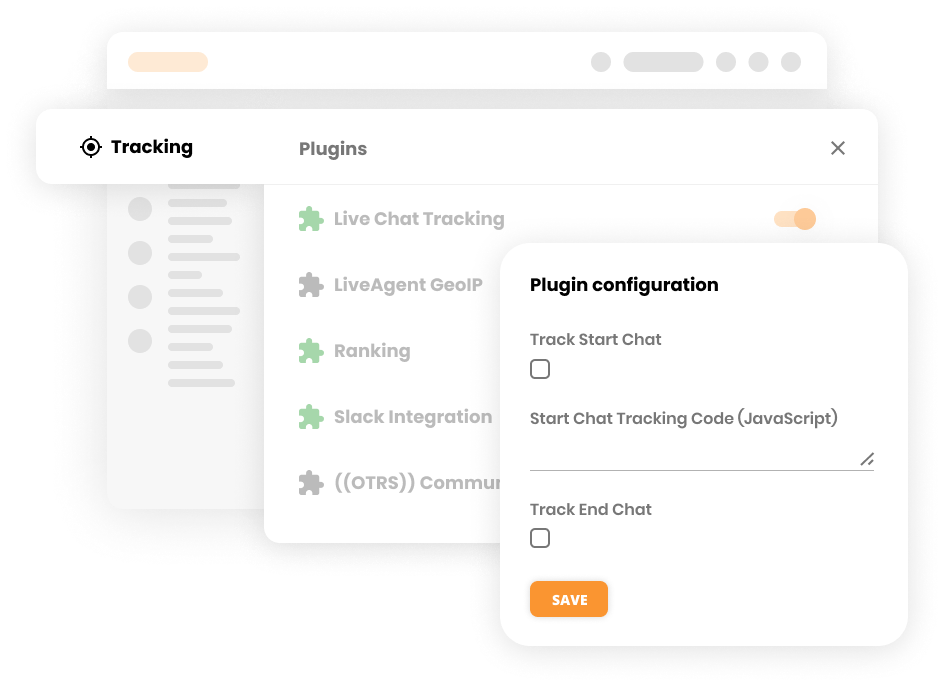 If you wish to learn more, you can either head over to our live chat features page or explore our support portal. 
How can live chat operatives conduct chat sessions more effectively? 
Agents should focus on how to handle different points of conversation and follow the rules of online etiquette.
Starting a chat
Putting on hold
Transferring a chat
Handling complaints
Wrapping up a chat
Online communication allows flexibility and creativity to a degree. It is especially evident when it comes to canned responses and predefined answers.
These short texts are part of one bigger script, but they can be tailored for each different situation and conversation. It reduces the need to type in each response manually, especially to the frequently asked questions.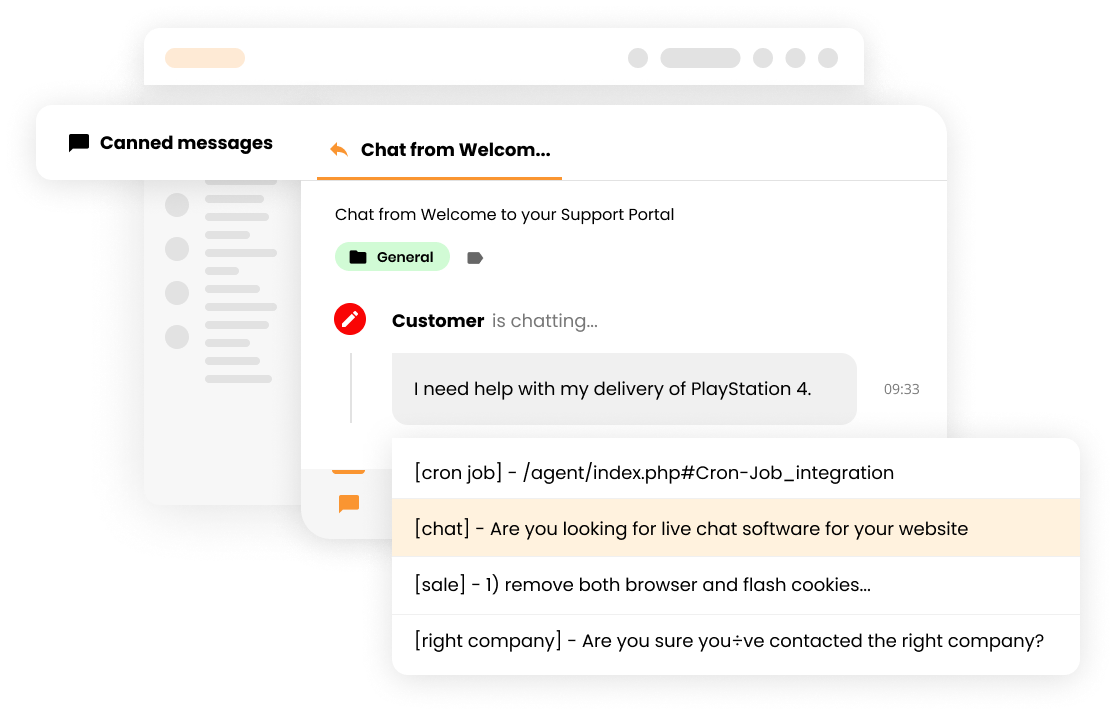 Agents can develop several responses that can be stored, shared, and used as templates across the departments. Therefore, no matter which department or team member the customer will converse with, the right tone and language will be consistent across the board. 
Can live chat be used for internal purposes as well? 
A non-conventional way to use live chat is for training purposes. Chat software is mainly used to communicate with external customers, but it can also be used as a communication tool for the internal ones – the employees. 
Looking for new employees can be a daunting task. But it goes both ways. The potential candidates will have some questions that the simple job description post cannot cover. Business owners and recruitment teams can use live chat to ease the onboarding process. 
Live chat is a great tool to use in cross-departmental communication and engagement. Therefore, it can be instrumental in training the staff. Each department can have one or several internal chat groups to provide quick support to individuals or teams.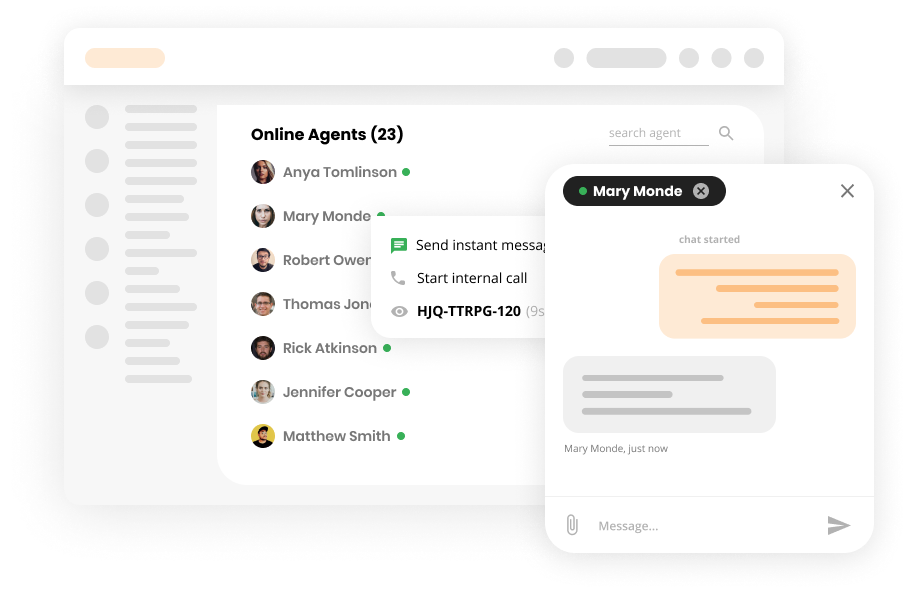 How to integrate live chat software into your website? 
When you sign up and receive access to your account, integrating a live chat widget to your website is done by simply copying and pasting a short HTML code—no need to download any additional software. If you wish to integrate with third-party software or an app, it is fully supported.  
Is live chat a secure solution? 
Receiving numerous inquiries from all sorts of different platforms can pose a considerable security concern at an all-time high. Anyone who wishes to establish a strong online presence must take the necessary steps to protect themselves and their customers.
For that reason, you can check the security features page or learn more by reading LiveAgent's Security Privacy Policy. 
Still not sure if the live chat is the right tool for your company? 
Start a free-14 day trial, no credit card required, and join 35.000 businesses already using LiveAgent.
If you wish to see all our affordable plans that offer additional features, head over to our pricing page. 
Knowledge base 
If you want to learn more, head over to our knowledge base for additional information.
Business Solution for Startups and SMBs
Learn how multi-channel help desk software benefits Startups and SMBs.
Frequently

asked questions
What is live chat software?
What advantages does live chat have over the phone or email?
Live chat provides customers convenient access to support agents without the need to leave the website. Companies can use a free chat tool with limited features even on a small budget but still deliver instant online support.
How can Startups and SMbs benefit from using live chat?
Utilizing live chat and its features during the three distinct stages of the customers' journey can empower both Startups and SMBs to grow their business, modify their strategies and reach their individual goals.
How can live chat operatives conduct chat sessions?
Agents should focus on handling different conversation points and following online etiquette rules while keeping their professionalism and human touch.
LiveAgent empowers our agents to provide better, faster, and more accurate support.

LiveAgent helped us to achieve 2 important goals: increase customer satisfaction and sales.

We have been using LiveAgent since August and we are really satisfied with it.

Since we are using LiveAgent our response time improved by 60%.

Our paid customer conversion rate went up 325% the first month we've set up and actively started using LiveAgent.

I have to say, I have never experienced such a professional customer approach.

We find LiveAgent to be the best live chat solution by far.

We use LiveAgent on all of our ecommerce websites. The tool is easy to use and improves our productivity.

With LiveAgent we're able to give our customers support wherever they are.

I can recommend LiveAgent to anyone interested in making their customer service better and more effective.

I'm sure we would spend 90% of our day sorting through emails if we didn't have LiveAgent.

With LiveAgent we are able to keep our players happy by offering more efficient support resulting in higher return rates.

LiveAgent is reliable, reasonably priced, and simply a great choice for any fast-paced online business!

We like it because it is easy to use and offers great functionality, such as useful reporting features.

We love LiveAgent - it makes supporting our customers easy.

We like to offer our customers the best support experience. That's why we chose LiveAgent.

From setup to ongoing support and everything else in between, the team at LiveAgent continues to impress.

LiveAgent saves us hundreds of precious minutes every day by making customer service clear and in order.

Unlimited agents, email, social media, and phone integration. All that for less than we were paying with our previous provider.

We've been using LiveAgent since 2013. We can't imagine working without it.

It's a cost-effective solution that can help you with a large amount of support requests via different channels.

Answering emails from Outlook was so hard to manage. With LiveAgent we're sure every email is answered in time.

LiveAgent is so awesome. With very little time and effort I had it up and running smoothly in a few...

I highly recommend the LiveAgent product, not only as a Kayako alternative but a much better solution with added value.

The support team always responded promptly with quick to implement solutions.

It helps us categorize the nature of the tickets and statistically track what our clients need most.

We see LiveAgent as a great tool for communicating with customers.

LiveAgent sped up our communication with our customers and gave us an option to chat with them as well.

Simply put - LiveAgent beats everything out there at this, or even higher, price-points.