1. Licecap
There is an old saying: picture speaks a thousand words. What about moving picture? Your customers will often get confused and overwhelmed with different kinds of settings. In this case you can use Licepap to make a simple GIF that can help.
Just choose which part of screen real estate you want to have in a spotlight and click record. Do what you need to do and your super-helpful GIF is born. Send it to your customers and let them appreciate your awesome skills.
Available for: Mac OS X, Windows
2. Skitch
Skitch is easy to use, powerful utility for making screenshots that can become explanatory within seconds. Tools such as pointers, highlighting or text adding can save you loads of time. Just take a screen snap and start working. Nice bonus is full integration with Evernote ecosystem.
Your screenshots may become useful notes and you can reuse them in numerous occasions, so you don't have to do the same thing all over again. Important reminder: it's completely free.
Available for: Mac OS X, Windows
3. Awesome Screenshot plugin
Sometimes you'll need just a quick screen snap in your browser and with a few fancy annotation tools. This is when Awesome Screenshot comes in.
You can use this little utility with browsers Firefox and Chrome. Main advantage is that you have auto-upload feature at your disposal. That means you will get a shareable link instantly and will not have worry about using some kind of cloud storage.
Available for: Safari, Chrome, Firefox
4. Google Docs & Google Drive 
Powerful collaboration tools are essential for effective teamwork. Time has proved that solutions offered by Google could be just what you needed. Unlike more sophisticated software like Office 365, they are completely free and easy to use.
Collaboration on one document with a few colleagues at a same time? No problem. Drag & Drop to upload an important file? Done. Getting a shareable link in 2 clicks? Works like a charm. These Google services could be real lifesavers. Do not hesitate to use them.
Available for: Nearly everything connected to the internet
Postman is a REST client, that helps you with troubleshooting APIs. This relatively simple and free browser extension can help to build a HTTP or HTTPS request and start troubleshooting customer issues.
Postman features include:
History of sent requests
Create requests quickly
Replay and organize
Switch context quickly
Built-in authentication helpers
Customize with scripts
Robust testing framework
Automate collections
Configurable transfer speed limits
6. Filezilla
FileZilla is a cross-platform FTP, FTPS and SFTP client with loads of features. In spite of that, it is still simply to use & understand. Look at a short list what this little utility can do:
Available in many languages
Supports resume and transfer of large files >4GB
Tabbed user interface
Powerful Site Manager and transfer queue
Bookmarks- Drag & drop support
7. LiveAgent
LiveAgent is a complex tool for providing extensive support via all available channels, such as Email, Voice, Live Chat, Facebook, Twitter and Contact forms.
You will find inputs from all these places in one place called universal inbox. Nothing gets lost, nothing gets forgotten. Ticketing system will help you to stay organized and make customer support seamless. Give it a try.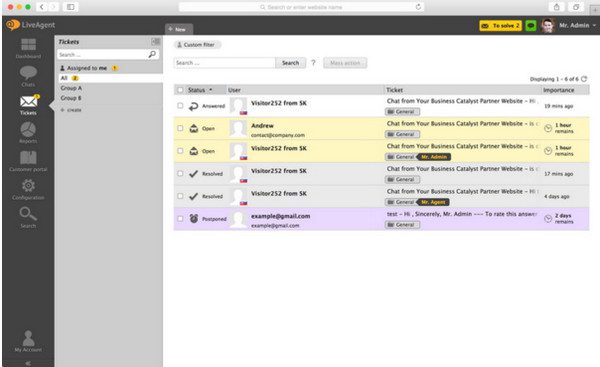 Available for: Nearly everything connected to the internet and free for two weeks.