The one thing that has been proven and asserted multiple times in the current global business landscape is that work-from-home is the new normal. According to research, about 16% of organizations worldwide are entirely remote.
To survive and grow, businesses worldwide must consider and adopt the remote work model. Moreover, it is an excellent option for reducing costs and improving work-life balance. Many help desk agents, sales people and other workers are already used to working from home, thanks to multi-channel ticketing software like LiveAgent. This remote help desk software offers a set of features that are specifically designed to facilitate seamless remote work and efficient communication.
Project Managers might find it challenging to manage complex tasks, interact with team members, and keep productivity levels high while working remotely. In such a scenario, the need of the hour is a project management tool that can help in work collaboration and be easy to use simultaneously.
While thousands of remote working tools are available, not all may suit your organization. To help you save time and energy, we have compiled a list of the top tools and software you can use to increase business productivity and efficiency.
The top nine remote working tools to help you increase productivity
Trello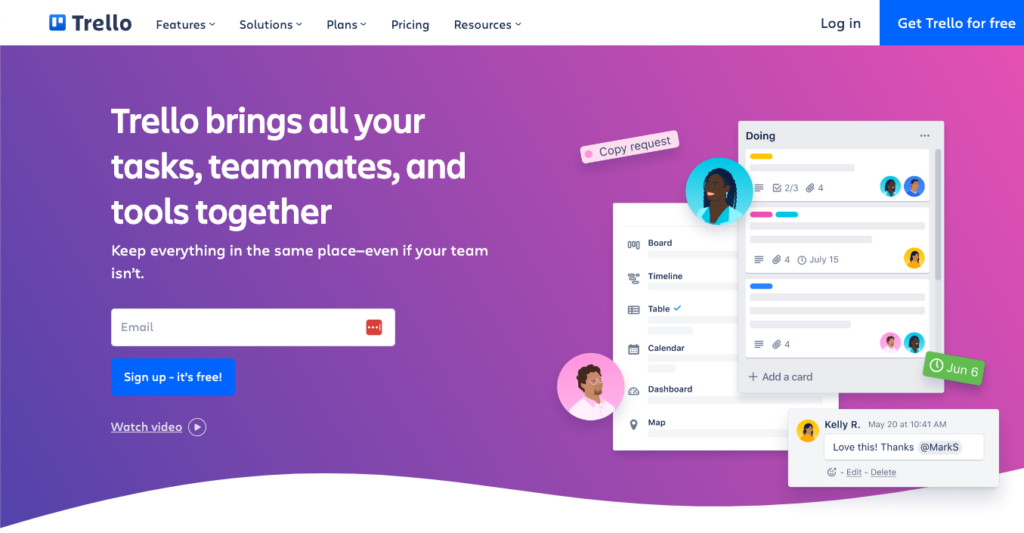 Trello is a communication management app that can be used to delegate tasks and responsibilities, record project notes, and track the advancement of each task. Furthermore, connecting Trello to your inbox converts every email into a card in your list, where due dates can be assigned.
This tool also provides numerous customization options, allowing remote employees to work efficiently while remaining on track. For instance, they can upload files or leave comments on cards. To view what is happening, you don't need to log in using your computer because they also have an app for Android and iOS devices.
Users can add attachments, such as PDFs or Word documents, by dragging them from their desktops onto a particular card within the platform when assigning responsibilities for particular tasks. As a result, information about specific project aspects (such as asking for feedback from other team members) can be placed directly onto a specific card in Trello for everyone to see, rather than being sent back and forth via numerous emails.
Using this software, you can:
Send your team files in the form of pictures and videos.
Comment on the other participants' cards to suggest changes or improvements.
Follow the daily activities of the other participants.
Give the boards colors based on your priorities.
Insert new cards without restrictions.
Asana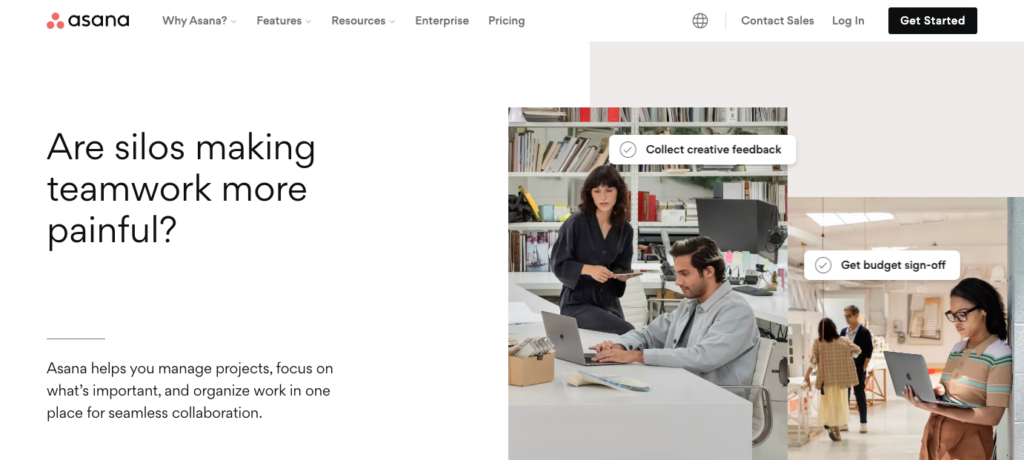 It is a simple-to-use app, due to which many corporate teams and project managers favor it.
Team members can download this task and project management app for free and use it within minutes. It comes with everything from cutting-edge organizational tools to smiling puppies (for real).
With Asana, you can create and assign tasks, organize them by checking them off, chat within tasks to keep conversations organized, group tasks into shared projects, and add attachments from your computer, Dropbox, and Google Drive.
Project dashboards, calendar features, and even your to-do-lists are also included in the application. Additionally, you don't need to track when it's your turn to start because dependencies can be marked directly on a task. When every other dependency is finished, Asana will let you know.
What can you do with it?
It is simple to integrate with all of the primary tools used by corporations.
Its collaboration-focused features assist you in working more effectively with a team.
Team members can view your tasks and offer feedback to help the project turn out better.
It enables better task management in an organized and effective manner, increasing your productivity at work.
Direct video recording and embedding within Asana allow team members to communicate and collaborate more effectively from any location.
Slack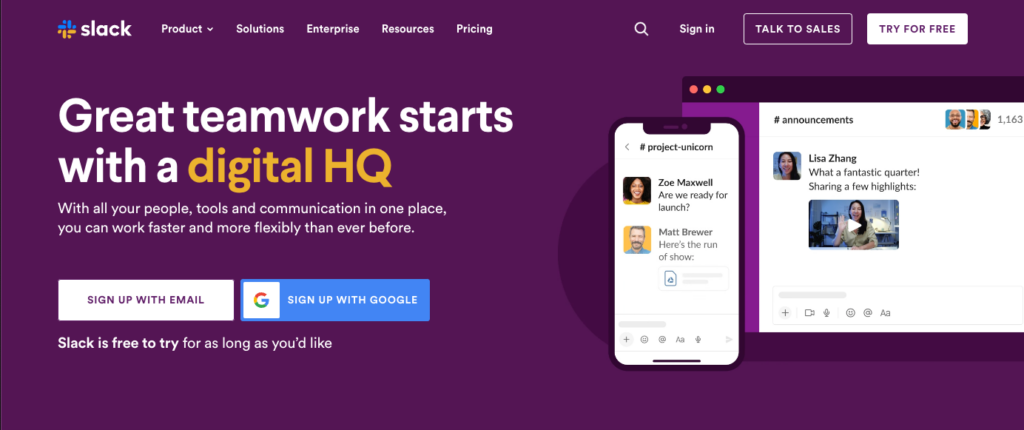 Slack is one of those apps that has quickly transformed from a nice-to-have application for work collaboration among team members. The app streamlines workflows and provides unmatched transparency into your team's workflow by combining several tools into a single interface.
Slack is perfect for remote workers looking for efficiency at every stage, thanks to several excellent integrations with other applications (such as Google Drive, Dropbox, and Trello). Even our ticketing help desk software offers a Slack integration.
Here is why you should use Slack:
Slack helps to keep conversations relevant and visible.
It also allows teams to create private channels where only invited members can participate.
Everything is searchable and accessible on Slack.
Slack not only helps to organize discussions, but it also makes them more productive. Users can share files, communicate via video or voice calls, create shared notes or slides on specific topics, and set reminders for upcoming meetings or events.
If you want to hire talent across different time zones, you will find these features helpful in communicating with your team.
Google Workspace
Previously known as G Suite, Google Workspace is a cost-effective collection of intelligent applications. Thanks to this fully-loaded suite, your teams can work together on Google Docs, Google Sheets, and Google Slides, as well as other tools. You can also create professional email IDs and use the Calendar feature to schedule meetings between different teams.
Google Workspace is, without a doubt, the best collaboration tool for remote working. It's simple to use the Workspace and share whatever you're working on in real-time.
Additionally, you can edit the documents in real-time and share them with your team. The marketing and content teams are incredibly grateful that Google Workspace has made remote work environments more collaborative.
Everyone has access to the files and documents kept in the cloud. To store everyone's work, you can also make shared folders.
This is why companies adore G Workspace:
Each employee in your company has unlimited storage space in Drive for emails, pictures, and files.
Searches for corporate information in Gmail, Docs, Calendar, and other Google services are possible.
Shared drives are accessible.
The Workspace provides highly developed administrator controls.
Evernote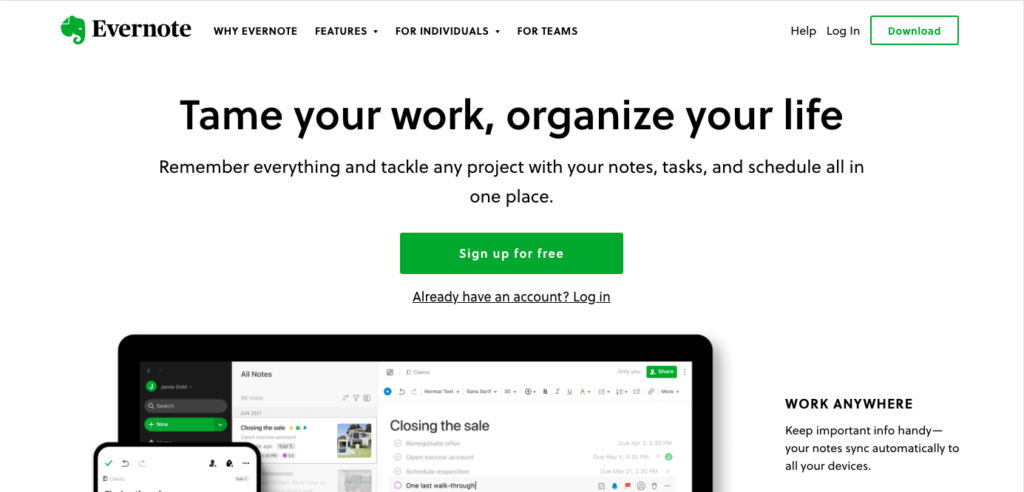 With a large user base, Evernote is one of the most loved note-taking apps. It has developed a strong reputation among professionals. In addition, people frequently use it for both personal and office purposes.
To ensure that nothing is forgotten, it allows you to write down and organize your thoughts, tasks, memories, or add remote work checklists for your employees. In addition, you can take voice memos, record notes, attach documents, scan images, and clip web content.
You can manage everything in one location, accessible on your computer, tablet, phone, and offline. You can also quickly find the information with a powerful search feature that recognizes words in handwriting, images, and attachments.
With Evernote, you can concentrate on what is essential.
Here are some reasons why you should use Evernote:
It is simple to capture, access, organize, and search for notes. It also quickly syncs with other devices, allowing you to switch between them easily.
The app's navigation is straightforward and elegant. Because of the smooth user experience and interface, even advanced features are simple to grasp.
It is a prominent note-taking app due to features such as Web Clipper, Document Scanning, Character Recognition, Tasks, and Calendar. These features can save you a significant amount of time and effort.
Integration with apps such as Google Drive, Slack, Outlook, MS Teams, Zapier, and Gmail makes it ideal for working professionals. It is also beneficial for collaborative teams.
Hootsuite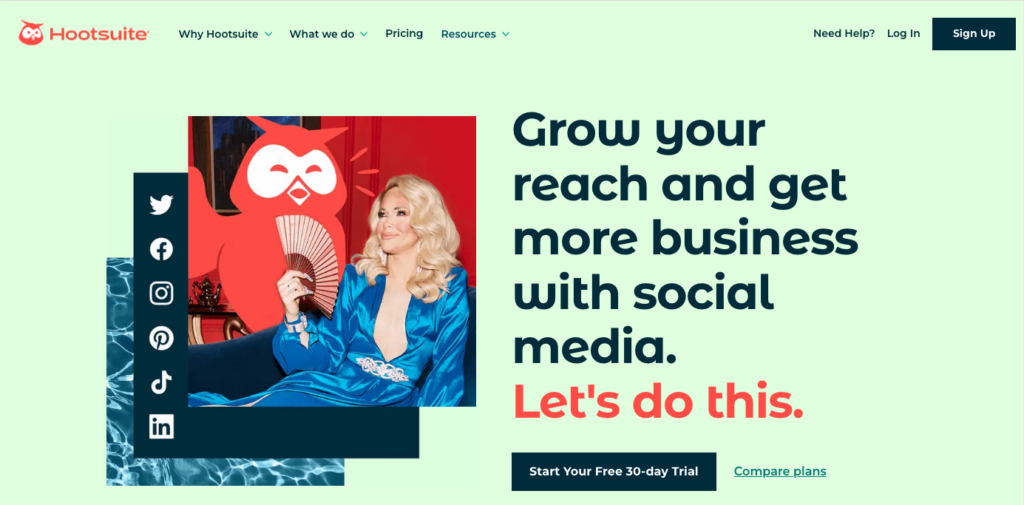 The app helps you schedule your posts at the optimal time, analyzes your top-performing content, and provides personalized insights into why it's working. In addition, its Inbox feature allows you to respond to customer feedback across multiple social media profiles from a single screen.
Its customizable dashboard makes it simple to keep track of all hashtags, trends, and brand mentions. Hootsuite also allows you to plan, schedule, and collaborate on content creation with your client's team from a single dashboard.
The vast resources library on various topics related to social media management makes Hootsuite very useful for a remote worker. You can also learn new social media tools through the Hootsuite Academy and become certified.
Here's what sets Hootsuite apart from other remote working tools:
You can schedule and publish content across your social media profiles, track effectiveness in real time, and turn up the volume on your best-performing content.
You can view your entire social media content calendar in one place.
You can also view your scheduled and published content in one place, create new posts, and organize existing ones.
The app allows you to set up customizable streams to monitor trends and stay informed about your business, customers, competitors, or any topic of interest.
You can get actionable insights into the best times to post without having to do a lot of data crunching.
Time Doctor
Small and large businesses use Time Doctor – a reliable employee time-tracking tool – to keep tabs on their staff members and independent contractors. Time Doctor offers features such as time tracking, project management, and employee monitoring.
Users can enter time spent on each project, and the software will calculate their billable and nonbillable working hours. The screen monitoring feature uses screenshots to report on employee activity. Users can also use the solution to track their time on chats, meetings, phone calls, internet use, and other activities.
Its Payroll feature enables managers to utilize its activity log to track employee working hours and create weekly and monthly payslips. Daily and weekly summary email reports facilitate pattern analysis. Accurately tracking time, billing clients, and paying employees have become more accessible with Time Doctor.
With Time Doctor, you can do the following:
Track your and your employees' time to see what has been accomplished throughout the day.
Review and approve timesheets as necessary and easily pay employees based on hours worked or fixed salaries.
For maximum effectiveness, create tasks, assign projects, and review progress in one place.
View screenshots of the current state of the project, who is working on it, and how they spend their days at work.
Stay focused with alerts that notify you when you've strayed from your intended task. Time Doctor monitors web and app usage while you're working.
Zoom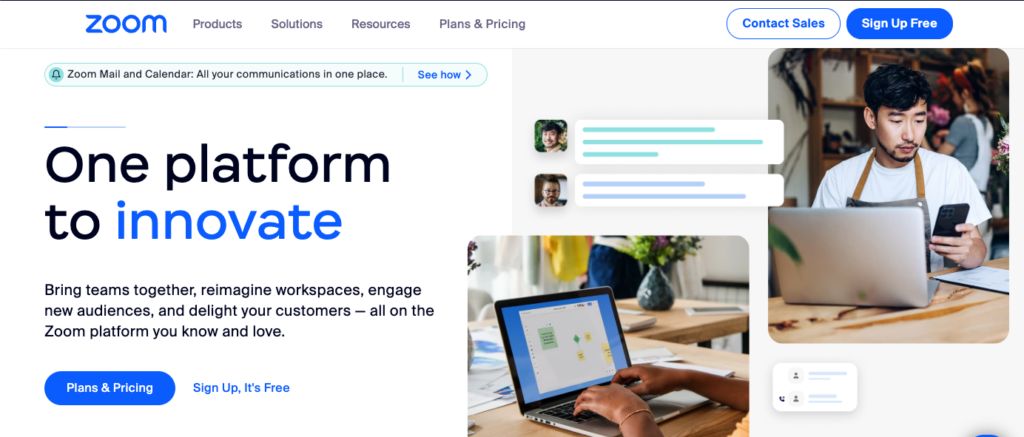 The major areas that suffer in a remote working environment due to a decrease in personal touch are performance, trust, and engagement. Zoom, designed for modern teams, provides enterprise video conferencing, real-time messaging, and content sharing. Multiple people can share their screens simultaneously and co-annotate for a more interactive meeting.
Zoom supports up to 1,000 video participants and 10,000 viewers, making it quite popular for WFH professionals worldwide. Unbelievably, Zoom experienced some insane growth in 2020 and into 2021. Zoom was at its peak in terms of popularity because meeting attendees increased by 2900% in just one year.
It allows you to hold live meetings and video webinars and record those sessions for later viewing. The app is designed and optimized to be dependable, simple to use, purchase, and scale. Zoom makes it possible to meet securely by encrypting all meetings and providing role-based user security, waiting rooms, password protection, and the hold feature.
Following are some reasons why you should use Zoom:
With meetings, team chat, a whiteboard, a phone, and more combined into one offering, you can forge meaningful connections.
Encryption, role-based security, passcode protection, waiting rooms, and other robust security settings help ensure complete security.
It offers HD video and audio for your online meetings, and supports up to 1000 video participants and 49 videos simultaneously.
With the help of dedicated Zoom for Home Devices, desktop, mobile, and mobile devices, it offers streamlined enterprise-grade video conferencing.
Virtual meetings are made more entertaining and engaging by using filters, comments, polls, hand raising, and music or video sharing.
Sage time management software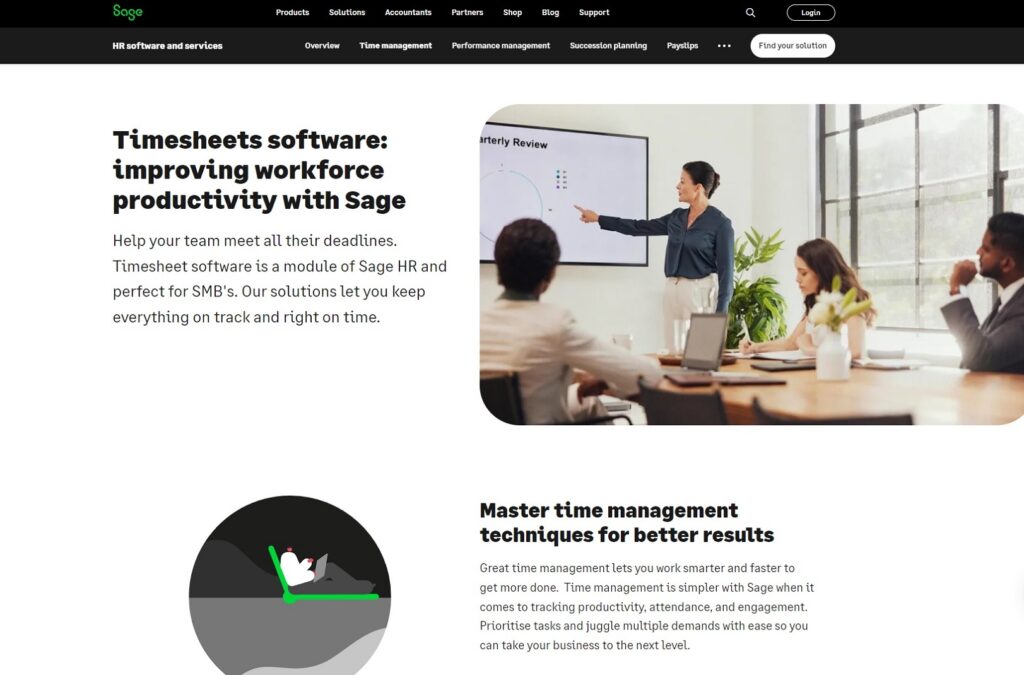 Sage time management software is a comprehensive tool designed to help businesses manage their time effectively. With features like time tracking, project management, and invoicing, this software can help businesses streamline their processes and improve productivity.
The software allows you to track time spent on various projects and tasks, enabling you to identify areas where time is being wasted and optimize workflows. You can also create invoices for your clients based on the time spent on each project, ensuring accurate billing and timely payments.
In addition, the software offers reporting and analytics features, allowing you to monitor your team's performance and identify areas for improvement. With Sage time management software, you can save time, improve efficiency, and increase profitability.
The benefits of Sage Time Management Software:
Sage Time Management Software helps you manage, track and improve your productivity
Helps teams accurately assess time spent on everyday tasks and gain a real-time view of ongoing projects
Robust, customisable reporting to help your team stay on track and manage their workloads efficiently
Access data and manage teams anytime anywhere through an empowering self-service app
Increase your productivity with LiveAgent
Communicate faster and smarter with LiveAgent's extensive multi-channel toolset, amazing features, and a large number of integrations. Try it out now!
Wrapping up
In a work-from-home setup, it can be challenging to accurately monitor the daily operations and performance of remote employees for your company. Additionally, as a business owner, you must also work hard to give your staff more autonomy and flexibility so they can work when and where they want and still complete the task on time.
Utilizing technology and online resources to their fullest potential can help you and your employees work more smoothly and methodically. However, finding tools that can make your remote work life simple and productive might be daunting.
Each remote working tool mentioned in this blog will enable you to work more effectively as a remote worker or virtual assistant and reduce stress at work. These tools will also enable you to take on tasks that will lighten your load while maintaining quality and efficiency.
Employ these tools now if you plan to work remotely in 2023 and beyond.