The best way to build positive customer relationships is to offer customers better experiences, to show that you understand their needs, to help them effectively, and to react with empathy when they express concerns. Live chat is a powerful tool that can be used towards these ends.
In fact, the immediate nature of this tool ensures that customers' needs are addressed much more quickly than other methods. The trick is deploying the right tactics. Here are some ways in which you can build and improve the relationships with your customers by providing top chat services.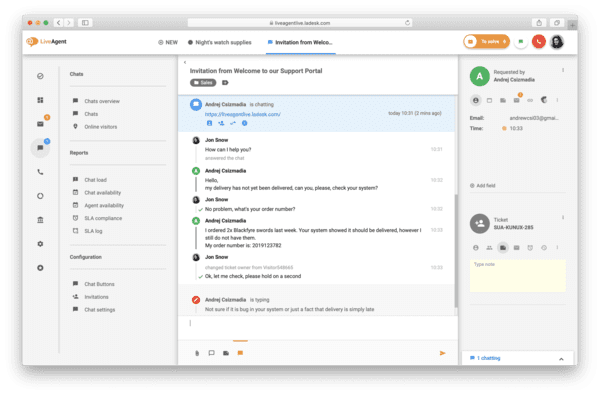 1. Combine chat and CRM to provide personalized services
One of the tactics that will be able to help you keep your customers satisfied is combining your business chat widget with your CRM. Customer Relationship Management or CRM is essentially an important tool for lead generation which can help you develop strategies in order to better manage your company's interactions with your customers.
CRM can help you with the automation aspect of your live chat along with allowing you to learn more about your customers and the way they wish to be treated. The very first thing that CRM can help your company with is maintaining cloud-based data of your customers and their preferences. Not only will you be able to collect data regarding their past purchases and preferences on your website, but you will also be able to easily access them in order to make their live chat experience much smoother.
Along with this, you will also be able to better analyze and predict their future behavior. For example, if they contact you regarding the specifications of a particular product or service you provide, you will be able to give them a better recommendation based on their likes and interests.
Customer Relationship Management has many different aspects and techniques you can use and it can truly help you improve the way you come in contact with your customers and therefore the quality of the services you provide them with.
2. Use a thorough knowledge base along with a live chat to get customers the information they need
In order to provide your customers with the best support possible, you will need to have a perfect knowledge of the products and services you sell as well and your target audience's preferences. When a customer comes in contact with you through live chat regarding any sort of issue, your agents should always be prepared to help them resolve it.
Whether that has to do with them asking for more information on a product, the delay of a shipment or something that requires more effort or research on your part, you should be able to provide them with the information they need. This requires good communication between departments and good knowledge of different products and activities of the company.
Usually, there are more than a few people working in support through live chats and it is a good idea to have different agents specializing in resolving different issues so that every request is given the right kind of attention. This way, the customer will be able to get a much faster answer to their problems and their satisfaction will increase, making it easier for them to want to use your services again in the future.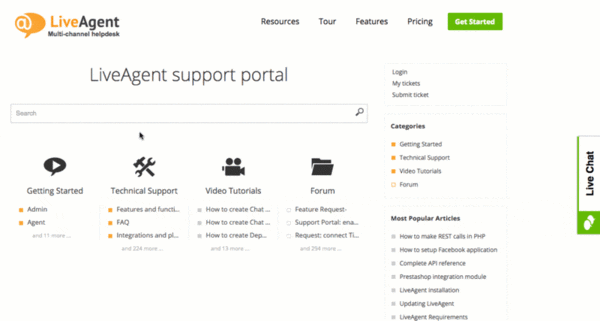 3. Chat agents should create personable and friendly, yet professional interactions
Being approachable and friendly is always important for those who work in customer service positions. The chat agents should make the customer feel welcome and allow them to converse their needs without feeling like they are not taken seriously. A positive experience where the customer will feel like they are being respected and taken seriously will work great in your company's advantage.
While being friendly is a good quality to have in such positions, it is also important to keep in mind that being too friendly could make an agent seem less professional. The people who work in these sectors should remember to be respectful and always keep the interactions professional.
At the same time, it is also important to remember that being too formal might come off as too distant. The customer will feel much more welcome if the person talking to them doesn't speak like a robot. Live chat shows the customer that the company is being run by real people who take the time to listen to their issues and find the optimal solutions. A friendlier yet respectful approach will always be the best option.

A good quality to have in such positions is empathy. A chat agent should empathize with the customer and show respect and understanding when replying. Even though it might be easy to just jump straight to answering and fixing an issue as quickly as possible, it is just as important to make the customer feel like you are taking their issue seriously. Empathy will help you achieve just that.
The way an agent treats a customer will have a lot to say about the company and the services it provides. The more respectful and willing to help a chat agent is, the better the image the customer will have of the company. This will also encourage the customer to feel free to contact your live chat again in case they need anything in the future.
4. Agents should promise and deliver concrete results within a given timeline
The agents that work in live chat should be able to work under pressure and deliver results within a certain timeline. There are many things that this can apply to and it has to do both with their responsibilities towards their department and employers and also the customers.
While there are certain things an agent can help resolve immediately, there are also other times when they will need to do some research or contact other departments in order to be able to give a clear answer to the customer. In cases like these, it is important to set certain deadlines during which they should be getting back to the customers.
Not replying to your customers as soon as possible could hurt your company's reputation. Being able to get information regarding issues such as refunds, shipping information and tracking of products is important to happen as quickly as possible and should be a priority of anyone working in such sectors.
Another point that is important and can truly be tied to this responsibility is asking your clients for feedback. In most cases, a simple and quick survey will be able to help you determine if everything is working like it's supposed to and you will be able to know if your customers are happy with the services you provide them with. You can ask them if they are pleased with the accuracy and the timing of the agents and whether they have any ideas or suggestions in order to improve them.
5. Use keyboard shortcuts for common answers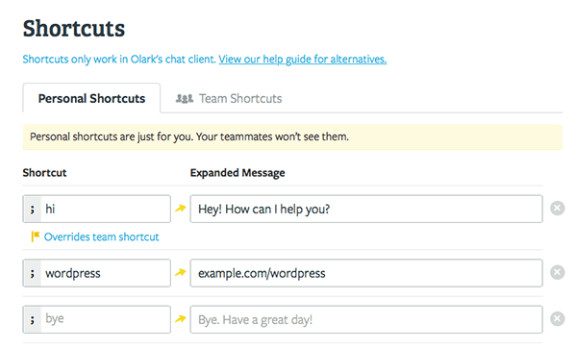 One of the main reasons why a website live chat tool is important for a company is because it allows customers to have access to quick solutions to their problems. If your services work optimally, they will be able to come in contact with a live chat agent and have their questions answered in a matter of minutes.
These days, an automated live chat example isn't hard to find.
If you run a big company though, you might come to find that no matter how many people you have employed for this position, they are still not enough. This is exactly why atomization can help make your employees' lives a lot easier. Canned messages, for example, are a great way to save time and help your agents greet customers and respond to certain requests without having to type the same lines over and over again.
Keyboard shortcuts can help your chat agents save time and can also show the customer that they are ready to help them at that very moment, as they will be getting back to them immediately. For example, greetings should always be automated so that they can be used quickly through a shortcut. On the same note, it is good to keep the atomized reply as active as possible.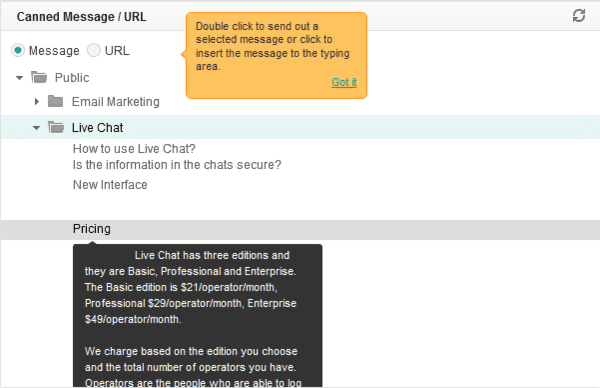 If you were the customer and were dealing with an issue, you would probably prefer to know that whoever you have contacted in regards to your problem is an actual person, willing to help you sort your issue out. Passive replies and statements can degrade the quality of services you provide as they seem too distant.
The keyboard shortcuts you use when replying should not make the customer feel like they are talking to a robot. When creating them, you should keep in mind that including words and phrases which make statements personal will make the customer feel welcome.
Jodi Wright, professional editor for TrustMyPaper notes, "Automated messages can often seem too distant. It is important to ensure that they make the customer feel welcome and encourage them to ask for help without feeling like their requests will be overlooked".
6. Make chat available everywhere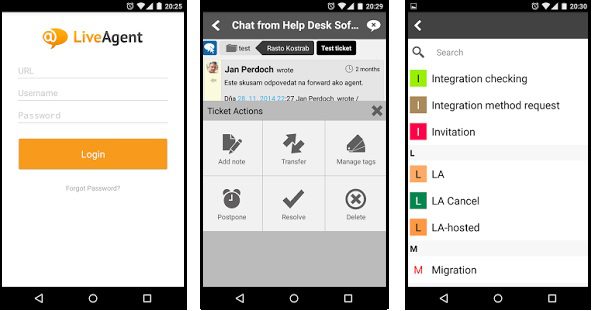 Another thing you should be taking into consideration is the fact that most of your customers will be making their purchases through their mobile devices. The time when most people used their laptops and desktops for purchases has passed, and online shopping seems to be a lot more approachable through someone's mobile screen.
Apart from making your website mobile friendly, you should also make sure that you have made your live chat available on any and every platform. Whether your customer wishes to use their laptop, phone or tablet, you should make sure that the platform is optimized for that certain device so that your customers can enjoy a good-quality experience.
This will work great in your advantage as you will be able to solve any questions and help your leads become customers in just a few moments. When someone sees that they are able to come in contact with a representative within minutes from their own mobile device, they will be way more likely to make a purchase through your website.
7. Explain concepts in simple terms
No matter what types of products and the services you provide, you need to keep in mind that not every customer you come across will have full knowledge of the terminology you might use in order to explain certain things. This can apply to anything from online receipts, to information about a product or technical terms about the website.
Apart from being respectful, there will be many occasions when a chat agent will also have to be patient. They will not always come in contact with people who are experts in technology and it is possible that they will have to learn how to handle such situations by explaining everything in simpler words.
In order to make this situation easier for both the agents and the customers, you can take the time to create a small guide which will help them better explain technical terms in more simple and understandable ways. This will help the agents be better prepared and know how to handle every situation without losing their focus and their ability to be flexible.
Turning around negative perceptions and leads to loyal customers
Many people might not put their faith in the power of live chat when it comes to sales. The reality is that is can play a very important role in both how customers perceive your company and how ready they are to make a purchase. When someone sees that they can talk to your agents about any problem they might come across, they are bound to put their trust in your brand and give your products a try.
Live chat can be a great way of communication between customers and companies. It is important to make sure though that this is done in a respectful and well-prepared way so that both parties benefit from the experience. The more effort you put into preparing your agents for any possible situation, the more happy customers your business will end up having in the long run.