Do you know how your customers feel about your customer service? Track the quality of your customer service with Nicereply – an all-in-one customer satisfaction survey tool built for LiveAgent.
Nicereply collects customer feedback after each customer interaction through a one-click survey. You can enable Nicereply to collect feedback by either placing a link directly in your LiveAgent email signature, via a trigger or after live chat conversations through the Nicereply chat plugin.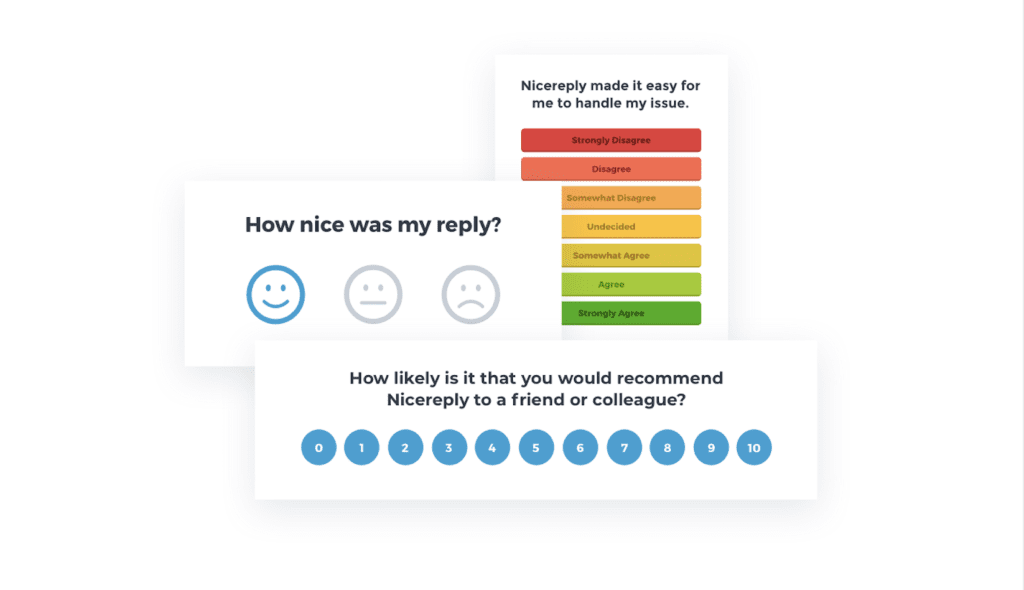 Getting Started
Before you activate your Nicereply plugin, you need to decide how you want to collect feedback, and which metrics you want to measure. After you decide, follow the respective manual to get started.
Email template set up manuals
Trigger set up manuals
Chat plugin set up manual
Click here for the Nicereply chat plugin setup guide.
Why Nicereply?
It costs 500% more to acquire a customer than to retain an existing one. That's why using Nicereply to improve customer service with every customer interaction is the right decision for any business.
Fully Customizable
Nicereply's one-click surveys are fully customizable and allow you to ask the questions that are important to you. To customize your surveys, you don't need any coding knowledge. Simply use the editor in Nicereply to change colors, upload your company logo, or edit the pre-existing survey questions to whatever you want.
Improve your service with insights and analytics
Nicereply enables you to uncover insights about customer satisfaction, loyalty, and advocacy through its analytics and insights dashboard. The analytics dashboard enables you to view and segment your average rating scores by time period, agent, department, or by survey type. Create comprehensive reports to view areas of improvement, predict future trends, set goals, and benchmark yourself against industry leaders.
The first step towards improving your customer service satisfaction is to have knowledge about how you're doing, so you can see where you need to improve in the future.
Prevent churn with real-time feedback
Nicereply enables you to view real-time feedback because it notifies you every time feedback is received. If the feedback is negative, you can immediately start taking proactive measures to prevent customer churn. Reassure your customers that you care by sending them an email (based on their ticket ID), or set an automated response to negative ratings via triggers. With Nicereply, providing great customer service is easy.
Reward your customer service agents
Customer service doesn't have to be tedious and repetitive. Nicereply enables you to reward your customer service agents by incorporating gamification into their day to day activities. Set monthly, weekly, or daily goals of positive reviews, and if they're reached, reward your agents! In this manner, gamification can promote healthy competition amongst departments and individuals while promoting workplace productivity.
Reinventing B2C Communication
At LiveAgent, we understand that your time is valuable and should be spent on creating strong connections with your customers. That's why we've created a state of the art customer service help desk software that integrates with Nicereply. With Nicereply you can track all customer feedback — negative or positive and create appropriate action plans to prevent churn or to reward agents. Try Nicereply's free 30-day trial today.
Trusted by hundreds of companies
"What we like the most is that we can connect Nicereply with our admin system as well as help desk software LiveAgent. This way we are able to effectively identify the answer that triggered the customer score and immediately respond if the score is negative or there are some additional questions from the customer."


Eva Kianickova
Head of Customer Service Department, Martinus
Improve with real-time feedback
Integrate customer satisfaction surveys into your live chat widget, or place satisfaction surveys directly into your email signature. Start benefitting from real data insights today!