You know how important it is to focus on customer retention, right?
Well, according to a study from SaaS Capital Insight, "for every 1 percentage point increase in retention, a company's valuation could increase 12% after five years".
By overhauling your retention process, you can drastically improve customer retention and rocket your company's value while you do it.
And what's the most hands-on way to improve retention? By improving your onboarding process. This means tightening up how you guide new customers through those vital initial steps while they're getting set up with your product. High value customers need a high-touch approach — your account managers should get them set up with the features, demos, and support they need.
But, a hands-on approach is difficult to track. If you're onboarding five new clients with a small team and trying to juggle them all, that might be dozens of daily emails, meetings, calls, or even on-site visits. How do you track that?
Sure, you could use a paper checklist or just a freeform text log of activity. But that wouldn't scale well, or make the information visible to the rest of your team. The answer is to use a digital, cloud-based client onboarding process like the example from Process Street later on in this article.
What's in a client onboarding process?
But first, let's look at how a typical client onboarding flow might look, and some of steps you should go through:
The welcome call. Getting a new client set up involves hashing out their requirements. What are they hoping to gain? What are the time frames? How can you help them hit those goals as efficiently as possible? All of that information should be determined in the welcome call.
Contract signing. A new client comes with a fresh batch of paperwork. Ensure you keep a list of the forms and contacts you'll need and refer to it when you win a new deal.
Connect with key team members. One big hurdle with a new customer is getting the whole team's buy-in. Working with key team members to get them set up with tools, systems, or features is a way you can ease the pressure and ensure retention.
Regular check-ins. An uncommunicative relationship is never good. Make yourself available as a reliable point of contact by checking in regularly. It's good to schedule these ahead of time so you don't forget.
Request for referrals. A new client is an opportunity for new connections. See if you could be of use to other businesses your client knows, because it never hurts to ask.
How to integrate client onboarding into your existing LiveAgent workflows
In this tutorial, we're going to connect LiveAgent to Process Street so a new client onboarding checklist is created for each new LiveAgent customer. Process Street allows you to run and assign checklists for your team to ensure that work is tracked and structured.
Here's an example: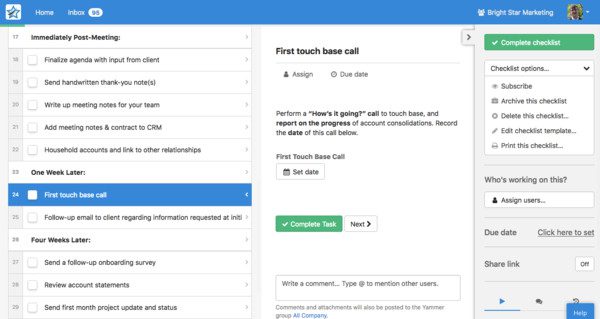 Using a structured client onboarding process means you never miss a vital step, and that you can track the status of multiple clients as they're being onboarded.

Above, you can see this organization is currently onboarding three clients. You can also see the progress by looking at the number of tasks completed.
Let's started by logging into Zapier and hit "Make a zap!":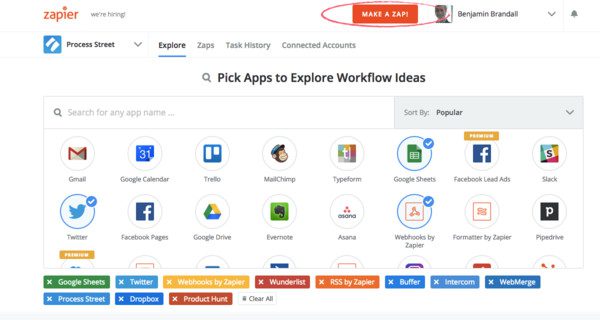 To integrate LiveAgent with Zapier, you need an API key. This is found in your LiveAgent configuration under the API menu.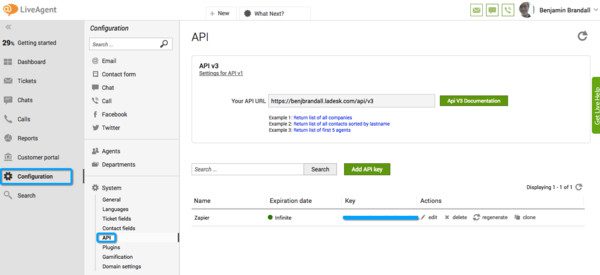 Next, add LiveAgent's "New Customer" as the trigger.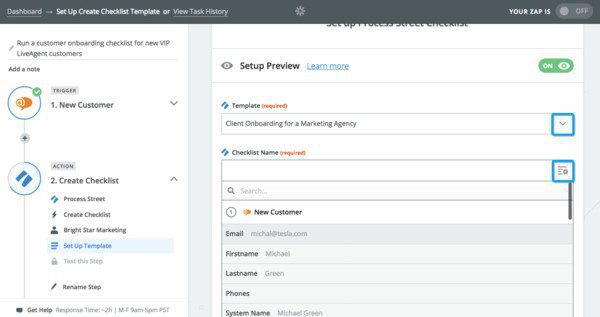 Connect your LiveAgent account with your API key and ladesk.com URL.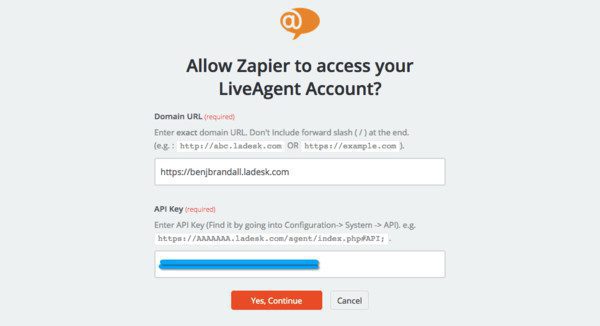 Once your account is connected, continue through the zap setup. The last part of the LiveAgent setup will run a test to check for an existing customer, and then pull the data into Zapier so the platform has data to reference.
With that test passed, it's time to move onto the Process Street half. We'll be using "Create Checklist" as the action.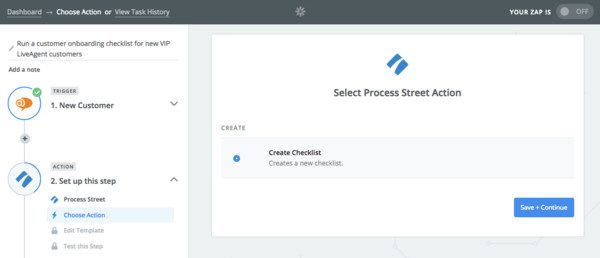 With a free Process Street account you can grab a premade client onboarding checklist just by hitting "New" and choosing the premade option.

Inside, you can see a variety of client onboarding checklists: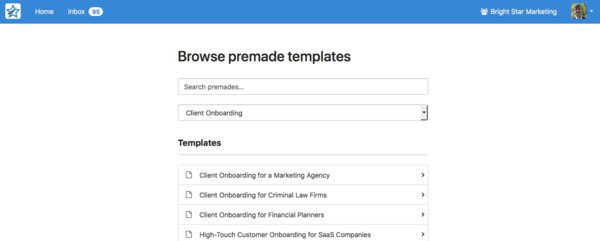 Click one to add it to your organization.
Next, you'll need to get your API key. To do this, click your organization name in the top bar and go to the "Settings & API" tab. You'll see a button to add a new API key: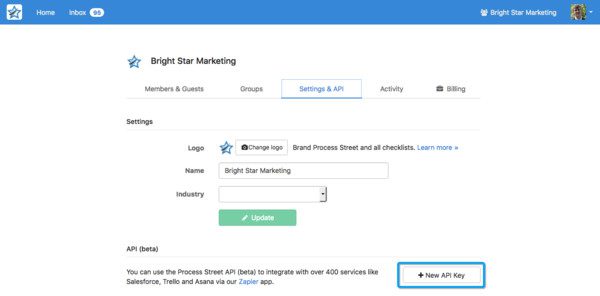 By this point, you should have both a client onboarding checklist inside your account, and a Process Street API key copied to your clipboard. Head back over Zapier and connect the account.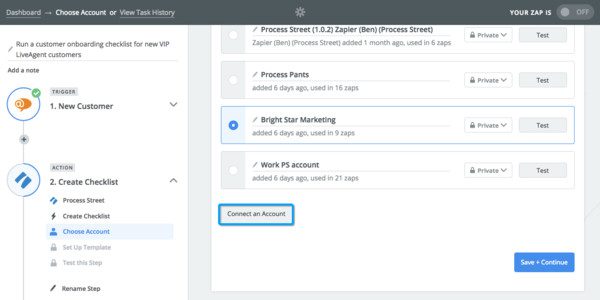 Next, you need to point Zapier at your newly-added client onboarding checklist.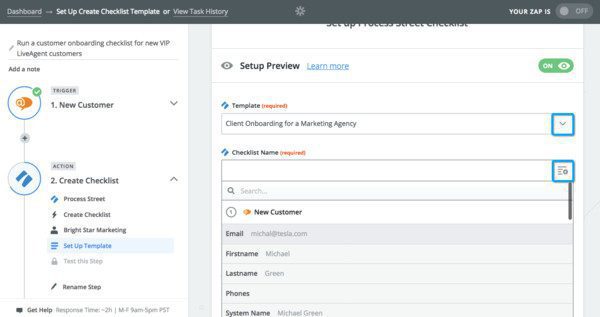 Use the dropdown menu in Zapier to choose your template. You can also fill in Process Street fields automatically with LiveAgent data every time a checklist runs by adding the variable with Zapier's "Insert a Field" button to the right of the field (for example, next to Checklist Name in the screenshot above).
Scroll down, and connect as many LiveAgent variables as you like. For example, here you can see we've connected the customer's name, email, and signup date:

Hit continue, and run the test. This will run a new checklist and populate it with sample data so you can confirm the zap is pulling in data properly.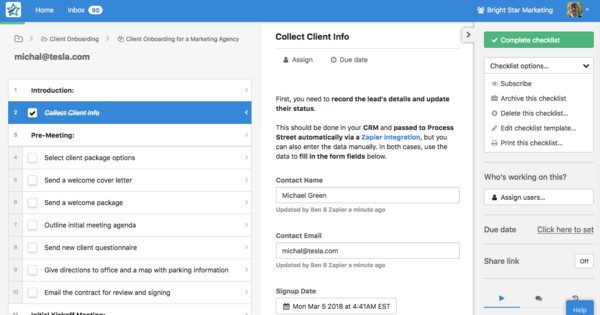 Now you have an active client onboarding checklist inside Process Street, complete with client details and ready to work through. This ensures you do everything you can to get the new customer up and running smoothly.
I hope this has helped you add a new method to your business process kit, and better systemize the client onboarding process!
Bonus tip: built-in onboarding guide
Did you know LiveAgent provides a built-in onboarding guide that walks you through a successful implementation of your helpdesk? With LiveAgent, getting started is easy.