Remote work is on the rise. Employees are becoming more and more interested in this work arrangement and businesses are buying into it. Remote work is no longer perceived as a fad or scam — on the contrary, research suggests that remote work is beneficial for all parties involved.
A new study by Pennsylvania State University indicates that employees who work from home have a better work-life balance and are more productive. Moreover, 56% of small business owners believe that remote work positively influences productivity. Research by Stanford University found that remote employees work, on average, 9,5% longer than those who have to commute and work in the office. Employees working from home are also 13% more productive.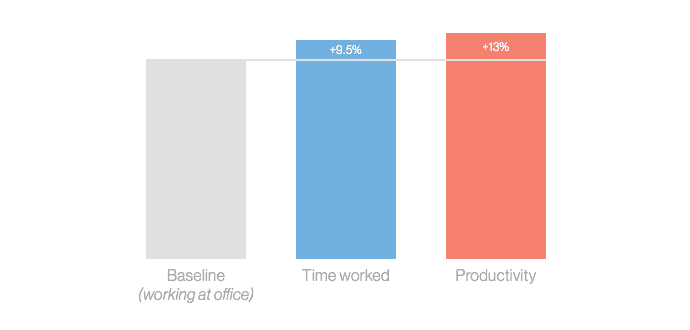 Moreover, according to a study by the Quarterly Journal of Economics, working from home allows customer service teams to get through 13% more calls each day.
Based on the research statistics, demand for remote work will continue to rise in the upcoming years. We've spotted the trend earlier and mentioned it in our previous blog post called Customer Support Trends for 2020.
What are the advantages of the remote customer service model?
As mentioned above, remote employees are more productive than their onsite counterparts. They also work longer and are more engaged than those in the office. The biggest concern with remote work is that those who work remotely feel disconnected from their colleagues in the office. However, no studies suggest that team members working from home are actually feeling this way. In fact, remote work brings many more advantages to companies other than productivity. Check them out below:
Hiring a remote customer service team is cost-effective because it eliminates the costs of a physical office — think maintenance fees, rent, energy bills, supplies and so on. Therefore, business owners can enjoy the cost-saving benefits of outsourcing but also take advantage of the fact that employees are more productive and focused. It's a win-win situation!
Easier recruiting and higher retention
Flexible work is one of the biggest incentives for job seekers. According to a study by Deloitte, companies tend to offer flexible work arrangements for customer support consultants to improve employee retention. In fact, Deloitte states that this is the case for 53% of companies. This means that businesses have taken note of the correlation between remote work and contact center churn.
It's easier to recruit employees working from home, and scale customer service teams, as you are not geographically limited. This model expands the pool of potential applicants and attracts more high-quality candidates, who are motivated and look for specific incentives. With tools using AI in recruiting, you can make sure you hire the best applicants.
Technology is on your side
Building a remote customer service team encourages communication. It may seem counterproductive but think about it for a minute. Even onsite customer support reps rarely interact with other team members – they take care of repetitive tasks, type notes into the CRM, handle calls, close tickets, and then answer calls again. It's pretty hard for them to interact with each other.
When your employees are using the right online collaboration tools, the distance can be easily overcome. For example, employees can make use of internal chat features to communicate and share information with one another. Using such tools makes training, coaching, and sharing feedback more effective. It also strengthens team cohesion.
So, what should you keep in mind to build a successful remote customer service team?
Building a remote customer support team is challenging. It's a complex and lengthy process that comprises of various stages. Let's assume that you've already hired the right candidates for your business (here's a guide on how to find the best employees for your remote team.) What has to happen next?
1. Choose the right customer service software
Organizing and assigning work to any customer support team is a challenge. Teams deal with tons of clients and queries daily, messages come from various sources and it's hard to prioritize which queries are most important. That's where customer service software comes in. A great customer service software will organize tickets according to importance and SLAs, use smart ticket distribution and show you complete customer communications within each hybrid ticket.
So, before you start building your remote customer support team, make sure you choose a software with the following features:
Shared inbox
Many remote teams forward support emails from one inbox to another, answer chat queries in separate windows, and manage social media messages in each respective social media network. It's a recipe for disaster. Tickets get lost, forgotten, or even worse, ignored.
If you provide your agents with a software that streamlines all your communication channels (emails, calls, social media comments/mentions, suggestions, forum posts, chats) into one universal inbox, you're doing your customer support team a big favor.
With LiveAgent, all queries from all channels are automatically turned into tickets, and then assigned to a particular department, and customer service representative.
LiveAgent is flexible and offers you many options. For example, calls can be made directly from your LiveAgent dashboard and are recorded for legal or training purposes. You can easily chat with clients and be on the phone with them at the same time.
All communication with customers through LiveAgent is stored in a secure data cloud, so your employees can access important customer data whenever they need it.
Ticketing
To organize all support queries and control workflows of your remote team, your customer support software must enable ticketing. A ticket contains complete information data sets about all communication channels used to resolve a customer's issue.
LiveAgent offers the Ticketing feature, which means all queries are converted into tickets and are assigned a Ticket ID. Thanks to this unique reference number, you can track, locate, add to, or communicate the status of your user's request.
Tickets have different phases that relate to the current stage of the query within the workflow. Every ticket has an assigned owner, but the owner can be changed at any time. Easily transfer ticket ownership from one department to another, or transfer ownership between agents.
Tickets distribution
Different time zones? Limited possibilities to communicate between teams? Inconsistent flow of queries? The right help desk software can help you with that. A great help desk software can automatically assign support requests to remote employees based on predefined rules.
LiveAgent's Automated Ticket Distribution system distributes tickets amongst your agents to make sure they have the optimal workload assigned. Easily define how many tickets your customer service representatives should receive, and in what intervals.
Detailed analytics
Because you don't want queries going unanswered or customers getting duplicate responses to their emails, you can create comprehensive reports that show you which agent is working on what, what their productivity level is if they hit their goals or not. You can easily analyze essential KPIs and metrics thanks to LiveAgent's advanced analytics features. We'll discuss these features below.
Sharing notes
Remote employees don't have the option to turn to a co-worker and ask them a question regarding a ticket or an inquiry. That's why agents must be able to pass notes back and forth within tickets. Minor things can be discussed using an internal chat, however, it can be helpful to add notes to tickets directly so that the information doesn't get lost or forgotten.
All internal notes are private meaning they are only visible to customer support representatives, and if the ticket is transferred to another employee, it's transferred with all it's notes as well.
Collision detection
Remote work and limited possibilities to communicate may lead to more confusion and repetition of tasks, especially if agents work in different time-zones. That's why your software must prevent sending repetitive replies or reopening tickets by different customer service representatives.
LiveAgent's agent collision detection feature prevents multiple employees from working on the same ticket. The software presents information about the ticket owner, who's viewing a ticket and who's dealing with a certain query, so agents don't open a ticket which is already being worked on by another co-worker.
2. Create an internal knowledge base to share information
A thorough knowledge base plays an essential role in a customer's service experience. If you empower your clients to utilize self-service, you'll be saving the time of both your agents and your customers. A study conducted by American Express shows that 99% of customers indicated talking to someone knowledgeable or getting a satisfactory response is vital for a great customer support experience.

However, sometimes a knowledge base created for customers may not be sufficient for the needs of your customer support agents. That's why, especially in the case of remote teams, it may be necessary to create an internal knowledge base to streamline online knowledge management and provide agents with the right help to address client concerns effectively.
Even the best and most independent employees may, from time-to-time, come across a question that requires a bit more research. If these employees work remotely, they can't just stand up and come to their manager's desk to seek help.
Without an internal knowledge base in place, your team members have to resort to seeking answers through email or chat, which usually leads to delays. In turn, this makes customers frustrated with their resolution waiting times. Interestingly enough, research conducted by Esteban Kolsky and [24]7 indicates that customer service agents can find the right answer only 20% of the time, and spend almost 30% of their time searching for answers. And that's exactly why you need a detailed, easily-accessible internal knowledge base. With this kind of resource, finding information is a piece of cake.
To keep your knowledge base relevant, encourage your agents to update the company's knowledge base or add new answers to foster a knowledge-sharing environment.
How can LiveAgent help you?
You can empower your remote team by creating an internal knowledge base using LiveAgent. It enables you to create categories based on your products, services, or types of customers and allows you to add knowledgebase articles, feedback boards, and forums.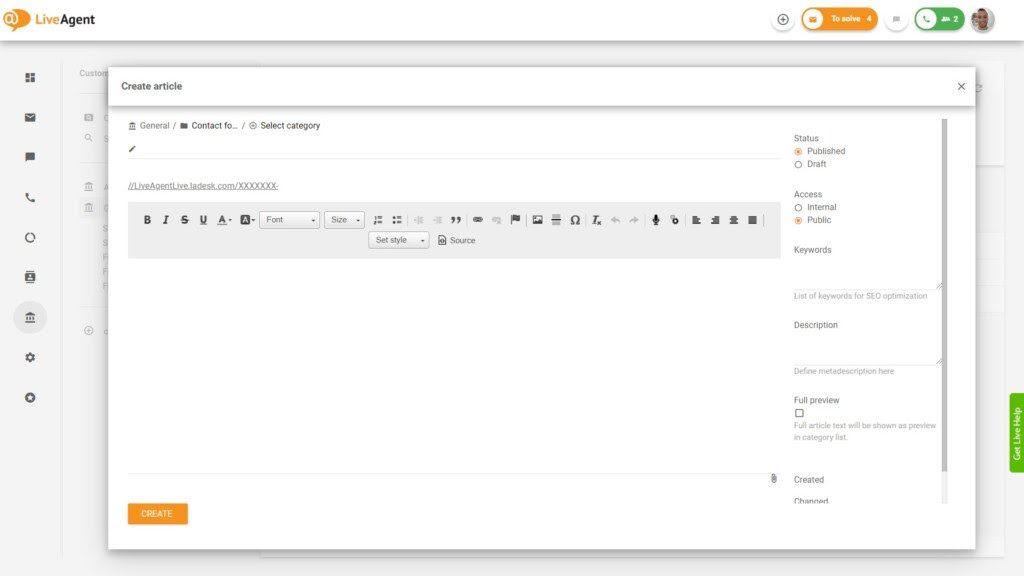 Apart from that, it's possible to create different content for agents and customers. You can add separate categories and articles that are not accessible to the public, and can only be seen by your agents.
3. Use project management tools that are cloud-based
A centralized, universal inbox with all client queries logged in one place is a must-have and one of the most vital elements of great customer service. That's why emails should only be used to deal with messages from clients and not to manage projects when working with a remote team.
Unfortunately, many organizations incorporate this kind of communication with a "project management approach." An endless flurry of emails can quickly become overwhelming and messy, turning inboxes into clutter.
That's why if you want to build an awesome remote customer care team you need a cloud-based project management tool. With this kind of solution, your team can access the information they need in seconds, find solutions with the help of IT experts, have a glance at all current projects, stakeholders and get a general overview of what's happening within a team or a company regardless of where they are located.
There are many project management tools that you can implement to make sure the inboxes of your remote workers are only used to resolve client inquiries. Here are a few: Trello, Asana, Stackfield, monday.com, ProofHub.
4. Set clear KPIs and monitor them
Set clear, mutually-agreed objectives for your remote workers. They need to have a career path and goals they can pursue.
Define key performance indicators (KPIs) with each member of your remote team and reward their hard work if they achieve them. Allow them to focus on essential tasks, reach both professional and personal goals, and move up "the corporate ladder." It's important to remember that employees want to grow, because if they don't have the option, they may get demotivated and, in the long run, decide to leave your company.
It's your duty to monitor and evaluate KPIs of your offsite employees, whether they work on an ad-hoc basis, part-time or full time.
What KPIs, among others, should you monitor?
First Response Time
The response time is a reliable determinant for client satisfaction. Your customers expect a smooth and compelling shopping experience, and they want to get answers quickly and never be kept waiting. It is essential to quickly respond to your customers' requests, as your competitors are just one click away.
Customer Satisfaction Index (CSAT)
The most popular KPI to measure customer satisfaction is the CSAT, where you directly ask your customers to rate their satisfaction with your business, product, or service. Your score is the average of all client responses. This question can be asked after each interaction between a client and your remote support agent. The CSAT scale can be measured in the form of numbers, stars, happy faces — you name it.
Net Promoter Score (NPS)
The NPS index is a measure of how many of your customers like your brand enough to recommend it to other people. If the number of people who would recommend you is higher than the number of people who would not, your score will be positive and will generally imply that you are doing well. Additionally, you can monitor the NPS of customers supported by a certain service representative to assess if they are doing a good job.
Minutes spent on call
You should expect your agents to solve problems as quickly and efficiently as possible. The fewer minutes they spend on a call, the more interactions they get through, and the more customers they can support. Define an average range of time and see how efficient and productive your remote team is.
Total tickets to resolved tickets ratio
Total Tickets or Ticket Volume measures and tracks all tickets in your support queue over a period of time. This metric is important because it shows you how many tickets of those submitted are actually being solved. Are there agents that solve more tickets compared to others with the same ticket volume? This KPI is a great productivity metric.
Top support agents
After reviewing various metrics, you can evaluate the productivity and overall performance of each customer service agent. Include KPIs mentioned above, and other metrics like the average number of calls handled in one hour or first call resolution. This will help you reveal who can be named a top performer and who may need a bit more training. However, be vigilant as there may be a lot of variance and randomness around quality metrics. Some agents may be unlucky and have to deal with irrational hard to please customers who will rate them negatively regardless of their performance.
How can LiveAgent help?
LiveAgent provides features that help you track your agent's performance and monitor various KPIs.
With LiveAgent's agent ranking overview feature you can let your customers rate the service, answers, and responses of your customer reps. Both chats and emails of your agents can be rated by customers. You can also create a report of rebuked and rewarded employees, with customer's comments included.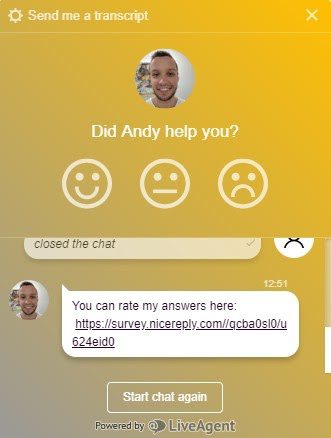 The time report feature measures time spent by each customer service representative resolving a particular ticket. You can check which tasks take your agents the most time, if some of them work faster or slower than others, what's the overall performance of your offsite team, etc.
Analytics overview gives you insights regarding the service your customers receive while interacting with your company. You can analyze the custom time ranges. This feature presents usage, statistics, possibility to evaluate performance reports, and learn from customer satisfaction ratings.
Performance report visually presents your agents' work so you can analyze detailed graphs and charts: solved emails, active chats, number of calls, received Facebook messages, and so on. Create comprehensive reports that allow you to segment all metrics by time, or by average answer times, chat average times, rewards, rewards %, rebukes, rebukes %, incoming messages.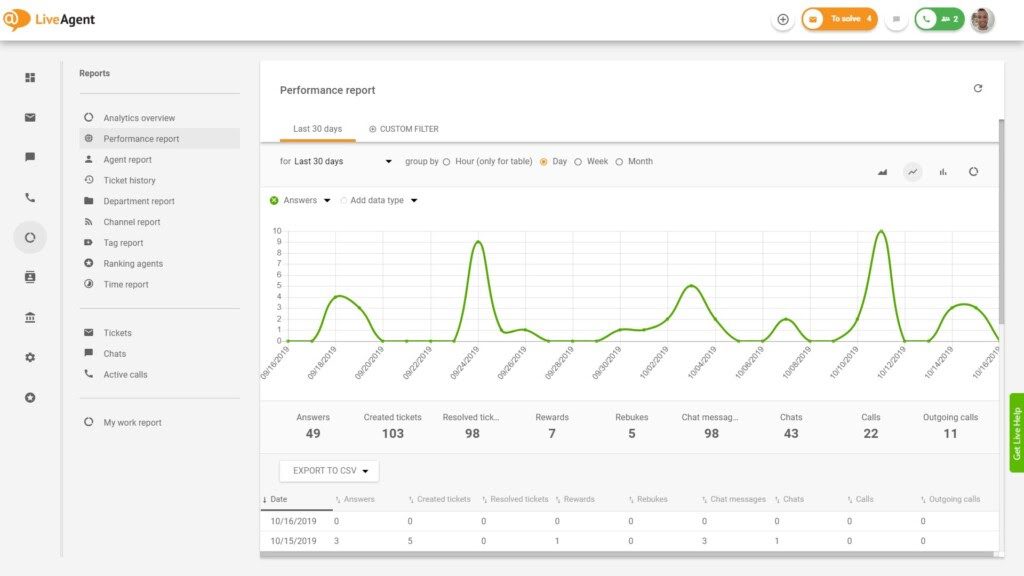 The department report feature presents the overall performance of your teams or departments and enables you to compare them. Reports are presented in area charts, line charts, bar charts, pie charts and can be exported to CSV files.
Agent availability enables you to monitor your remote customer reps online. Check their availability, filter statistics according to communication channels (calls, chats, tickets) and departments, or export your reports to CVS files.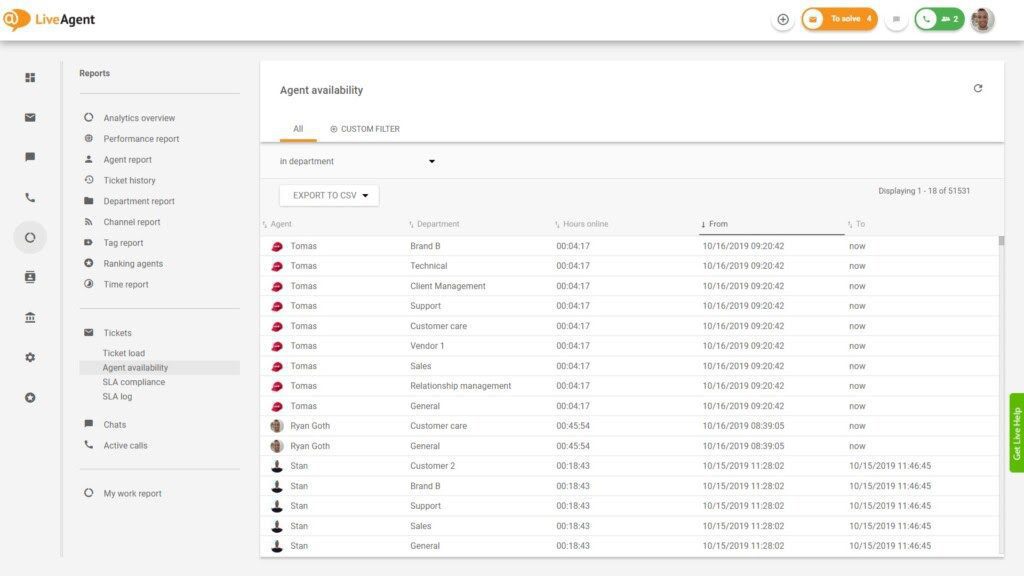 Keep in mind that regular reviews and evaluations will help individual reps to stay motivated, and a clear team goal will keep the virtual team motivated as a whole. The motivation of the remote team depends highly upon the degree of connection and inclusiveness they feel.
5. Foster transparency and communication
Keeping your team members connected is a vital part of managing a great remote customer service team. However, we are aware of the fact that it can be really hard to build working relationships with those working remotely. Your virtual team members may never meet in person, or even if they do, it may be difficult for them to connect right away, and it won't ensure smooth communication between them in the future.
That's why it's your job to build and improve the long-distance relationships within your remote team. You need to create a shared purpose and a sense of "virtual teamwork." Even if they work offsite, your employees should have a sense of belonging.
Even if it feels like too much, try to over-communicate. Be proactive about sharing project statuses, stick to recurring check-in meetings, and connect with your virtual team members as much as possible.
Remember to schedule meetings that fall into normal working hours and are convenient for all offsite employees. Overcoming time-zone challenges is pretty vital in remote work. If your team is located across the globe, rotate meetings, so everyone makes a little effort now and then to participate as needed. Make use of tools like EveryTimeZone or Timezone.io to check your teammate's time zones.
Build better connections within your virtual team by using empathy-building questions. Ask your remote employees how are they're doing, what they are working on right now, how their weekend was, and so on. Make an effort to get to know them and understand who they are, what's important for them, and what challenges they face.
Provide feedback and recognition of jobs-well-done. It's equally essential to provide perks and rewards. Recognize and reward both on-site and remote employees when they've have worked extra-long hours or go above and beyond for your customers.
The best thing you can do is to foster communication. Communicate as proactively and frequently as you expect your team to. Take some time to listen, say hello in the morning (even virtually), and be generally available. We don't mean micromanagement, but rather taking some extra time per day to connect with your team.
Wrap up
There is no secret formula for managing remote teams, but there are a few acknowledged best practices to follow. Harvard Business Review outlines:
Set clear expectations for communication and productivity
Encourage ultra-clear communication, organize recurring meetings and rotate meeting times to adjust to time differences if needed
Unite the team members around a shared goal
Meet with team members in person regularly, but especially when they start their work
Nurture familiarity and inclusiveness
Create intentional space for celebration
Use the same performance metrics for all team members
It may be difficult to follow all these practices, especially if your teams are scattered around the globe. However, in most cases, it's worth going the extra mile to make your employees feel connected and cared about.
Keep your remote team organized
Ensure all tasks are automatically assigned to the right people and departments. With LiveAgent, there's no room for chaos and achieving desired results is easy.