Remote work is on the rise. Employees are becoming more and more interested in this work arrangement and businesses are buying into it. Remote work is no longer perceived as a fad or scam — on the contrary, research suggests that remote work is beneficial for all parties involved. 
A new study by Pennsylvania State University indicates that employees who work from home have a better work-life balance and are more productive. Moreover, 56% of small business owners believe that remote work positively influences productivity. Research by Stanford University found that remote employees work, on average, 9,5% longer than those who have to commute and work in the office. Employees working from home are also 13% more productive.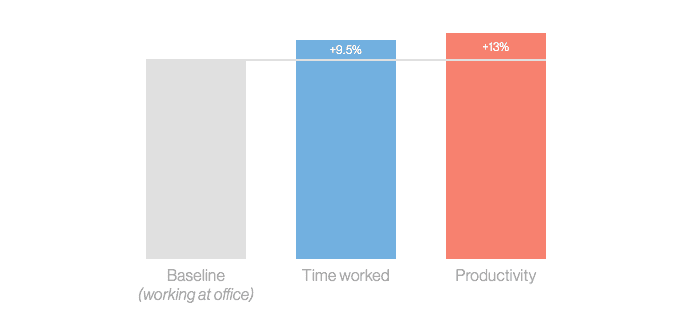 Moreover, according to a study by the Quarterly Journal of Economics, working from home allows customer service teams to get through 13% more calls each day.
Based on the research statistics, demand for remote work will continue to rise in the upcoming years. We've spotted the trend earlier and mentioned it in our previous blog post called Customer Support Trends for 2020.
What are the advantages of the remote customer service model?
As mentioned above, remote employees are more productive than those who work on-site. They also work longer and are more engaged than those in the office. The biggest concern with remote work is that those who work remotely feel disconnected from their colleagues in the office. However, no studies suggest that team members working from home are actually feeling this way. In fact, remote work brings many more advantages to companies other than productivity. Check them out below:
Hiring a remote customer service team is cost-effective because it eliminates the costs of a physical office — think maintenance fees, rent, energy bills, supplies and so on. Therefore, business owners can enjoy the cost-saving benefits of outsourcing but also take advantage of the fact that employees are more productive and focused. It's a win-win situation!
Easier recruiting and higher retention
Flexible work is one of the biggest incentives for job seekers. According to a study by Deloitte, companies tend to offer flexible work arrangements for customer support consultants to improve employee retention. In fact, Deloitte states that this is the case for 53% of companies.
This means that businesses have taken note of the correlation between remote work and contact center churn. It's also worth noting that utilizing email management solutions can enhance organization and communication within remote teams, further contributing to employee satisfaction and retention.
It's easier to recruit employees working from home, and scale customer service teams, as you are not geographically limited. This model expands the pool of potential applicants and attracts more high-quality candidates, who are motivated and look for specific incentives. With tools using AI in recruiting, you can make sure you hire the best applicants.
Technology is on your side
Building a remote customer service team encourages communication. It may seem counterproductive but think about it for a minute. Even onsite customer support reps rarely interact with other team members – they take care of repetitive tasks, type notes into the CRM, handle calls, close tickets, and then answer calls again. It's pretty hard for them to interact with each other. 
When your employees are using the right online collaboration tools, the distance can be easily overcome. For example, employees can make use of internal chat features to communicate and share information with one another. Using such tools makes training, coaching, and sharing feedback more effective. It also strengthens team cohesion. 
So, what should you keep in mind to build a successful remote customer service team?
Building a remote customer support team is challenging. It's a complex and lengthy process that comprises of various stages. Let's assume that you've already hired the right candidates for your business (here's a guide on how to find the best employees for your remote team.) What has to happen next?
Wrap up
There is no secret formula for managing remote teams, but there are a few acknowledged best practices to follow. Harvard Business Review outlines:
Set clear expectations for communication and productivity
Encourage ultra-clear communication, organize recurring meetings and rotate meeting times to adjust to time differences if needed
Unite the team members around a shared goal
Meet with team members in person regularly, but especially when they start their work 
Nurture familiarity and inclusiveness
Create intentional space for celebration
Use the same performance metrics for all team members
It may be difficult to follow all these practices, especially if your teams are scattered around the globe. However, in most cases, it's worth going the extra mile to make your employees feel connected and cared about. 
Keep your remote team organized
Ensure all tasks are automatically assigned to the right people and departments. With LiveAgent, there's no room for chaos and achieving desired results is easy.