When you think about forming strong, sustainable customer relationships, the first thing that comes to your mind is improving customer service and support. Of course, you want your customer-facing teams to be quick-witted and attentive when helping customers solve their concerns.
But customer retention is not just limited to providing top-notch customer support. Neither is it about creating special offers and competitive pricing meant to encourage customers to spend more money with your brand. Focusing only on these aspects could make your customer relations purely transactional and less meaningful, which won't help in the long run.
Instead, you must approach customer retention with a core emphasis on creating an outstanding end-to-end customer experience — right from the first contact (say, on social media) to post-purchase customer support.
That is, to strengthen your customers' loyalty to your business, you must make it clear that you care about your relationship with them and not just the profits that they bring in for your brand.
And for that, you need to consistently engage with your customers to show your commitment to their needs and desires.
In this post, we explore the importance of having a solid customer engagement strategy and tips on how to go about building one that is aligned with your organization's goals.
What is a customer engagement strategy?
Customer engagement is the process of interacting with customers through various channels — online (email, social media, website, forums, etc.) and offline — to understand their needs and reinforce your relationship with them.
And so, a customer engagement strategy is how you make sure your business implements this process consistently and correctly. Whether it's through blog content planning or some other medium, your strategy needs to make the most out of the communications channel.
A customer who follows your brand on Twitter is moderately engaged. But a customer who follows you on Twitter frequently comments on your content, retweets it, and/or clicks through to your landing page, is highly engaged. Clearly, the latter is more beneficial for your business.
Modern customers are looking for more than just a business to buy from. They want a brand they can identify with — a company that shares their values and beliefs.
In fact, companies that effectively engage their B2B customers report a 63% lower customer churn and 55% higher share of wallet, according to a Gallup study.
Actively engaged customers spend more, participate more in branding initiatives, provide helpful feedback for continuous improvement, remain more loyal, and are more likely to become your company's biggest advocates.
Furthermore, a well-conceived customer engagement strategy enables you to deliver a consistent customer experience across all touchpoints of the buyer's journey which, in turn, helps you stand out from your competitors and attract even more customers. Implementing the best customer engagement software can greatly enhance the effectiveness of your strategy.
Simply put, a prudent customer engagement strategy is essential to establish a meaningful connection with your customers, and without having one in place, your business can't thrive in the long run.
Tips to build a customer engagement strategy
Customers won't engage with your company themselves. You need to impel them to do so.
And so, with the importance of having a customer engagement strategy crystal clear, let's take a look at five surefire ways to build one that actually improves your bottom line.
Define the voice of your brand
Customers are far more inclined to engage with a brand that has a unique personality. To differentiate yourself from your rivals, you need to define your unique brand voice.
It helps personify your brand and makes it more relatable and memorable for your customers.

For example, Glossier, an eCommerce beauty and skincare brand, sets itself apart by assuming a playful and authentic personality.

Many women yearn to be a "Glossier Girl" — someone who embraces their authentic self and uses makeup as a means to underscore their natural features, instead of masking them with other beauty products.
Defining your brand voice and personality is the foundation for establishing your company as a thought-leader in your industry, no matter if you're a B2B eCommerce business or a SaaS startup.
You may not appeal to everyone in your target audience with your brand's personality, but you'll capture better customers who are more likely to view you as an expert, engage with you, and stick around for better or for worse.
Promote your brand voice online
With a clear and unique brand voice established, it's time to promote it in every marketing or branding initiative you undertake.
Start by establishing your company's personality on social media, just as you would with your personal Twitter or Instagram account. Post content that aligns with your brand values. Be consistent with your messaging but also tailor your tone to the situation.
For instance, if a customer is tweeting a complaint and is disgruntled or sleep-deprived, be empathetic, and use a tone that's apologetic and reassuring.
On the other hand, if the customer is singing praises about your company, using emojis and slang, feel free to do the same to make for a more engaging conversation.
Plus, it's a good idea to have a more light-hearted personality on social media, even if you're a B2B company. Some humor and causal and mockery go a long way in boosting your customer engagement. Wendy's does this neatly, as shown below.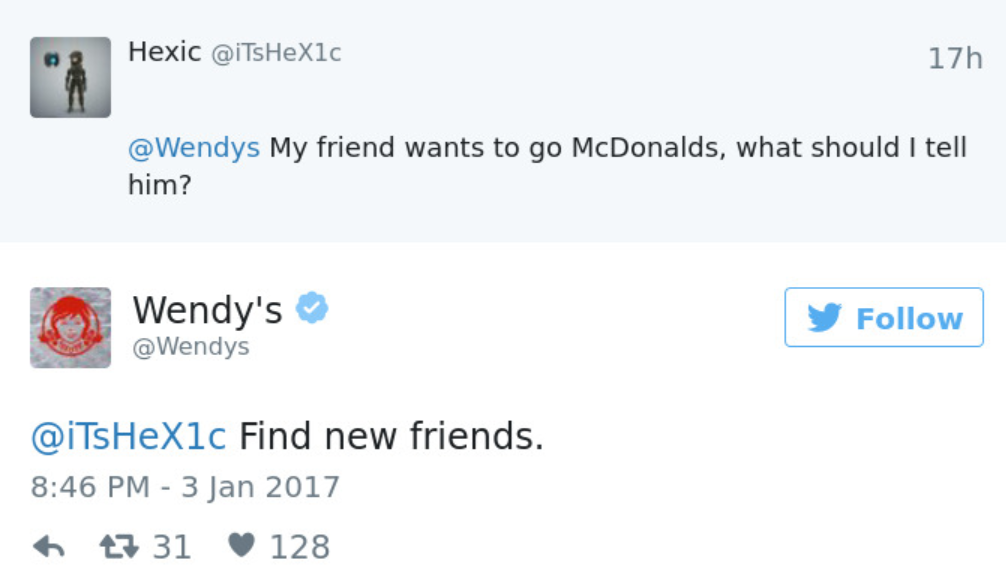 Focus on personalization
At the heart of a strong customer engagement strategy is personalization. B2B or B2C ― customers today don't just desire personalization from brands but expect it too. No one wants to be cast into a "general" category and be treated as just another customer.
72% of consumers say they now only engage with marketing messages that are personalized and tailored to their interests.
What's more, Salesforce surveyed more than 7,000 consumers and found that 57% of consumers are willing to share personal data in exchange for personalized offers or discounts.
In other words, there's a shift in consumer behavior, with more and more customers craving personalized engagement and tailored experiences from brands and are also willing to pay a premium for it.
So, it's crucial to keep track of customers' purchase history and preferences in your CRM software and interact with them on a personal level. In order to stay on top of this, it's important to have an efficient email management program that allows you to keep track of individual customer interactions.
Planning content with thoughtful product recommendations makes customers feel like your company is bespoke for them – a feeling that helps create a delightful customer experience.
For example, Amazon's sophisticated AI recommendation engine reportedly generates 35% of the company's revenue. It uses data from past purchases, browsing history, and related items that are regularly bought together to create a personalized list of recommended products that customers are genuinely interested in.
You don't have to invest in such costly and complex technology to start personalizing things for your customers. There are other ways to personalize your customer experience.
Some brands start the customer journey by asking them to fill out a short user profile or take a quick quiz that has them select preferences. For example, Birchbox asks customers about their skin and hair types and then uses the data to personalize products in their monthly subscription boxes.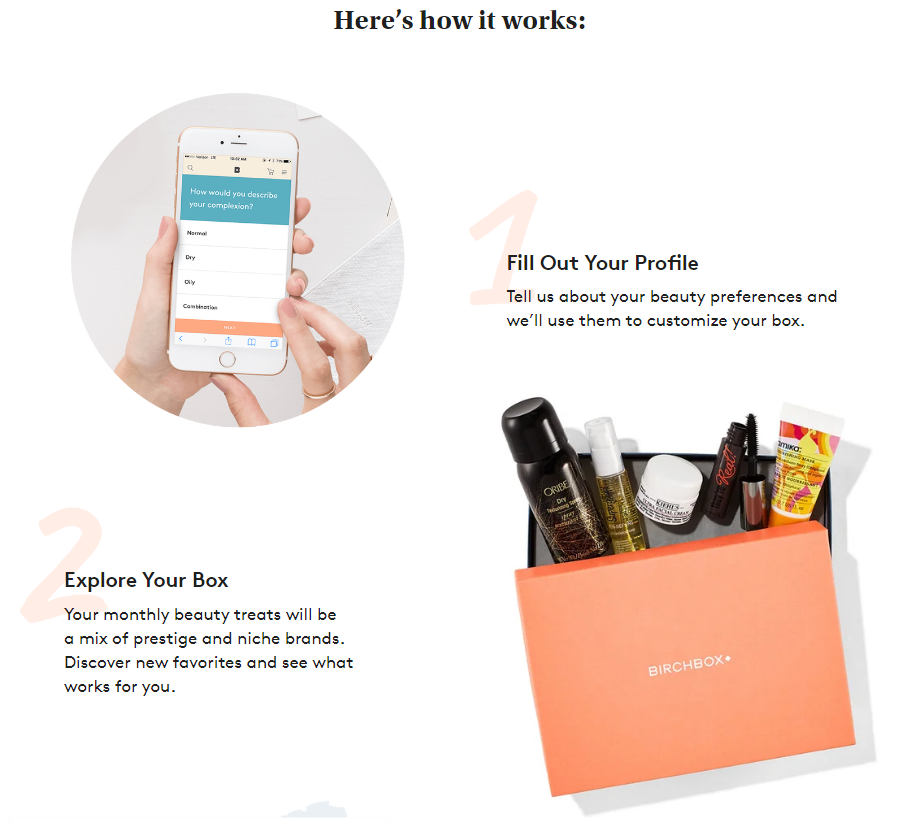 This way, you get customer feedback from the very beginning of their journey and can leverage it to keep them super engaged with your offerings.
Try to collect essential information such as name, email address, product interests, and so on from your website visitors (and from customers post-purchase). You can do this by offering exclusive gated content (such as a free eBook, an email newsletter, or an online course) in exchange for the information, or conducting quick surveys on your site or social media.
Next, use the information collected to segment your prospects and customers into cohorts, and then send personalized promotions and useful content to different customers based on their individual preferences.
Moreover, personalization is useful for your website content, as well. For example, your content (blog posts, whitepapers, etc.) may be first-rate (comprehensive, research-backed, useful, and entertaining), but different people have different preferences.
So, it's a good idea to show different content (say, the most relevant blog posts and case studies) to different visitors, tailored to their interests. This will improve their experience on your website and thus, increase engagement and conversions.
Also, 56% of online shoppers are more likely to return to a website that recommends products, which means increased loyalty and revenue. So if you're an eCommerce brand, you can suggest relevant products to your customers at various touchpoints of their purchase journey, right from the homepage to the checkout page.
In essence, it's all about giving each customer what they want, and not generalizing your offerings or business proposals based on a couple of buyer personas you created before launching your business.
While on the subject of creating content…
Create content your customers want
With the sea of so-so content on the internet, if you wish to stand out, your best bet is to provide your customers with (quality) content they actually want.
Using short feedback surveys, you can understand what customers prefer and create and share content based on their interests.
Useful and engaging content that goes beyond basic blog posts and infographics, in the form of short video tutorials, FAQs, self-service knowledge base, and more helps keep customers before and after their purchase.
Such content helps create a seamless knowledge-gaining and problem-solving experience, which increases conversions and retention.
While the content for B2C audiences is typically focused on generating brand awareness and building an emotional connection with customers, B2B content is more about:
Reinforcing brand identity
Providing quick, no-nonsense solutions
Building trust to keep them churning
For B2B audiences, super researched, data-backed, and insightful content like white papers, case studies, and live webinars typically work better.
Be authentic and genuine
No matter what you do, be authentic, because customers will be able to tell if you're insincere.
Authenticity matters big time — Stackla's survey suggests 86% of customers feel authenticity is important when deciding what brands they like and support. For Millennials, that number is even higher at 90%.
The same survey suggests more than half of consumers think brands aren't creating content that feels authentic.
Nowadays, people can easily tell the difference between consumer-created content and brand-created content, and also punish brands that try to fake it by ditching them altogether — and for good.
In particular, 30% of Millennials have unfollowed a brand on social media because they felt their content was not genuine.
Furthermore, 60% of people said user-generated content (UGC) is the most authentic form of content, and they're three times more likely to say that content created by a consumer is authentic compared to content created by a brand.
Simply put, UGC — in the form of product reviews, testimonials, social media shoutouts, etc. — is considered as the most authentic type of content today. Thus, it holds a special place in your customer engagement strategy.
Also, being genuine as a brand ties closely with defining your brand voice, which was discussed earlier. Engage with your customers on their level without coming off as condescending or phony. Be personal and affable.
When you drop the jargon and speak to your customers as candidly as possible, you come off as a relatable brand that's an authority in the industry.
Involve your staff, show off pictures or footage of your team-building activities, your workplace, and some behind the scenes. Share real insights, mistakes, and case studies from your own business experience to make your company more human and accessible.
Conclusion
When you chalk out a thoughtful customer engagement strategy, you lay the groundwork for building a thriving business that customers want to remain loyal to. So take the time to collaborate with your marketing and customer-facing teams to come up with a strategy that incorporates the tips mentioned above.
In essence, customer engagement is all about offering customers real value that goes beyond your products/services and customer support.
Quality products and strategic marketing may land you one-time conversions. Still, relevant content, personalized experiences, and authentic two-way communication using your unique brand voice is what keeps them around and encourages them to spread a good word about you.
So, engage and build a better bond with your customers using the tips outlined above, and you will realize a surge in your customer base, retention rates, and revenue.