Instant messaging apps are all the rave these days. In particular, WhatsApp has been incredibly popular in the field of customer service and client communication in general. In this article, we are going to discuss how we at LiveAgent use WhatsApp to improve communication and enhance the overall customer experience.
Why LiveAgent's customer support uses WhatsApp
When using WhatsApp, Facebook Messenger, or similar apps, customers have certain expectations when it comes to response rate. Since the nature of the interaction is basically instant messaging, they rightfully expect quicker responses than when using email. On the other hand, most customers understand that the response rate is slower than when communicating via live chat.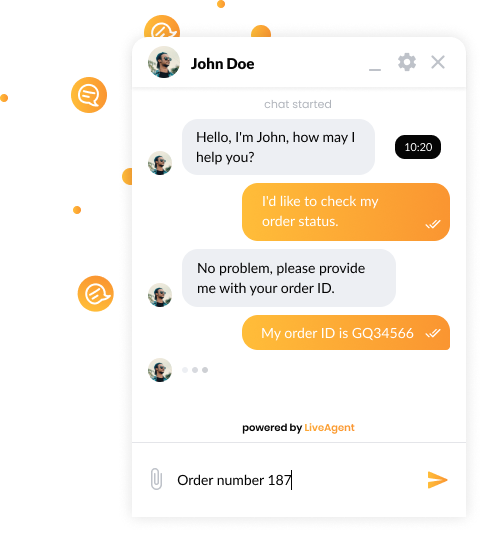 For example, when emailing back and forth with a customer care agent, you have to type out long messages providing as much information as possible. There is a chance that you explain everything on the first attempt, but more often than not, you get an email back requiring a specific detail you didn't even know could be helpful.
Instant messaging has a very practical purpose when it comes to dealing with customer inquiries. This type of communication allows clients to exchange short messages with partial information with support representatives. Even though the conversation itself can consist of a higher number of messages, they flow more naturally. They are also usually more relaxed, and to many people seem more friendly and approachable.
This very particular way of communicating with customers has to be taken into account when setting up apps like WhatsApp as a new customer support channel.
What are the limitations of the channel?
Through WhatsApp integration, you can receive and respond to customer messages within 24 hours. However, it is necessary to create WhatsApp message templates if you want to start new conversations or reply to messages after 24 hours.
A message from the same number (same customer) is always sent to the same ticket (same behavior as the WhatsApp mobile app) unless the old ticket with the previous communication is deleted.
The page (Start URL) from which they initiated the communication, or from which they got our contact information, is not specified (as in the case of the chat or native contact widget).
Here is how we do things
Our website has a live chat widget as well as WhatsApp and Facebook Messenger. This way, customers can decide which communication channel they prefer.
We have integrated separate WhatsApp numbers for different sales departments so customers always know who they are contacting.
Agents working on chats can now view all tickets created via the WhatsApp channel with just one click on the ticket filter on the ticket screen.
We have created a separate SLA with 1-hour to respond for both the first and next answer.
When a WhatsApp ticket is waiting for an answer longer than a few hours, we set a time rule to notify online agents so we can maintain a higher response rate and avoid exceeding the 24-hour limit.
We have set up the WhatsApp message templates, so in case some tickets reach the 24-hour limit, we can still contact the customer using the predefined and approved template messages. This can be particularly helpful for support that does not have 24/7 coverage as we do.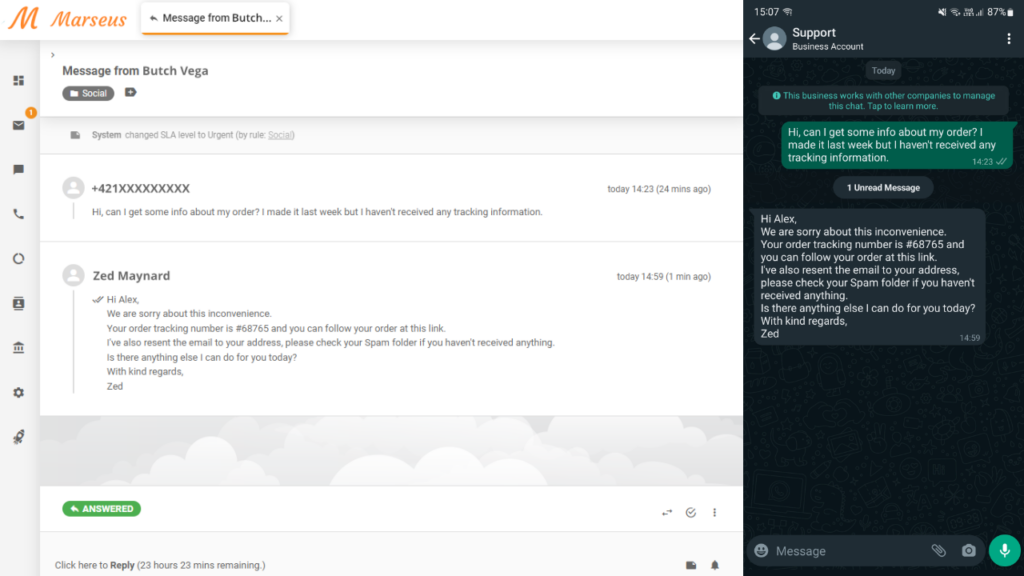 Our process
Since WhatsApp tickets have a short SLA, they are reaching agents earlier than tickets from other sources. However, when the team is not working on chats, they should pick up WhatsApp tickets using the ticket filter (source=WhatsApp).
As soon as a WhatsApp ticket is answered, the agent should keep it on the tab, so if the customer responds within a short time, the same agent can write back. As a result, the customer experiences more seamless communication.
Integrate WhatsApp with your help desk and improve response time
Build customer relationships and get a competitive edge with our WhatsApp integration. Try our free 30-day trial today and improve your help desk!