The arrival of the internet has changed a lot in the world of the real-estate business. Having a functional website where you can offer your services and show listings is a crucial aspect of today's competitive real-estate selling and buying market. Creating a top-notch website can help you maintain a professional image, ensure you reach more potential clients, and help you earn more by expertly handling real estate for your clients. 
But what makes a great real-estate website? Here are a few tips to jump-start your creativity.
Let people learn who you are
Build trust and show your potential clients who you are. There is no need for extensive multipage bios here, just make sure your copy explains exactly what is your mission and what makes you the right person for the job. Make sure to pick the right tone and write a text that speaks to your target group.
Property listing
The obvious that obviously needs to be stated here. Listing properties on your own website serves multiple purposes. It shows what your website is about, what you do for a living, and what kind of properties you handle as a real estate agent or a company. The most important thing is that people can browse and see if you're offering the property of their dreams. This allows them to handle the buying process straight from your site, without the help of third-party websites. 
Picture galleries
Talking about real estate won't get you very far. You need pictures. Lots of high definition, quality pictures that not only show the property and its strengths, but also capture the essence and the emotion a building can radiate. That's why you need great pictures and picture galleries for your website. Make sure to take great photographs whenever you list a new property, enhance them and place them on your website for people to see. 
Easy communication
An effective real estate website should let clients know how to contact you. Great websites provide effective means of communication for your clients, such as a contact form that connects straight to your email account, a plainly visible phone number, or a live chat button. Live chat is a great way to let customers connect with you quickly. 
Brand building
The world wide web is oversaturated with websites, ads, and social media accounts promoting everything from products to services. That's why brand building is so important so you get recognized. This includes everything – website design, custom logos, photography styles, and even your choice of typeface. Luckily, websites can integrate all of these separate parts of the brand building into one place. If you do it right, you will get recognized easily.
How Zentap comes into this and what can it do for you?
Zentap is a solution built exactly for this purpose. The tool focuses on helping real estate agents and companies build beautiful websites. That's not all – it can also help you with the marketing and social media side of things. Let's have a look at the separate features and their usability.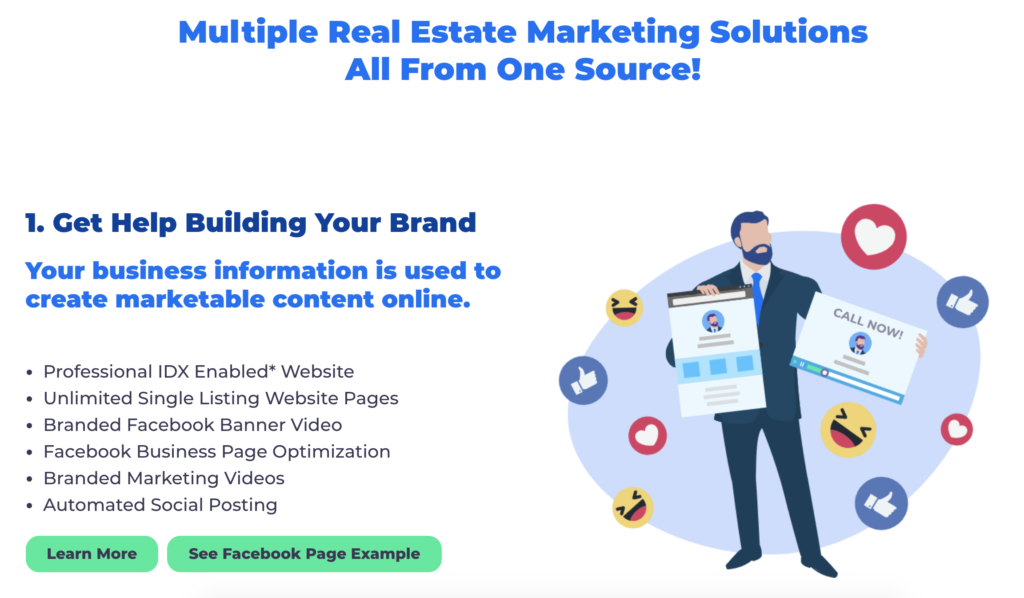 Website builder
The most important thing first. If you need a dedicated and focused real estate website, Zentap is the right tool for the job. Their website builder is made solely for this purpose and it can help you build an amazing website. This feature can help you include listings, picture galleries, and a blogging space for you to take advantage of. This also works great with LiveAgent – add a live chat button and connect your email to make sure potential clients can reach you anytime.
Unlimited video
Zentap offers help with creating video content. There are multiple video marketing solutions that can help you create easily recognizable branded video content that represents your brand. You can create videos for both present and past property listings and make sure they will get seen. Choose from multiple styles and send the right message to your leads.
Brand building
Having trouble running your Facebook page and post regularly? No worries, Zentap can help you with that. It features automated posting and scheduling so you can focus on other things. It can also help you optimize your Facebook page so you can reach more potential clients. Together with the custom branding, your page will shine among the rest. 
Buyer and seller leads
Getting leads is not an easy process when you have to do it on your own. Zentap gathers your business information and uses it to generate relevant smart ads to capture leads. This process is fully managed by the platform, so there is no input required from you. Make sure to contact the leads when you get them. 
Integration support
Zentap supports useful integrations and LiveAgent is one of them. Make sure to connect your live chat with your Zentap website and let clients reach you efficiently when they need to. The process is easy and takes just a minute to complete.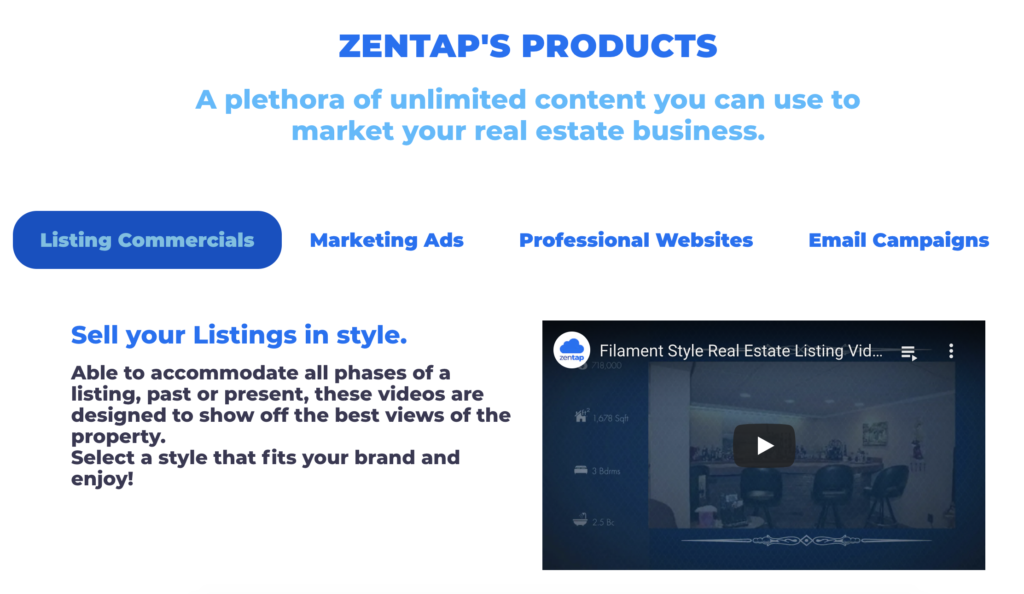 Become a well known brand in the world of real estate with Zentap
Improve your real estate business with the right solution. Reach more people, build your brand from the bottom up and get an amazing real estate website with a live chat today. Contact Zentap for a free trial or begin a free 14-day trial of LiveAgent and start improving your communication right away.