Help desk customer service agents deal with various customer inquiries, such as emails, calls, live chats, SoMe, and more.
Answering customer inquiries on different platforms is a challenge itself. No matter how skilled you are as an agent, it can get quite overwhelming to constantly switch between interfaces.
Add upset customers, and now we can talk about stressful situations.
So, if you are looking for help desk memes as a stress reliever, you are definitely in the right place. However, there is a twist. We also want to provide possible ways to handle certain situations to create a better experience for both parties.
Example #1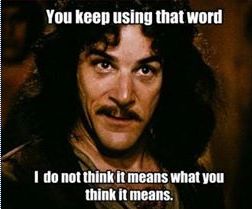 If you are in the middle of a conversation with a customer and you notice that they're using the wrong words, try to empathize with the customer. Not everyone has the same background as you. So, the jargon or certain terminology that you use on a daily basis might be new to them.
So what's the takeaway? Define certain terms at the beginning of the conversation. Moreover, if the customer makes an error, try to be empathetic and just make sure that you are on the same page.
Example #2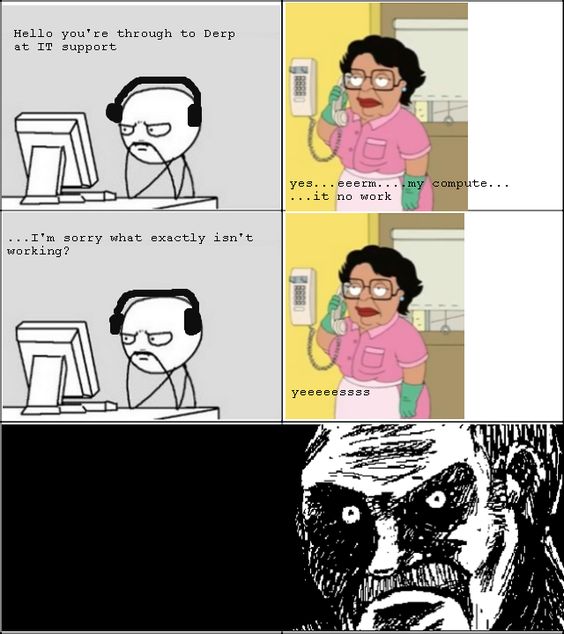 This help desk meme displays a reoccurring situation, where the customer is experiencing an issue but can not particularly point out what is wrong. The best way to approach this situation is to ask specific questions that can lead you to find and resolve the problem. It is important to stay calm and focused, not every customer is tech-savvy.
Bonus advice
Dealing with upset customers, especially when you do not have proper help desk software can quickly spiral and make your agents stressed out.
Stress in the workplace can cause more sick days, a decline in motivation, and overall poor work performance. Taking care of your employees is more important than ever. If your employees are happy, your customers will be too.
So, how can you create a stress-free environment for your agents?
Well, sharing help desk memes can certainly help lighten the mood, but here are some useful tips to create a stress-free workplace environment:
1. Provide the right tools
Hiring the right agents with the proper skillset and experience is crucial. However, if you do not provide the proper tools, even the best agents will struggle to support your customers.
Help desk software is an omnichannel solution that can help your agents, so, they do not need to switch between platforms to answer customer inquiries. Moreover, you can create unique automation rules with tons of features to automate mundane tasks. With help desk software in place, your agents work more effectively and efficiently.
LiveAgent 2021 | Better Customer Service Starts Today | Live Agent01:12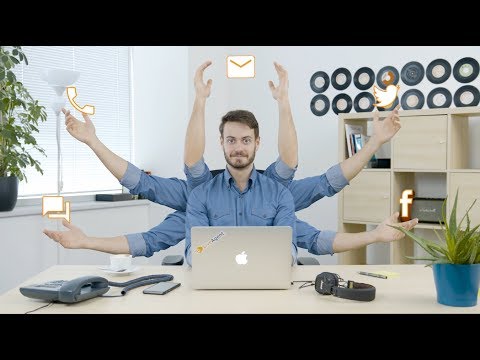 Live Agent
Go omnichannel with LiveAgent!
Provide a seamless customer experience and increase the efficiency of your support agents with LiveAgent. Test a 30-day free trial and see the results right away.
2. Minimize interruptions
Interruptions can disrupt the workflow of your agents. If this happens a lot, it can cause stressful customer interactions as your agents can lose focus. One way to minimize interruptions is to create a rule to communicate through a single designated platform.
For instance, you can create different work channels in Slack. An agent can turn on the notifications for the important work channels and respond right away if needed while muting other, non-important channels. This can prevent unnecessary interruptions and create a steady workflow without stress.
3. Allow your agents to express their opinions
Let your agents make suggestions. They are the first people that your customers come into contact with. They usually have more insights and might have great and valuable suggestions. Moreover allowing your agents to express their concerns and suggestions can create a safe space in which your agents feel heard and appreciated. Overall, this can create a stress-free environment with improved workflow.
In conclusion, agents are going to come across many different customers. It is important to let them let loose from time to time and laugh at some help desk memes, but more importantly, they should be able to learn from each challenging situation. On the other hand, your job is to and create a stress-free environment for your agents to ensure improved productivity and better customer experiences.