G2 Crowd, the largest business commerce platform, announces the 2019 winners of its annual Best Software Awards. Quality Unit, a software company providing multi-channel help desk solution LiveAgent, was awarded the #32 on the TOP 50 Fastest Growing list.
The equivalent of The People's Choice Awards for tech companies, G2 Crowd's Best Software Awards provide the definitive ranking of the best software companies and products worldwide.
Tech companies on the list are selected with data provided by its software users, and, as a result, have proven their commitment to customers and providing technology that delivers.
With over 45,000 software companies on G2, LiveAgent's recognition on the prestigious TOP 50 Faster Growing list is an exceptional achievement, and one that can only be earned through the endorsement of its users.
G2 Crowd compiled the list using data collected from over 270,000 authentic customer reviews written between Jan. 1 and Dec. 31, 2018. Reviews spanned across nearly 60,000 software products, with every single review vetted by an individual person, not a machine, to ensure legitimacy.
This is LiveAgent's 4th time earning their title as one of G2's Best Software winners.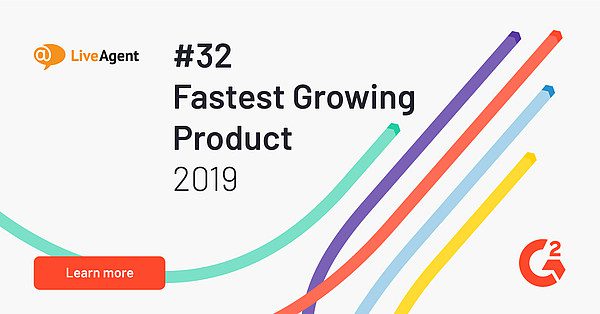 "This is no subjective list by a few people giving their opinions. With the highest traffic and engagement, largest selection of products and services, and highest quality data, G2 Crowd is able to harness more than 4 million data points to determine which products and companies are doing the best job of helping businesses reach their potential."

CEO Godard Abel explains.
LiveAgent earned its place on the list thanks to believing that Help Desk Software is The 1st Step Towards Better Customer Service.
"Customers, their satisfaction and last, but not least, their business growth were always TOP priority for us. We are only as successful as our customers are. This approach helped us to develop several exceptional relations and focus on customer centricity even more."

David Cacik, Head of Marketing at LiveAgent
For more information, contact Andrej Csizmadia at andrej@liveagent.com.
Criteria: Winners were determined based on reviews left at G2Crowd.com between Jan. 1 and Dec. 31, 2018. All scores are calculated using G2's algorithms, including for Satisfaction and Market Presence, explained in detail here. Further information on methodology is available upon request.