It's safe to say that most people don't track the number of hours they work with precision. In most cases, people look at the clock when they start and finish working, which gives them a rough estimate of the number of hours worked. However, tracking your work time precisely has many benefits. By accurately tracking your workweek activities you can see what projects you spend the most time on, how productive you are, and how accurately you're billing your hours.
With LiveAgent's newest integration with Clockify, you can precisely track the amount of time spent on resolving individual tickets, as well as the amount of time spent on creating and editing knowledge base articles right inside your LiveAgent dashboard.
How to use Clockify with LiveAgent
Track activity time
Whenever you're starting a new activity, simply hit the Clockify timer. It will start tracking the amount of time spent on the particular ticket you're resolving, or the knowledge base article you're editing. When you're done working on the activity, pause the timer.
Clockify will automatically use the Ticket ID that you were working on as the name of the activity displayed in your Clockify activity timer.
If you're working on a knowledge base article, the Clockify timer will automatically log the name of the article you're working on as the name of the activity.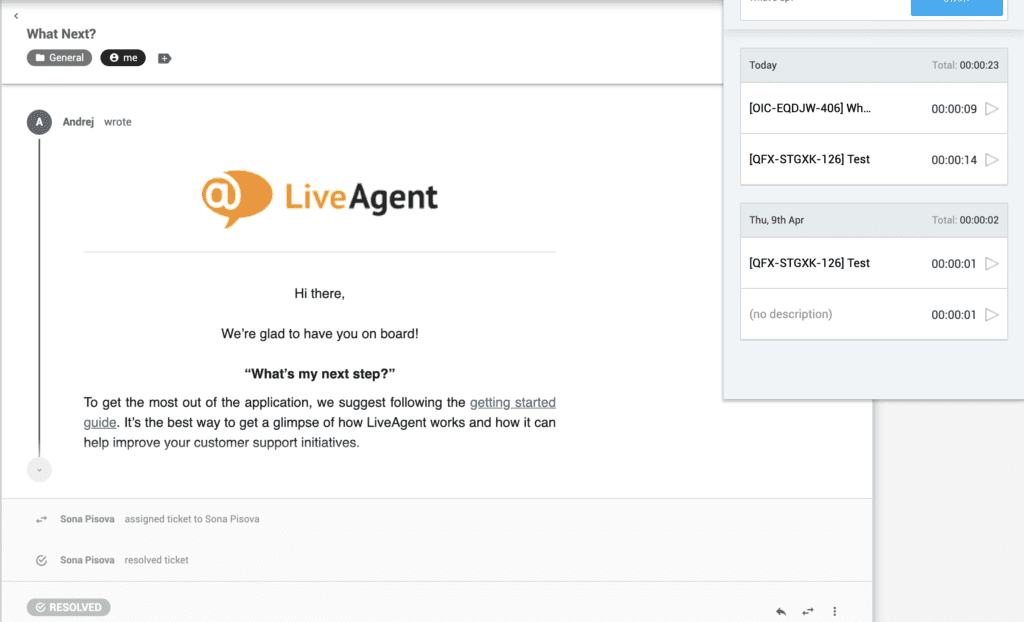 Manage teams
Track your team's productivity by inviting them all into your Clockify workspace account. The number of free users is unlimited, so all of your team members can start tracking their work time easily.
Clockify's reporting dashboard enables you to create comprehensive reports that showcase how everyone in your team spent their day, how much time each task took, and which projects took up most time and resources.

Increase productivity and profitability
By having an accurate overview of your team's work week, it will be easy to decipher whether some projects are simply not worth the hassle, if project scopes need to be limited, or if you need to charge higher hourly rates based on the project difficulty.
How to integrate Clockify with LiveAgent
Please note that this integration guide only applies to accounts hosted on the LiveAgent domain. If you have a self-hosted account, please follow this integration guide (scroll down for self-hosted integration)
Create a Clockify account
Download the Google Chrome Extension
After you have downloaded your Chrome extension, make sure that you are logged in to your Clockify account
Log into your LiveAgent account, or refresh if you've had it open already
Open a ticket or knowledge base article, and you'll be able to see the Clockify timer, as shown below
Tracking time is worth your while
Tracking the amount of work you've done each day couldn't be more simple. One-click inside your LiveAgent dashboard, and you're set. Don't miss out on improving your team's productivity and your business's profitability. Our integration with Clockify is free, easy to set-up, and even easier to use.