Are you a call center manager? If so, you can probably relate to this: you've hired a talented team, but your team's performance is still slipping, and objectives aren't being met. Members of your team are starting to look disengaged and snapping at each other, or worse, at callers.
If this applies to you, your team is likely suffering from burnout. The effects of burnout can have detrimental effects on an otherwise skilled employee, leading to a decline in their overall happiness, engagement, productivity in the workplace, and even mental health. Such actions can negatively impact call center operations, which require punctuality and reliability to ensure smooth and efficient customer service.
Luckily, there are things you can do to prevent burnout. But let's back up a bit.
What is call center burnout?
The term 'burnout' may seem like a vague term, but it has a strict medical definition. The International Classification of Diseases defines burnout as a "syndrome" resulting from "chronic workplace stress that has not been successfully managed." So, based on that definition, call center burnout is an affliction that results from stress related to receiving and making calls and other work-related activities.
But how do you determine if an employee is experiencing burnout in general? Here are some symptoms:
A lack of energy and exhaustion
Tiredness is only one aspect of exhaustion. A person suffering from call center burnout will be so worn out that it will affect their ability to perform the job responsibilities effectively and efficiently
Strong negative feelings towards the workplace
The manifestation of strong negative feelings can take a variety of forms. One common way this symptom is exhibited is through irritability and negative comments. Employees might exhibit unprofessional behavior towards colleagues and customers, such as being rude or complaining. A certain level of frustration towards call center work is to be expected, of course, as it is a stressful job with a reported 4,400 calls per month. However, constant irritability and negativity should raise red flags.
Mental distance from work duties and decrease in productivity
If an employee seems disengaged from their job, for example, doing the bare minimum to solve a caller's query, it could be one of the warning signs that they are suffering from burnout. The mental strain of being stressed and exhausted will make them unable to do their job. The resulting lack of motivation can further impede their ability to complete tasks wholeheartedly, even if they have the physical health and capacity to do so.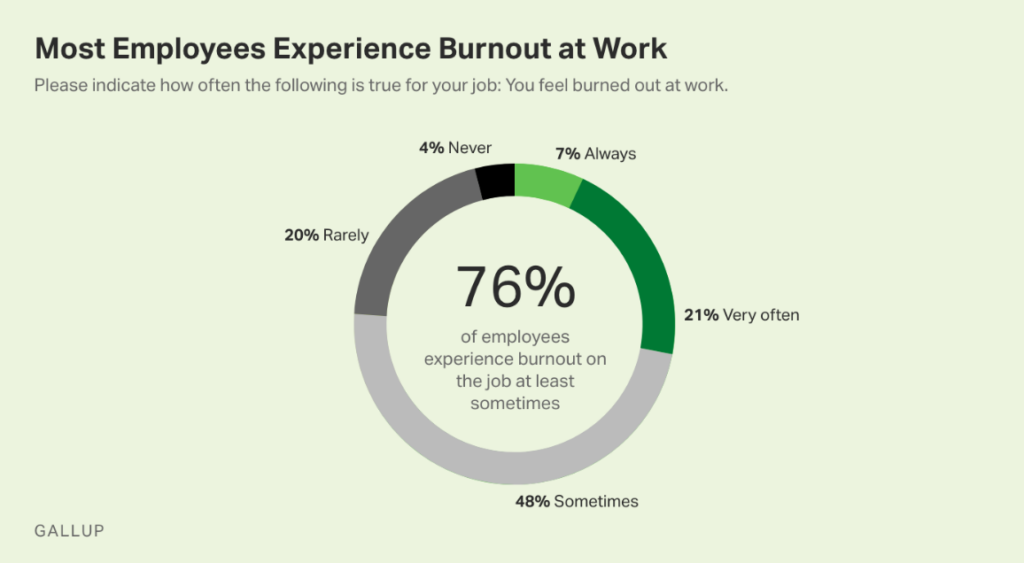 Absenteeism
The majority of absenteeism is stress-related, as chronic stress can impair the immune system, making a person more susceptible to sickness. Frequent absences harm call center operations, increasing workload, reducing agent productivity, disrupting team dynamics, lowering morale, and leading to turnover and poor performance.
However, burnout has a wider impact on the entire company. According to research done by Insightful, every burned-out employee that earns around $50,000 a year will cost the company $25,000- 33,000 because of the loss of productivity and higher turnover rates. Also, burnout accounts for nearly $190 billion in healthcare costs per year.
6 tips for preventing call center employee burnout
Now that you are familiar with call center agent burnout, it is important to note that it cannot be entirely eradicated from the workplace. However, the good news is that solutions do exist to help prevent it
These tips not only focus on empowering workers but also on how senior management can help them cope with the stress of working in a call center.
1. Encourage autonomy
If an employee has autonomy over their schedule, they are 43% less likely to experience burnout, according to research. Giving your employees autonomy means trusting your employees and allowing them to manage their time.
If, for example, an employee finds answering phones stressful, they can decide to switch to handling real-time chat sessions instead.
Compared to traditional phone-based support, managing live chat conversations can be a more manageable and streamlined experience, enabling employees to handle multiple queries at once and respond to customers more efficiently. Additionally, live chat interactions can also be archived and reviewed later, allowing for better tracking of customer engagement and more targeted follow-up if needed.
Encouraging autonomy can also involve allowing your employees to peer-lead tasks, which encourages teamwork and fosters autonomy. Being micromanaged can be stressful, so allowing employees to lead certain tasks can be empowering.
Regular employee self-evaluations can also help you identify any early warning signs of burnout and provide a platform for employees to voice their concerns and suggestions for improvement.
2. Provide managerial support
Managerial support needs to be available for a healthy call center workforce. Studies have found employees are 70% less likely to experience burnout if they feel supported by management. Having a managerial support network allows employees to discuss problems, find solutions, and get emotional support during difficult times.
To provide support, management needs to make themselves available and approachable. Regular meetings with employees should be part of this process. A regular meeting provides a structured time slot for employees to discuss their problems (some employees won't feel confident enough to talk to management without a dedicated slot).
That's not to say call center management will only be available during this period. After all, an employee can break down from stress at any time. If that happens, management should be available to offer support. Creating a company culture that prioritizes employee well-being is an effective way to ensure workers are not only performing at their best but also enjoying their jobs. Stress management practices provide better results if employees have a supportive work environment.
3. Empower with the right technology
Outdated technology in a call center is stressful and frustrating for both the employee and the customer. When a customer is stressed and frustrated, they are more likely to respond negatively to the employee, causing agitation and demoralization. In the absence of the appropriate call center equipment, even tasks that do not directly involve customers cause more stressful working conditions.
One way you can empower your workforce with technology is by implementing our own call center software. Having the right call center software allows you to handle inbound and outbound calls seamlessly and have the correct customer information at your fingertips.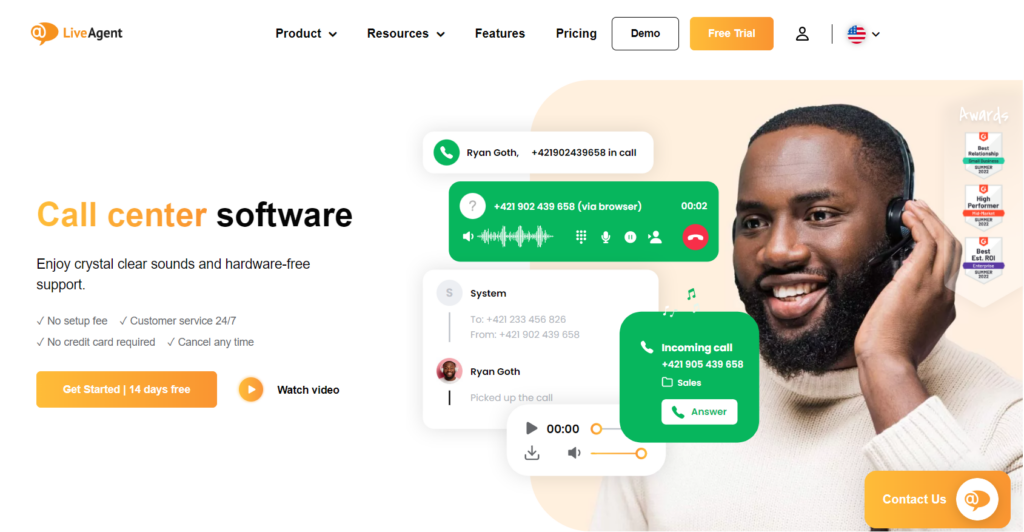 Our software offers a multitude of features that cater to both front-line center agents and managers, delivering an all-encompassing solution that works towards minimizing stress and maximizing productivity.
A skills-based call routing system is one such piece of technology that automates operations. It allows calls to be routed to the suitable employees. For example, if a customer is calling to buy a product, they will need to be routed directly to the sales department. The same can be done for all departments and types of issues.
Routing calls like this means the customer will be connected with the employee who is most likely able to solve their query. Customer issues are more likely to be solved quickly without frustration, and the employee is less likely to encounter angry customers. Also, the employee will have higher job satisfaction as they will be dealing with issues they can solve.
The other useful feature is a queue callback system. A queue callback system allows a caller to receive a callback instead of waiting on hold in a long queue. The customer can then carry on with their day and wait for the call.
Having a knowledgeable and capable call center team is critical for any successful business. By leveraging SaaS content writing, you can empower your call center agents to understand better the uses, benefits, and pain points of your product or service. By incorporating this knowledge into their conversations with customers, agents can demonstrate a good understanding of the product and provide effective solutions. With access to an internal knowledge base, agents can find and resolve common customer inquiries instantly without putting customers on hold or transferring them.
A call center's day-to-day tasks are much easier to perform with the best call center tools. Happy customers have a ripple effect on the entire operation of a call center. When customers are pleased with the services they receive, they are more likely to return in the future, leading to increased profitability for the business. Also, satisfied customers are more likely to leave positive ratings and reviews, which can, in turn, attract new customers and thereby increase revenue streams.
Upgrade your customer service with LiveAgent
LiveAgent is the perfect call center solution for businesses looking to enhance their customer service, improve efficiency, and achieve a competitive edge in the market.
4. Invest in call center training
Employee training is a pivotal tool that equips individuals with the necessary call center skills to navigate difficult conversations in the workplace. A well-trained workforce is more likely to handle challenging situations, such as conflict resolution and customer complaints, with ease and efficiency. For instance, if trained customer service reps can quickly de-escalate an agitated customer, it can prevent the situation from escalating into verbal abuse. This not only benefits the staff member at the moment but can also lead to increased employee satisfaction and a decreased likelihood of suffering from burnout.
Investing in call center training can be done in a variety of different ways. A good way to invest is by implementing call center training games and gamification features. These are simulations and the use of gameplay-like mechanics of call center scenarios employees can access through an app or a computer program to play. Call center training games provide an effective solution to enhance the communication skills of call center employees, both with their colleagues and callers. Conducting these games can help improve their problem-solving and customer service soft skills and also have a massive impact on boosting morale.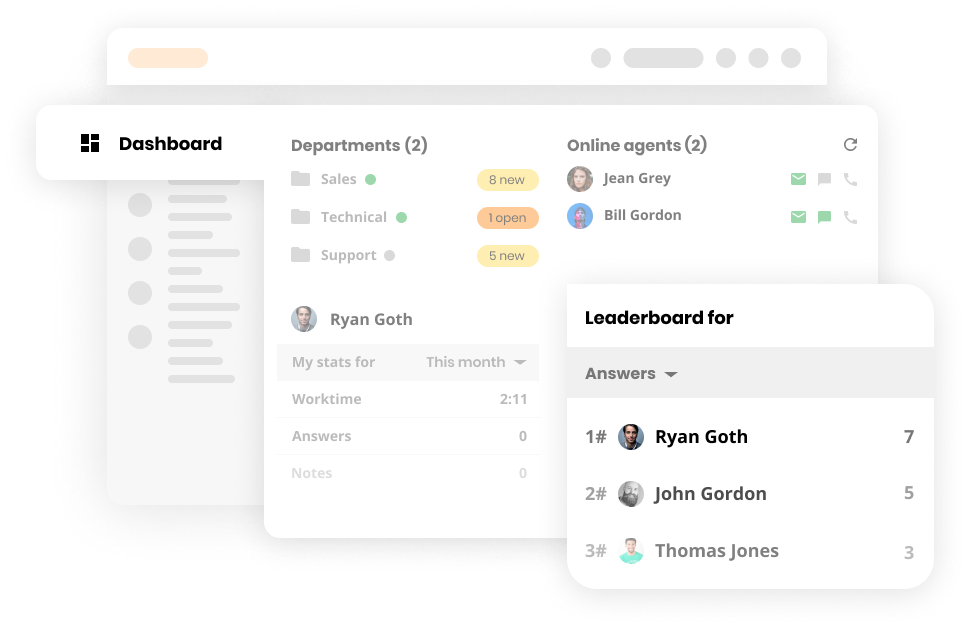 You can further enhance the phone etiquette and communication skills of your employees through live call training sessions. Theoretical knowledge can be put into practice in a controlled environment, and employees can receive feedback. Pair this with classroom training to broaden theoretical knowledge and strengthen the fundamentals of call etiquette.
Mentoring is a good call center training option as well. One-on-one learning helps employees deal with specific issues they are facing and provides personalized guidance. You don't even need to hire outside mentors for this type of stress management training — experienced colleagues can take on this role.
Besides, mentoring doesn't just benefit the mentee, but the mentor, too. When you (or your experienced colleagues) teach other less experienced employees, you gain their respect as an advisor and as a leader (assuming they were taught properly). You can also gain new perspectives about work and even other things in general. In the process, you might even discover talent who can rise up the ranks and, eventually, mentor his other colleagues. Using a performance report can help track progress and build a culture of continuous improvement, which is essential for long-term business success.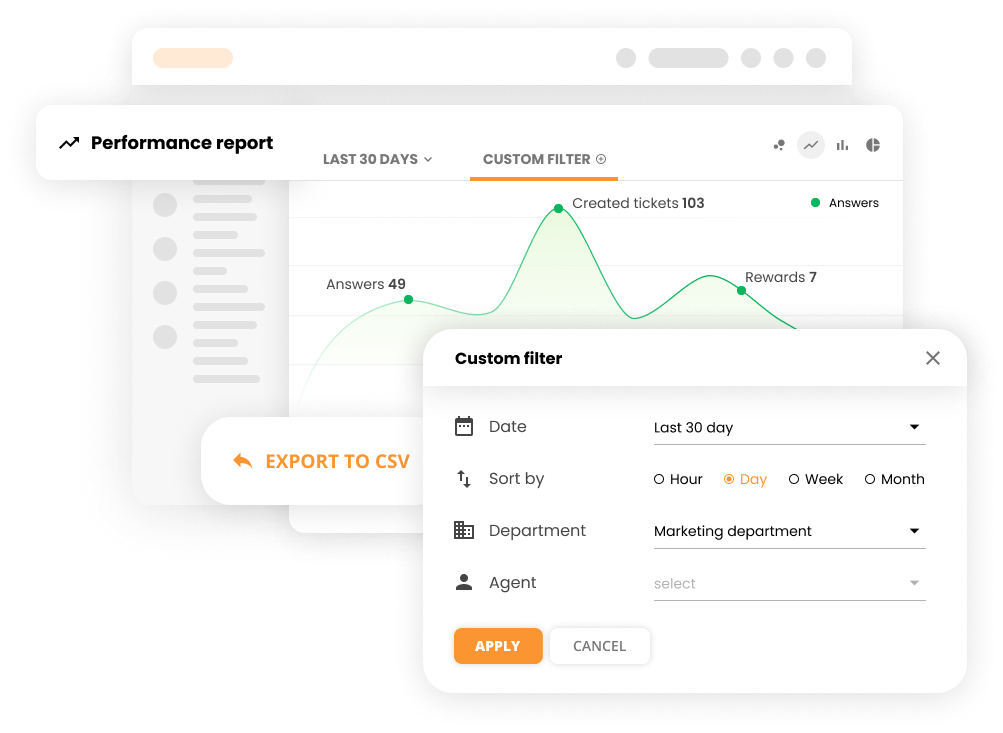 E-learning can also be used to complement other types of call center training. The courses selected can be tailored to the needs of your call center and strengthen weak spots. Gaining certification can also be done through e-learning stress management programs.
If your call center workers are remote, training may be more difficult, but it can still be done. You can use video conferencing to deliver training remotely. E-learning can also substitute classroom training quite well. Create a remote work checklist and evaluate your staff based on the knowledge they gained from it and the effectiveness of the online training.
5. Ensure role clarity
An employee's role clarity relates to the understanding of their daily tasks and responsibilities. Clarifying the call center duties of each agent is crucial, as unclear role definitions are a major cause of stress in the workplace.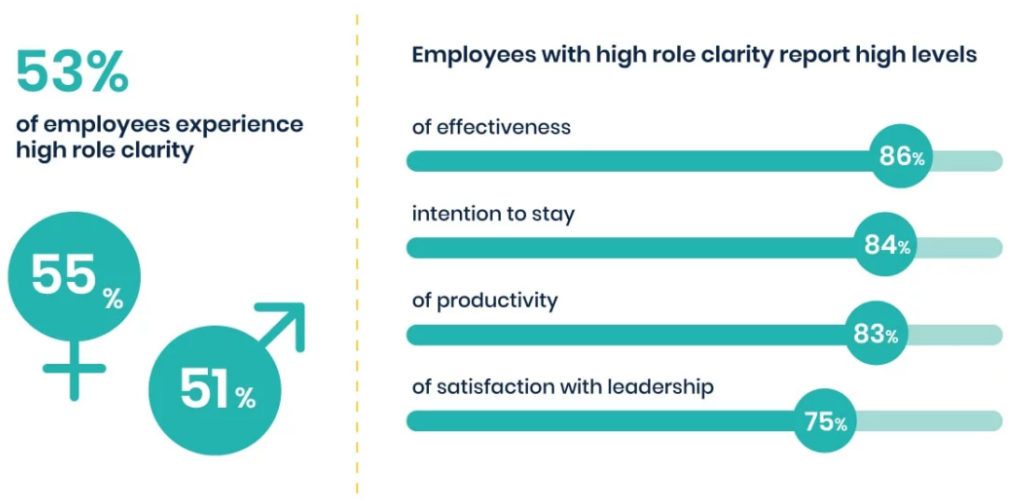 The best way to clarify roles is to implement a consistent feedback loop. With both one-on-one meetings and daily team addresses by managers, you can ensure consistent, constructive feedback and clarification on the job role of the employee. Even employees who are already burned out can benefit from feedback, as it can help alleviate the stress they're feeling. During individual employee meetings, managers can employ SMART targets to provide a structured framework for achieving goals.
6. Recognize achievements
Recognizing employees who are doing a good job is a great way to prevent call center burnout. Burned-out employees will often feel underappreciated, so recognizing their achievements is beneficial. You can recognize positive attributes simply by telling an employee they are doing a good job or by offering them something in return for a job well done.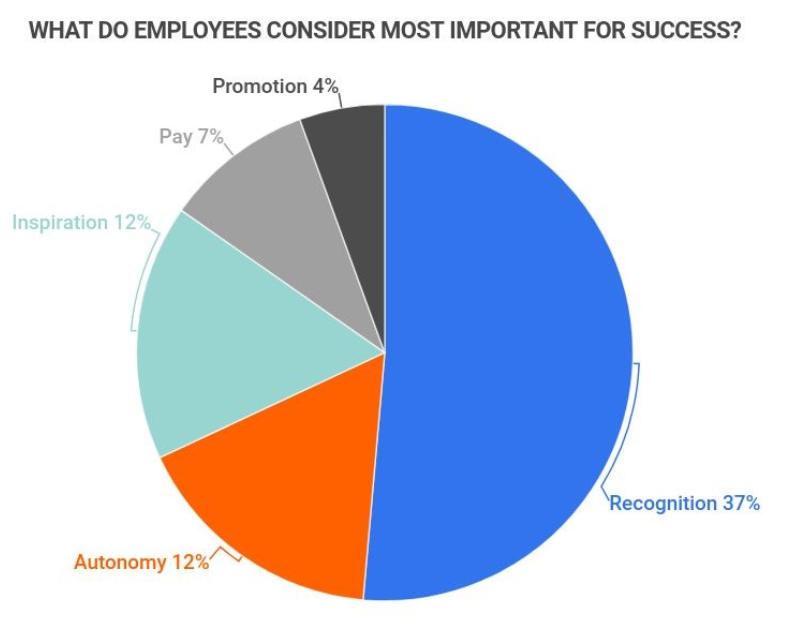 The best way to offer rewards is to assess which positive actions impact the business the most. The biggest rewards should be given to those that give the most to the company (but smaller rewards can also be given for smaller contributions).
The types of rewards you can give are numerous, but here are some examples:
Streaming site vouchers
Restaurant vouchers
Time-off
It's still best to personalize rewards for individual members of the team if possible. As part of a gamification process of the workplace, you can personalize the rewards and badges in your call center system.
Key takeaways
Employee burnout is a major issue that affects all industries, but it can be particularly detrimental to call centers due to the high levels of stress associated with the job. Preventing call center burnout is a complex and ongoing challenge that requires a multi-faceted approach.
By providing employees with the tools, resources, support, and recognition they need, call center managers can reduce the sources of stress and prevent burnout, leading to a happier and more productive workforce.
So don't wait until it's too late. Start implementing these tips today and take the first step towards a healthier, more resilient workforce. Your employees – and your business – will thank you for it.
Frequently Asked Questions
What is call center burnout?

Call center burnout is a phenomenon that occurs when employees of a contact center have become overworked and exhausted due to long working hours, lack of recognition or rewards, low employee morale, etc. It can impact their performance and make them dissatisfied with their job.

What are the symptoms of call center employee burnout?

Common symptoms of call center employee burnout include decreased energy levels and motivation, increased stress levels, irritability and mood swings, inability to concentrate, sleep disturbances and feelings of being overwhelmed by work.

How can employers prevent call center burnout in employees?

Employers should strive to create an environment where employees feel supported and empowered by offering autonomy, providing managerial support, investing in appropriate technology tools for the job roles required in the contact center, investing in adequate training for employees to understand every aspect of their roles clearly and making sure to recognize achievements by rewarding them often.