Curious about the ins and outs of a free support ticketing system? We've got you covered. We've gathered all the data that we could find to give you; insight into how you can use a system like this, and how to pick the right one for your business.
What kind of a solution is it and how does it work?
If a company is aiming to grow and succeed, it must shield its customer service teams from distractions. Therefore, ensuring a high level of customer satisfaction and a superior customer service experience. In this context; careful management of problem resolution is essential to make sure the customers are happy with the service you offer. However, just having an efficient and hardworking team to do the job isn't enough. The customer requirements need to scale alongside your growing business.
A company can make considerable improvements in areas such as; organization, productivity, ticket response time, first resolution time, and customer satisfaction. How? Well, by adopting concepts and tools that make the management of customer inquiries easier. Simply dealing with all requests in an ad hoc manner, such as being assessed by a few agents before being assigned to one responsible person is not an efficient way to go about it. Simply put, it is necessary to be organized in order to be viable.
For both large organizations and SMEs, a well-functioning IT ecosystem is essential for successful service delivery. Although it is common for a company to face many different types of challenges; it is important to always respond quickly and efficiently. To do this, businesses have solutions at hand that allow users to report problems and easily create incident tickets. Therefore, at the same time aiming to make the work of service agents easier and more productive. This type of solution is called support ticketing software.
Ticketing software – What is it?
A ticketing system is essential for all businesses, especially for help desk and customer service departments. These departments are responsible for supporting members of their entire organization as well as their customers. Ticketing software helpdesk plays a crucial role in managing and resolving customer issues efficiently.
If you want to have a solution that allows your support team to track and manage different incidents; you might need a help desk software that has an advanced ticketing system. 
Acquiring a solution like this implies making an investment that, like any other, must generate a return. However, if you're not ready to invest, there's also a possibility to implement a free ticketing software. 
There are many great free ticketing tools available on the market. They may offer a limited number of features compared to paid versions. But, they are still solutions worth considering, especially for companies with a budget.
To help you gain a deeper understanding,  we'll explain the concept of free support ticketing systems; how they work, the characteristics of a good free ticketing tool, and whether your company needs such a solution. Read more to find out about all the advantages of such a tool.
A different look at the ticketing system
A ticketing system is a widespread solution that facilitates communication and interactions between companies and their customers. When a customer wants to send a query, suggestion, or report an incident to a company; it's the ticketing software that creates a private line of communication between the two parties, all remotely and online. 
It is important to note that this type of solution does not correspond to those classified as immediate response tools. Such as live chat or call back features. Once a ticket has been assigned to a case; all follow-up communication is facilitated through the same ticket – throughout the whole resolution process.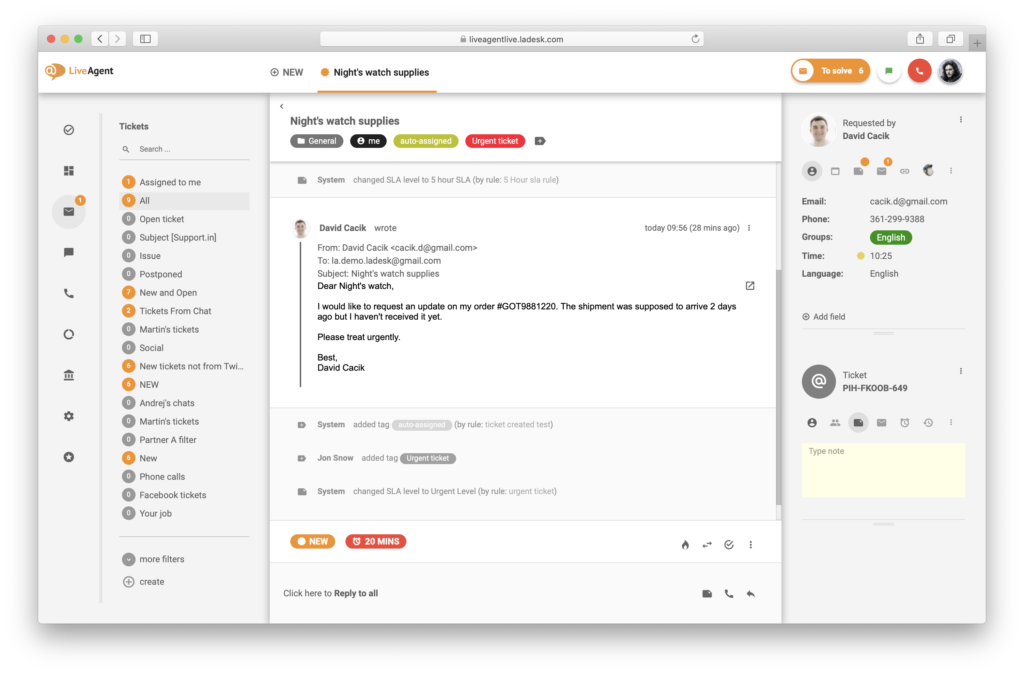 A feature-rich support ticket system allows customers to report problems or request any kind of help they may need. The role of the ticketing system is to; manage, organize, and archive all support requests and the responses in one place. Moreover, providing service agents with all of the tools necessary to be accountable and responsive.
A reliable free ticketing software should allow different teams within various departments of an organization to; view tickets, have assigned priorities, and respond to queries via various support channels.
It is possible to find numerous free ticketing tools of this type on the market. However, some have more functions than others. Therefore, when choosing a particular tool, choose the one that suits the characteristics, requirements, and resources of your company.
LiveAgent offers free ticketing software as an integral part of its help desk solution.
LiveAgent: Ticketing Software Demo | Live Agent03:21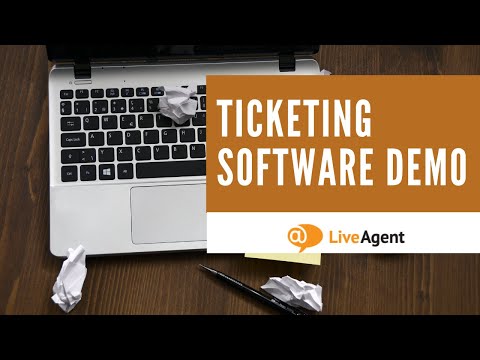 Live Agent
Characteristics of a free support ticketing system
As we've already mentioned, there are many free ticketing systems on the market. But not every solution offers the same functions. 
However, all the proper free support ticketing software should be capable of performing some of the following functions;
Providing the option to customize the main fields and functions.
Offering multilingual translations.
Keeping information and any modifications up to date.
Generating, rejecting, and scheduling internal, external, private, or own, generic, and case-specific tickets.
Defining temporary and permanent closures.
Prioritizing cases, both publicly and privately.
Reflecting the traceability of process stages to control times.
Graphically presenting the route of tickets.
Assigning responsibilities according to predefined categories.
Performing private note placement.
Sending notifications by SMS or email.
Offering an integrated calendar.
Providing compatibility or integration with different operating systems, equipment, and other software.
Allowing access to different users and managing permissions according to roles.
Recording document entry.
Enabling report generation.
Free support ticketing software – How does it work?
The day-to-day life of customer support team members can be quite chaotic. This is mainly due to the fact that they can receive inquiries through different channels simultaneously. If this happens, agents have to deal with a huge amount of requests and incident reports at the same time. The idea for ticketing software was born in response to the uncontrolled flood of tickets. This was in essence to provide a higher level of efficiency to the user support department.  Furthermore, free ticketing software was brought to 'life' to enable SMBs/budget-conscious companies to provide superior customer service.
Service desks of organization use this type of tool mainly in hopes of better follow-ups to problems reported by clients. A ticketing system allows service teams to file and track every problem, assess their priority and level of progress, assign responsibility, and much more.
With a free ticketing system, organizations are able to access and manage an unlimited amount of tickets and incidents using a single dashboard. This way, all requirements can be assigned to the right agent within the team, and thus can be taken care of almost immediately or in an acceptably short amount of time.
Why does your company need a free support ticketing tool?
Even if you already have, or are about to launch a relatively small business, you will quickly notice that your employees can get lost in email exchanges, unanswered messages, and missed calls from customers or potential clients. 
Keep reading to learn why every organization needs a ticketing system. And taking into account that there are plenty of free ticketing software solutions out there, you will surely find at least one particular tool that meets your business requirements.
Efficient ticket tracking
Thanks to the rapid development of new technologies, organizations can offer their users multichannel support as well as problem resolution centers where they can express their concerns, ask questions, or file complaints. However, if a company doesn't use the right tools,  problems related to the traceability of inquiries may arise quickly. In other words, user requests can end up lost in an infinite loop of unsorted tickets. This results in a significant number of unresolved incidents and, consequently, in customer dissatisfaction.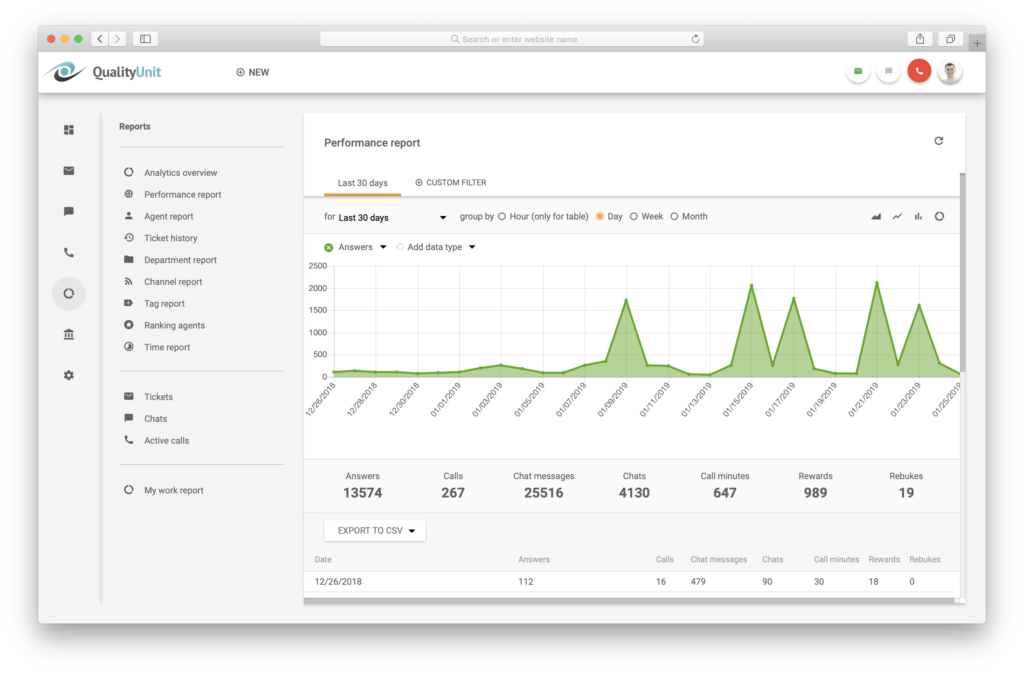 On the other hand, with a free ticketing system, support teams are able to create a complete database of incidents and interactions that enables them to manage customer requests better. One of the greatest advantages that this type of tool offers is prioritizing tickets by importance. In this way, the support or service department doesn't have to worry about solving every issue or request at the same time but can determine which requests should be prioritized.
Quicker problem detection
One of the main utilities that free support ticketing software can provide is rapid problem detection. This is possible thanks to intelligent metrics and the category classification systems that this type of software consists of. With such tools at their disposal, your agents can identify the causes of recurring incidents and their correlation with other problems more easily.
Intelligent task assignment
Each ticket must be assigned to an agent for processing, but doing so manually equates to a real loss of human potential. So, in this case, the ticketing process needs to be automated. This is another reason why free ticketing software is an essential tool to have, as it also allows your agents to define criteria and create custom rules for the attribution of each ticket to the right member of your organization.
As a result, every team member that uses the help desk software in their everyday work will have knowledge about who is managing what. No one will waste time dealing with inquiries that have already been resolved by other colleagues, either.
Smoother internal and external communication 
A free ticketing system also improves cooperation between your support agents by allowing them to communicate more efficiently (not only with each other but also with customers.) In fact, most tools of this type enable a feature that automatically emails prompts to users once a ticket has been created, or, each time it is modified.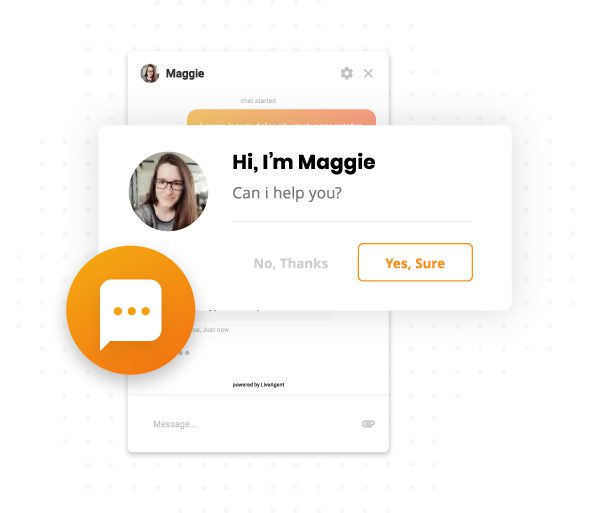 What are some other advantages of having a ticketing system?
Well, there are several more advantages of using free support ticket software. 
As is clear from the previous example, a ticket system can improve a help desk, support/service team's performance. But we can point out some other benefits too, which are;
An increase in customer satisfaction, since calls can be answered within a reasonable and previously agreed upon time frame.
Improvement of communication, since ticket number assignments allow users to follow the resolution process and understand prioritization in the backlog.
An increase in quality boosted confidence and raised performance levels of the help desk/call center team members, who are able to respond to requirements more efficiently.
Increased performance control, since the registration of tickets and their resolution progress, can be parameterized and analyzed in automatically generated performance reports.
Better knowledge of customers, especially if the tool is compatible and shares attributes with other company software such as CRM.
A more personalized approach when responding to customers, which positively affects their loyalty.
A knowledge base setup, which allows users and IT specialists to analyze the most frequent problems and how they were most recently resolved.
Better and more efficient use of resources results in considerable time and money savings, opening up the possibility to be used in other projects for the benefit of other departments or even the whole company, which can lead to an increased annual ROI.
Improvements in company image and reputation, as a result of being able to provide adequate and accurate customer service.
Streamlined process management through automation and time event rules.
Reduced accumulation of incidents.
An increase in income, because of better management, attention to detail, and customer satisfaction.
Is a free support ticketing system a good choice?
Before selecting any ticket management tool or even free ticketing software, it is necessary to take some factors into account. Let's list a few of them;
The number of clients who report incidents, send queries, or request assistance.
The security level and corresponding risk of intrusion or data breach, which could endanger the company information or customer data.
Allowing operation at any and all customer service points.
Whether the free ticketing system is cloud-based (so that staff can access information and work from anywhere.)
If the help desk or call center team members are service-oriented or connected to the company's values and objectives.
The choice of any software solution for your company should be directly related to the goals and characteristics of your company. 
However, when choosing your solution, it is important to also pay attention to the provider and the quality of the free support ticketing software. If you don't know where to start, we recommend that you take a look at LiveAgent. It is an excellent solution that integrates a free ticket system with help desk software, which makes it the ideal tool to empower your customer support department.
Discover on your own
Knowledge is important, but only when it's put into practice. Test out everything you learn in our academy right inside of LiveAgent.
LiveAgent 2021 | Better Customer Service Starts Today | Live Agent01:12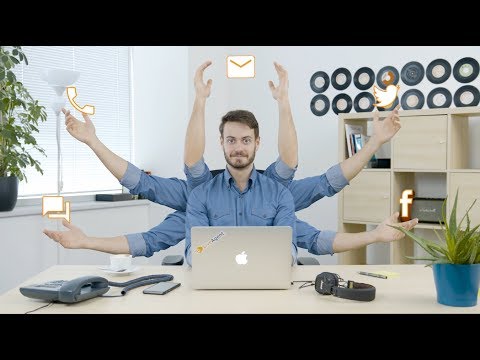 Live Agent
Try out LiveAgent for FREE
Handle all customer inquiries from one interface. Start improving your customer service with a 14-day free trial right away!
Frequently

asked questions
How can you create smooth internal and external communication within the company?
A free ticketing system improves cooperation between your support agents by allowing them to communicate more efficiently, and not only with each other but also with customers.
Why does your company need a support ticketing tool?
How to choose a free support ticketing tool?
It is possible to find numerous free ticketing tools on the market. However, some have more functions than others. Therefore, when choosing a particular tool, choose the one that suits the characteristics, requirements, and resources of your company.